MSc in
Master's Degree in Molecular Chemistry
Johannes Kepler University Linz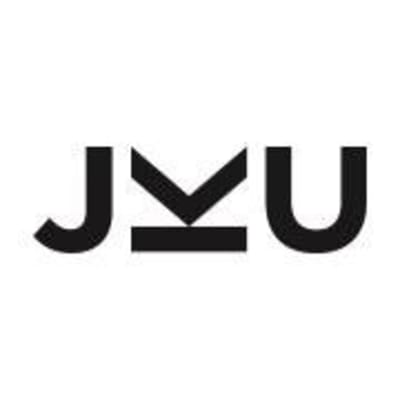 ---
Campus location
Linz, Austria
Application deadline
Request info
Earliest start date
Oct 2023
Scholarships
Explore scholarship opportunities to help fund your studies
Introduction
Molecular Biology
The Master's degree in Molecular Biology is a joint interdisciplinary program offered by the JKU Linz and the University of Salzburg. The program expands upon the general education base acquired during Bachelor studies in natural sciences and provides in-depth studies in biochemistry, organic chemistry, biophysics, bioanalytics, structural biology, genetics, cell biology, system biology, and molecular biotechnology. The curriculum focuses on student-centered learning, using state-of-the-art equipment and training students in advanced research methods to assist them in acquiring a deeper understanding of life science fields such as molecular biology, cell biology, and biotechnology.
Your Benefits
Individual specialization
Focus on applied learning
Expertise from two respected universities
Opportunity for independent research on complex molecular and biomedical topics
Attain high-level skills and qualifications to pursue a career in Austria or abroad
Educational Objectives
Graduates of the joint Master's degree program in Molecular Biology are highly qualified to pursue excellent employment opportunities in Austria or abroad in the field of molecular biology, cell biology, and biotechnology, both in academia or in industry. Graduates possess high-level skills such as:
Expert knowledge in molecular and cellular interdependency at all levels of biological interaction, primarily in networks on the genetic, protein, organelle, and tissue-forming cell level and within various model systems.
Expertise in theory and practice of methodological techniques to analyze complex molecular and cellular processes in healthy, genetically, or chemically modified cells, tissues, or organisms.
Ability to work independently as well as incorporate new experimental designs under supervision.
Job Opportunities
Academic careers that include fundamental research at international universities, Austrian universities of applied sciences or private universities as well as at other public or private research facilities
Conduct research or pursue a career in the pharmaceutical industry or at clinical or medical facilities
Product management or marketing of chemical, pharmaceutical, or biotechnological products
Development, quality control, and production jobs at pharmaceutical and bio-pharmaceutical plants
Work at molecular biology laboratories, chemical analysis laboratories, clinical laboratories and in the fields of bioanalytics or environmental analytics
Work in public administration and testing laboratories in the chemical, environmental, and medical sector
Employment in the field of medical and healthcare prevention at public and private institutions
Conduct risk assessment and design risk minimization procedures at public authority offices or at chemical/pharmaceutical/biotechnological companies
Work in the field of trademark registration and product protection or manage patent affairs at companies or at public institutions
Advanced Degrees at the JKU
After successful completion of the Master's degree program, you can earn an advanced degree at the JKU:
Doctorate Degree in Natural Sciences
Recommended Study Plan
As part of the Master's degree program, students are required to complete courses totaling 120 ECTS credits in the following areas: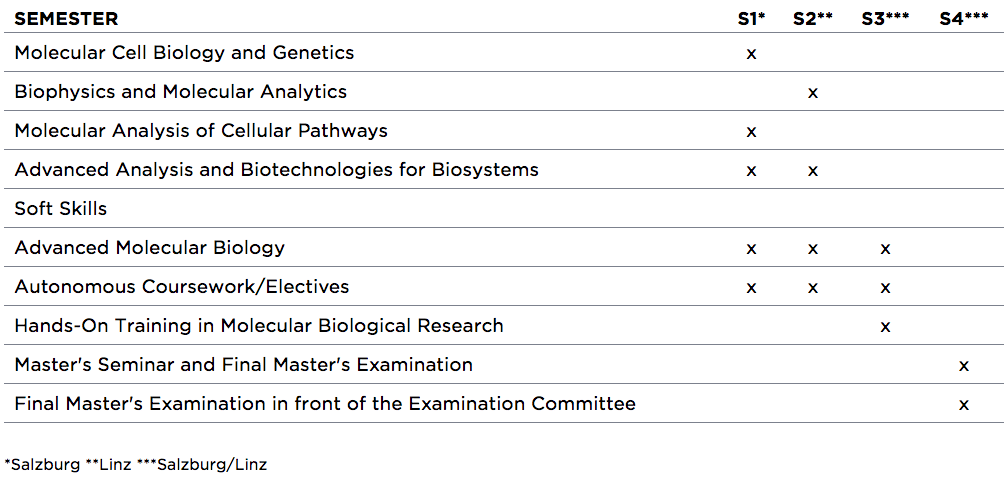 Admission Requirements
Prospective students wishing to enroll in the Master's degree in Molecular Biology at the JKU should hold a Bachelor's degree in Molecular Biosciences (JKU), or a degree equivalent in scope and content to the degree programs listed in order to fulfill the admission requirements to enroll in a graduate degree program.
Students can apply at both the University of Salzburg as well as at the Johannes Kepler University Linz for the admission to the joint Master's degree program in Molecular Biology.