MSc in
Master in Aeronautics and Space - Aeronautical Mechanics and Energetics (AME)
ISAE-ENSMA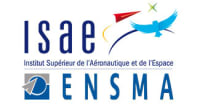 Introduction
This program is specialized in transportation (mainly aeronautical) and energy. The aim is to give students, at the end of the two-year program, a strong theoretical, numerical and experimental knowledge on energetics for turbine engines and on materials for high temperatures. Students will work on the industry's current issues thanks to projects including in the program and thanks to the final project that could be carried out within partner companies or laboratories for their Master Thesis.
Aims
The Master of Science in Aeronautical Mechanics and Energetics offers a common-core syllabus with elective majors:
Energetics and Propulsion
High-Temperature Materials
After completing the first year, students have basic knowledge of propulsion systems and materials and structures from aeronautical and space engineering. At the end of the first year, students choose a major with specialization either in energetics or materials for turbine engines. At the end of the two years, students have thorough knowledge in the major they have chosen on theoretical, numerical and experimental aspects, getting the latest advances in these research areas. Individual research projects and internships (particularly the thesis) allow students to put skills into practice and get ready for the labor market.
Contacts
Program Director:
Julien Sotton
Email: [email protected]
Tel.: +33 5 49 49 81 61
International Relations Office:
Anna-Laure Blouin
Email: [email protected]
Tel.: +33 5 49 49 80 05
Curriculum
Program Organization
ISAE-ENSMA
Pedagogical Approach
The two-year program is entirely taught in English, with a total of 120 ECTS credits (30 ECTS credits for each semester). After a common-core syllabus, students choose among 2 majors: propulsion or high-temperature materials. The last semester is dedicated to the master thesis. Students have to carry out a 5-month internship in a company or a laboratory, in France or abroad. The training program is composed of lectures, conferences, class works, laboratory sessions, and projects. It also offers compulsory French as Foreign Language courses.
Syllabus
Semester 1: 30 credits
Core courses - 250 h
Thermochemistry, Propulsion 1, Basics of thermal sciences, Structural mechanics, Numerical methods, Flight mechanics, Foreign languages, French and European culture.
Semester 2: 30 credits
Core courses - 330 h
Research project, Foreign languages, French and European culture
Major 1: Aerodynamics-Propulsion - 125 h
Fluid mechanics, Gas dynamics, Propulsion 2, Metrology
Major 2: Structures-Materials - 125 h
Vibrations-Finite element method, Project in structures and materials, Materials science, Helicopters.
Semester 3: 30 credits
Core courses - 160 h
The research project, Foreign languages
Major 1: Energetics and Propulsion (EPROP) - 250 h
Turbulence, Combustion, Atomisation and two-phase flow, Two-phase combustion, Turbulent combustion, Turbomachinery, Rocket propulsion, Radiation in the semi-transparent environment, Turbulent heat exchange, New combustion mode for propulsion, Numerical combustion for engines
Major 2: High-Temperature Materials (HTM) - 250 h
Finite element modeling, Plasticity-viscoplasticity, Materials mechanical properties, Fracture mechanics, Fatigue, Atomic diffusion and applications, High-temperature alloys, Thermal barrier coatings for a gas turbine engine, Materials processing, Engineering failure analysis, Corrosion of engineering materials, Creep
Semester 4: 30 credits
Master thesis - 5 to 6 months
Master thesis
Students conduct a thesis in a company or a laboratory from the aeronautical area, in France or abroad. The project is supervised by a tutor from the host organization and from ISAE-ENSMA. The Master thesis is concluded by the preparation of a report and a public defense.
Scholarships and Funding
Scholarships
Scholarships may be awarded (on merit).
GIFAS Program of excellence: allocation of a tuition waiver for the first year of the program only.
Career Opportunities
Career Opportunities
Graduates of the MSc AME can join R&D and R&T departments from the leading transportation and energy industries (mainly aeronautical engineering). The aeronautical area is strongly expanding and new markets are emerging, mainly in Asia. One of the issues of the transportation area is the design of cleaner and less expensive systems. It is possible thanks to an optimization process of propulsion systems and structures, but also thanks to important advances in technology. Using new combustion methods and new materials - lighter and higher temperature resistant - as well as the optimization, the design of systems has to come up to these issues. The students will be able to work either in international companies or in a research laboratory to carry on with a Ph.D. program.