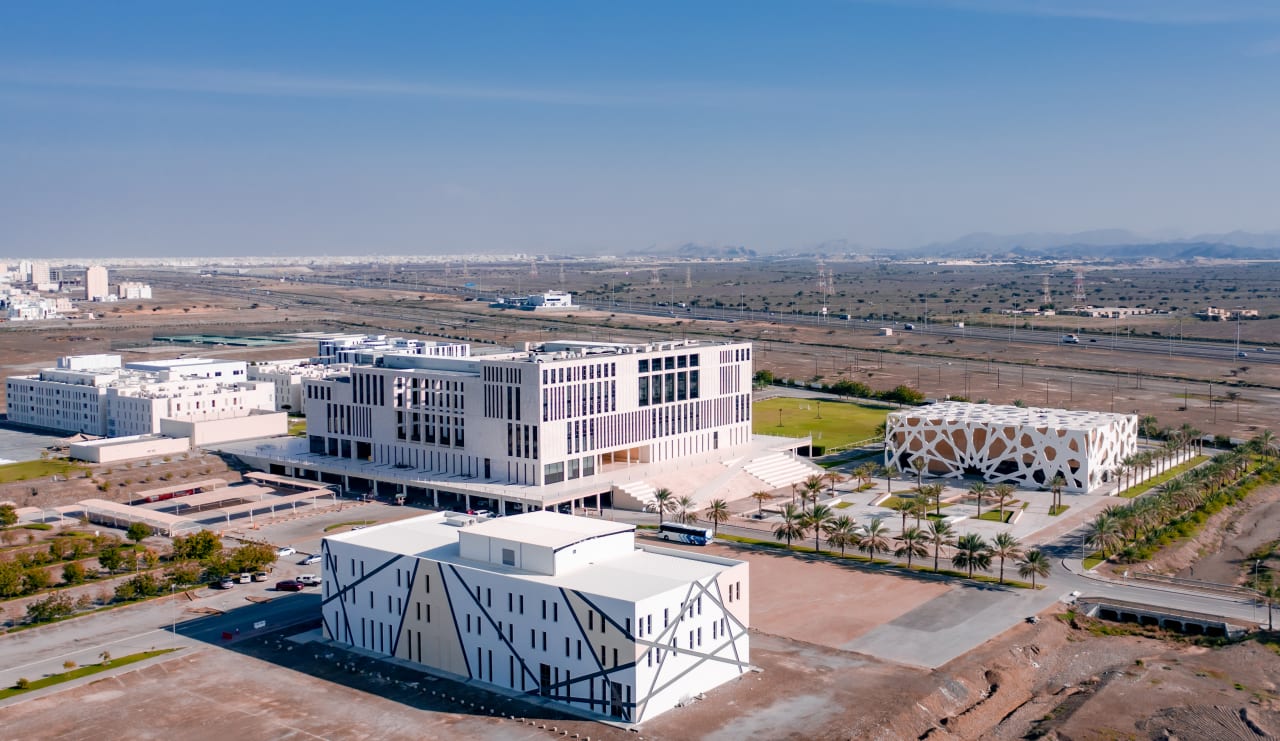 MSc in
MEng in Industrial Production and Manufacturing
German University of Technology in Oman
Key Information
---
Campus location
Muscat, Oman
Tuition fees
OMR 13,800 / per credit *
Application deadline
Request info
Earliest start date
Request info
* Tuition fees vary depending on the credit points of each module. The applicable fee of OMR 115 is assessed to each ECTS CP. A non-refundable fee OMR 100 is required prior to application being processed.
Introduction
About the Program
The German University of Technology in Oman (GUtech) and the University of Brescia in Italy collaborate to deliver the Master of Engineering in Industrial Production & Manufacturing (MEng IPM) at GUtech campus in Oman.
The MEng program focuses on two strategic sectors, namely material extraction and processing, and innovative, high automation and sustainable manufacturing.
The program enables students to gain solid and in-depth knowledge in the field of extraction, production, testing and control of ferrous, non-ferrous and polymeric materials, the use of new advanced materials for component production, and plant logistics with a special focus on business development and entrepreneurship.
Students will learn how to run a machine, design a production cycle, or optimize manufacturing processes by using ad hoc simulation software in GUtech Labs. The gained knowledge in this "virtual environment" will give students the possibility to go deeply inside the problems of running a machine or optimizing a manufacturing process without running expensive and time-consuming experimental tests in the workshop.
About the Partner University
The University of Brescia (UniBS) was officially established in 1982. It has 4 schools (Medicine, Engineering, Economics, and Law), offering 24 Bachelor degree programs of study and 16 Master degrees with about 15,000 students enrolled. The strong commitment to innovation in materials and processes applied to medical fields allows the University of Brescia to focus its activities mainly on the Health and Wealth of people and environment, through the integration of its own cultural and scientific areas and in cooperation with Italian and international partners working in health, economic-industrial and socio-institutional fields, in order to generate knowledge to educate new generations and take an active part in the progress of Brescia, Italy, and, in general, the world.
GUtech and the University of Brescia collaborate at different levels and in a range of areas including exchanging students and professors as well as developing new study programs.
Completion Requirements
Study requirements consist of contact hours (in class, on an excursion or during practical lab work) and related individual study work (reading of related literature, exam preparation, writing of seminar papers or reports, and completion of the Master's thesis).
Students will be required to complete a total workload of 120 ECTS credit points including a master's thesis, to qualify for graduation.
Time Frame
Full-time students are expected to complete the program in four semesters, while part-time students are expected to finish off in eight semesters.
Transferring Graduate Credits
Students can apply to transfer up to 50 percent of ECTS credit points from classes completed prior to their admission at GUtech. Transfer credit is evaluated on a case-by-case basis by the relevant department's faculty members.
Curriculum
Structure
The Master of Engineering in Industrial Production and Manufacturing is offered by the GUtech's department of engineering in the faculty of engineering and computer sciences.
Students may choose to join the program on a full-time or part-time basis. Courses will be taught by GUtech's faculty members and visiting professors from the University of Brescia and other renowned universities.
The MEng program is taught in English. A variety of assessment formats will be used including written and oral tests, seminar papers and the Master thesis. Students can choose to conduct the Master thesis and/or undertake internship placements in Brescia, Italy.
The main focus of the first semester is to convey the fundamentals of the study program in production of materials, traditional production processes, and technologies and on the methods to test and control products and processes. In addition, principles of quality management and economics are analyzed with a special focus on entrepreneurship.
The second semester covers the issues of material behavior and selection from an engineering point of view with more specialized courses in advanced production processes, innovative manufacturing systems, plant management, and logistic.
The third semester focuses on advanced technologies for micro-components and nano-surfaces production, on production techniques applied to local ores with particular attention to safety and environmental issues together with product life cycle assessment and recycling, and project management. In the fourth semester, students are required to write a Master's thesis.
Scholarships and Funding
Scholarship opportunities
We offer twenty (20) scholarships for successful applicants to cover 30 percent of tuition fees. There is not a separate application for these scholarships.
Career Opportunities
Career and Studies Opportunities
The Master of Engineering in Industrial Production & Manufacturing is a career-oriented program. You will be equipped with necessary generic skills such as ethical, critical and creative thinking, problem-solving, design, communication and team working in addition to program-specific skills and knowledge. Graduates of the program will be able to take over technical or management positions in materials, parts or goods production industries of different sizes, and design and manufacturing consultancy companies. Broadly, these are examples of companies our graduates could join upon graduation:
Metal production and transformation companies
Production systems, advanced materials, and manufacturing technologies
Production management
Consultancy companies
Production plants
Aside from industry, graduates may go on to pursue consultancy as well as research careers, whether through doctoral study in academia or commercial research.