MA in
M.A. in Learning, Design, and Technology
Georgetown University - Graduate School of Arts & Sciences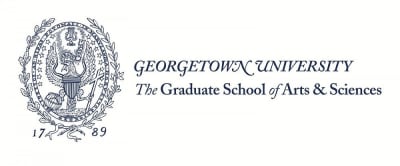 Key Information
---
Tuition fees
USD 2,139 / per credit *
Application deadline
Request info
Earliest start date
Request info
* cost per credit for academic year 2019-2020.
Scholarships
Explore scholarship opportunities to help fund your studies
Introduction
The mission of Georgetown University's Program in Learning, Design, and Technology is to give our students a deep foundation in the tools and theory of learning design, technology innovation, learning analytics, and higher education leadership, a foundation on which they can create engaging and innovative learning experiences for all students.
The landscape of higher education is complex and continually changing, posing challenges to what it means to be an effective teacher and successful student learner. The Master's in Learning, Design, and Technology was built from the ground up to give students a broad conceptual foundation in the theories of learning and teaching coupled with real-world experience in faculty development, educational technology, and instructional design. The Program is stewarded by Georgetown's Center for New Designs in Learning and Scholarship (CNDLS) and has the distinction of being the first-degree program in Learning, Design, and Technology to have started in a Center for Teaching Excellence and Technology Innovation. Through design projects and mentorships, students in the Program will learn from the Center's 17 years of experience working with faculty, departments, and students to respond to the challenges facing higher education and student success. With the tools and knowledge they gain from the Program, students will be equipped to navigate these challenges and pursue careers in instructional and learning design, instructional technology, learning analytics, online program development, higher education administration, and more.
A Diverse Curriculum for Deep Engagement
The complexity of higher education's dynamic environment requires a breadth of knowledge across all the issues of learning and design. With that in mind, the Master of Arts in Learning, Design, and Technology offers a diverse core curriculum as well as several tracks for more focused engagement.
Core Values that Drive Our Program
Learning and design are grounded in a belief that institutions of higher education have a responsibility to think intentionally about learning and the holistic development of students.
Our program embraces instructional design's methods while recognizing the need for innovation that responds to the emerging and undefined challenges that students and faculty face. Our processes allow students to integrate theory and practice and to reflect on their own learning, facilitating the transformational experiences that are at the heart of learning-centered education. We are committed to preparing creative designers, innovators, and leaders who are ready to uncover learning's challenges and shape the future of higher education.
Academics
The Master's in Learning, Design, and Technology program begins by establishing a common vocabulary and knowledge base. Starting with a core of courses that sketch the contours of critical topics in learning and design—data analytics, technology and innovation, leadership, and instructional design—students will move into one of four tracks that dig deeper into the challenges and opportunities of an area of work in the field.
The Masters in Learning, Design, and Technology curriculum combines core requirements at the program level with track level coursework and electives for a total of 36 credit hours. It balances both theoretical and applied perspectives and engages students in reflective and integrative practice throughout their course of study.
Program Core: 12 credit hours • 4 courses
Students take four courses that form the program's core. These courses offer students opportunities to explore multiple perspectives in relation to the program's tracks – Learning Design, Technology Innovation, Learning Analytics, and Higher Education Leadership. The core courses enable students to build a common knowledge base and language to engage in discourse that challenges current perspectives in learning and design to drive the discipline forward.
Track Core: 12 credit hours • 2 track required courses + Design Studio
In each track, students take two required courses that form the track's core. These two courses engage learners in further exploration of key concepts and applications in relation to their selected track. While the two required courses in each track focus on further refining students' understanding of the discipline, the Design Studio, a year-long core requirement across all tracks, enables students to apply what they are learning in areas of specific interest to each student.
Electives: 12 credit hours
Our students will have the opportunity to explore their own areas of interest by taking 12 credit hours of electives. Building on their knowledge and experience in the required courses, students will choose electives to deepen their understanding and engagement with other varied perspectives in the field.
ePortfolios
The ePortfolio component of the MLDT program offers students ways to determine who they are as reflective practitioners and ways to establish their own presence in the field. Each student is expected to design and develop their ePortfolio to capture and make visible their learning process and outcomes. During orientation to the program, students will create their own domain at georgetown.domains and will build their digital presence throughout the 2-year student experience. This digital space is integrated with coursework and the Design Studio. Students will use their ePortfolios to include evidence of their learning and reflect on their own practice.
Course List
Program Core
Methods of Learning and Design (3 credits)
Technology Innovation by Design (3 credits)
Learning Analytics (3 credits)
Designing the Future(s) of the University (3 credits)
Track Courses
Theories, Process Models, and Strategies (3 credits) LD
Mapping the Curriculum (3 credits) LD
Learning Design Studio (6 credits) LD
Technology & Learning (3 credits) IT
Designing and Developing the Learner Experience (3 credits) IT
Learning Design Studio (6 credits) IT
LD: Learning Design Track
IT: Technology Innovation Track
Electives
The Scholarship of Teaching and Learning (3 credits)
Learning and the Curriculum across the Disciplines (3 credits)
Narrative for Learning (3 credits)
Online Learning Design (3 credits)
Designing for Formational Outcomes (3 credits)
Designing for Social Justice (3 credits)
The Ethics of Technology Innovation (3 credits)
Gaming to Learn (3 credits)
English Language Requirements
Certify your English proficiency with the Duolingo English Test! The DET is a convenient, fast, and affordable online English test accepted by over 4,000 universities (like this one) around the world.