MA in
M.A. in English
Georgetown University - Graduate School of Arts & Sciences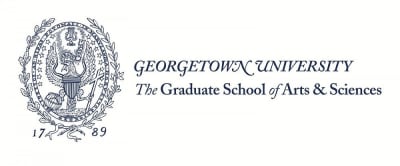 Key Information
---
Tuition fees
USD 2,139 / per credit *
Application deadline
Request info
Earliest start date
Request info
* cost per credit for academic year 2019-2020.
Scholarships
Explore scholarship opportunities to help fund your studies
Introduction
The Department of English offers a program of study leading to the M.A. degree in English and American Literature. Thesis and non-thesis options are available as well as a special concentration in the teaching of writing.
The program is enhanced by the library facilities in Washington, D.C., especially the Folger Shakespeare Library, where our students take advanced courses with nationally and internationally known scholars in the early modern period and in the long 18th century.
Specialized training is offered in the teaching of writing at the high school and/or college levels. This involves opportunities to work in specialized writing programs at Georgetown, one of which is committed to working with minority and working-class students and to work in many community outreach programs related to literacy and writing.
For students contemplating a Ph.D., for present or prospective teachers of English in secondary schools and for people with already established careers in writing and editing, Georgetown's M.A. program offers a breadth of choice and a variety of opportunities for specialization.
Close student-faculty contact is a hallmark of the program, which incorporates courses taught by talented faculty on cutting-edge topics in the field of English studies, including specialties in ethnic and race studies; cultural studies; critical theory; pedagogy and rhetoric; the early modern period; and gender studies.
Close student-faculty contact is a hallmark of this program which offers two equally rigorous and equally valued plans for completion of the Master's degree: the Capstone Option and the Thesis Option. Both require ten courses (30 credits) and allow students to earn the degree within a 4-semester, two-year schedule. Almost all students in the program have full-time status and successfully complete their work in 4 semesters.
Since many of our classes are held in the afternoon and early evening, it is possible for some students to work full-time while in the program. We require students to be enrolled in at least two and no more than three courses per semester. All graduate classes are seminars with an enrollment maximum of 18.
The Capstone Option
Students choosing the capstone project will take a capstone seminar in the fall of their second year that will provide them with the opportunity to develop an independent piece of work, one based on but not identical to a collection of projects from previous coursework, which can act as a ratification of the defining element of their academic or professional work in the program. The hope for students producing capstone projects is that, with the help of a faculty advisor, identified by the end of their first year in the program, and the capstone seminar instructor, they will be able to demonstrate a meaningful representation of the specific professional, intellectual or creative expertise acquired in the process of earning the Master's degree in English at Georgetown. The work begun in the fall capstone seminar will continue as a 3-credit independent study under the supervision of a faculty advisor in the spring.
The Thesis Option
This path consists of eight elective courses (24 credits), a thesis research seminar to be taken in the fall of the second year (3 credits), and a directed study with the thesis advisor in the spring of the second year (3 credits). Students opting to write a thesis will adhere to a strict schedule of deadlines for submitting drafts of the thesis to their thesis advisor and eventually to a second reader; these two faculty members will comprise the student's thesis defense committee. Students will submit a complete draft of the thesis to their defense committee by spring break of their second year, in preparation for a required 2-hour oral thesis defense to be completed no later than the last Friday in March. Students will then submit a finished version of their approved thesis by the relevant deadlines to the Program and to the Graduate School for the timely completion of their degree.
Other Program Features
Interdisciplinary Variety
The twenty seminars offered each year reflect the faculty's broad interests but also allow students to develop sub-fields of study in several areas based on the courses being offered in any given year; these may include Medieval Studies, the Early Modern period, British and Trans-Atlantic 18th-Century Studies, Romanticism, British and American 19th-Century Studies, Critical Theory, and Irish and other Anglophone World literatures, as well as in a variety of emerging interdisciplinary fields, including: cultural studies; ethnic, race and post-colonial studies; gender and sexuality studies; and performance, film and media studies.
Writing Pedagogy
In addition, the program boasts a strong commitment to training students in the teaching of writing through a combination of coursework, direct individual and group mentoring from the Writing Program and another faculty, and hands-on, practical experience in apprentice-teaching and peer-tutoring settings.
Ph.D. Placement
We have an excellent and consistent record of placing our graduates in top Ph.D. programs, including Duke University, the University of Virginia, the University of California-Berkeley, the University of Southern California, New York University, Yale University, Emory University, Stanford University, McGill University, the George Washington University, Northwestern University, and The Ohio State University.
Degree Requirements
Graduate students in the English program plan their program of study with a graduate faculty member. All students must propose and prepare for one oral examination on a topic that synthesizes their studies.
With the approval of the director of graduate studies in English, students may take up to six hours of coursework in another department or at other institutions in the consortium of universities of the Washington area. Students may also take seminars offered through the Folger Shakespeare Library's Institute of Renaissance and Eighteenth-Century Studies.
English Language Requirements
Certify your English proficiency with the Duolingo English Test! The DET is a convenient, fast, and affordable online English test accepted by over 4,000 universities (like this one) around the world.