Master in
Master of International Management
Geneva Business School
Introduction
The Master of International Management gives students a solid background in how to lead a global team. Students will explore the latest trends in management and master the tools, practical skills, and leadership needed for a successful career.
Facts
Duration: 1.5 years / 3 semesters
Credits: 90 ECTS
Language: English
Intakes: February and September
Degree Awarded: Master of International Management with a specialization in International Management.
Delivery mode: On Campus
Swiss Quality Education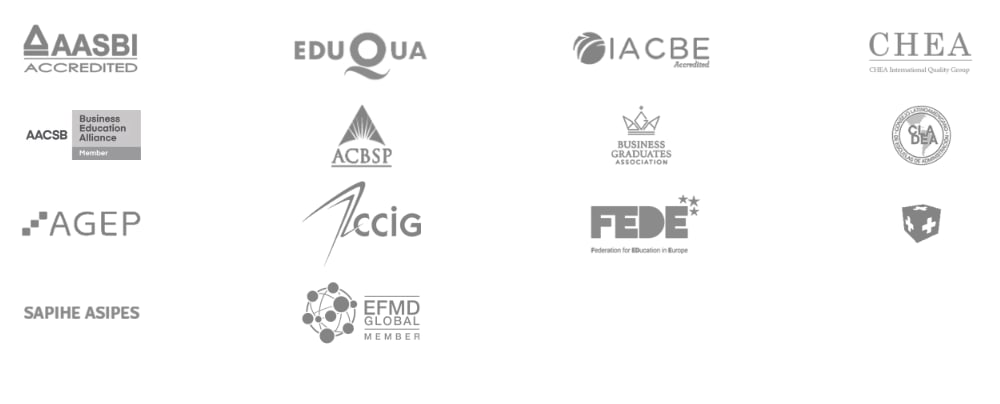 As a leading private institution in Switzerland, Geneva Business School maintains its quality of education through program accreditations & memberships with some of the world's most respected organizations, providing its students with a distinguished education, excellent professional opportunities, and high-quality learning experiences.
Curriculum
Program
The master's program requires the successful completion of 90 ECTS credits. The program format consists of unique business, management, and finance courses that will extend and deepen your understanding of and experience in business along with courses that specialize in management, and a final project.
The breakdown of the program is as follows:
11 core courses (44 ECTS)
A consultancy project (4 ECTS)
Participation in a practical and competitive business simulation (4 ECTS)
5 courses in your chosen area of management (20 ECTS)
A business project can be an industry report, a problem-solving case, or a business plan (18 ECTS)
Program Outcome
The International Management specialization will help you:
Gain problem-solving management expertise.
Obtain private and public market management analytical skills.
Discover the ability to analyze business structures.
Identify areas for the implementation of new theories and methods.
Design and build new management strategies.
Career Opportunities
Career Options
General Manager
International Sales and Marketing Manager
Global Account Manager
Management Analyst
Chief Executive
Entrepreneur
Business Analyst
Director of International Management
Business Development Coordinator
International Brand Manager
Management Consultant