Master in
MSW - Advanced studies in social work and social expertise
Free International University of Moldova
Key Information
---
Languages
English, Russian, Romanian
Tuition fees
EUR 1,000 / per year *
Application deadline
Request info
Earliest start date
Request info
* Romanian students: 500 EUR/per year; EU students: 1000 EUR/per year; Non-EU students: 2000 EUR/per year
Scholarships
Explore scholarship opportunities to help fund your studies
Introduction
Level of qualification: 7 ISCED Level
Duration: 2 years
Number of study credits: 120 ECTS, 4 semesters
Earliest Start Date: October 2020
Languages: Romanian, Russian, English
Tuition Fee:

EU students: 1000 EUR/per year
Romanian students: 500 EUR/per year
Non-EU students: 2000 EUR/per year
Mission
Training professional experts staff for the effective practice of global social work in the Republic of Moldova.
Purpose
The MSW-Social Expert Program at ULIM forms professionals in Social Work capable to face complex social problems and to respond globally to individual needs, emphasizing countries with a transition economy.
Goals
Develop and implement a Master's degree curriculum according to the international standards of social work.
Continuous assessment and curriculum reviewing through collaborative efforts of the international consortium from the International Center for Advancement of Social Work in Countries with Transition Economies.
Training of the entry-level and experienced social work professionals to practice according to the international standards within a multi-cultural global environment on micro, mezzo, and macro levels.
Developing and implementing advanced pedagogical methods based on outcomes to teach effectively social work values, knowledge, and skills.
Emphasizing global agenda, research, collaborative and experiential learning as aspects of the curriculum.
Promoting employment of the graduates in Moldova and abroad.
Promoting social work professionalization in Moldova and other countries with transition economies through participation in the creation of accreditation bodies and professional associations as well as increasing prestige and employment opportunities for social work experts.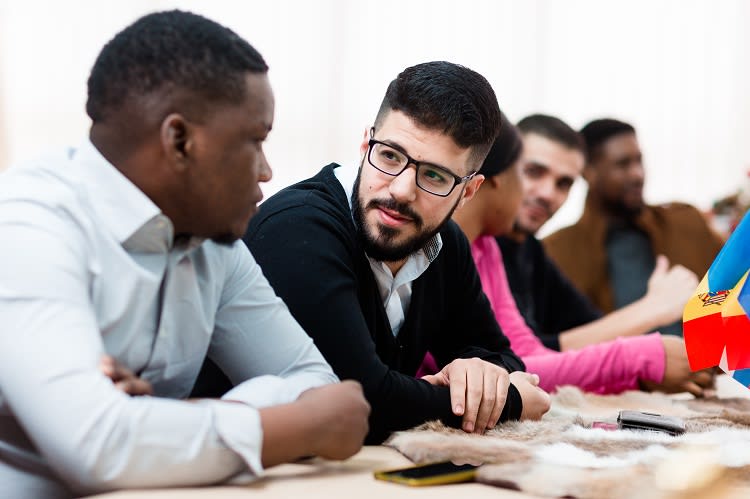 ©Free International University of Moldova
Background
The Master of Social Work Program at ULIM was founded in 2012 through a consortium of four universities from Moldova and six from the United States. The curriculum was designed specifically for the social needs and problems of the post-Soviet world yet with generalist global applicability. The latest knowledge of social work education and pedagogical technologies combined with the experience of the international faculty team contributed to the cutting-edge signature curriculum design.
The first pilot year was launched in the fall of 2013 and currently nearing its completion. The Program is a two-year/four-semester, with basic and advanced graduate-level courses and two concentrations – Social Economic Development and Disaster, Violence, and Trauma. Field agencies under contract and in development consist of top social, governmental, and non-governmental agencies. Students are trained for eventual work opportunities under the job title of "Social Work Expert" at positions of high responsibility in Moldova and abroad.
Other aspects of the Program include innovative program schedule which combines module format with the traditional approach; co-teaching dyads of Moldovan and American faculty members, English as the primary language of pedagogy; publications and conference presentations by students and faculty as a pedagogical outcome; training in grant-writing; and international faculty exchange.
International Perspectives
As the program is organized in partnership with an American University, students can, therefore, benefit from one-semester mobility at the New York College, as well as of other Erasmus+ student mobility.
Curriculum
Semester 1
Social Work and Social Welfare Policies
Understanding Local and Global Social Systems
Methodology and ethics of research in the Social and behavioral sciences
Environmental Social Work: Physical and Technological Ecologies
Working with Groups
Conceptualizing and Designing Social Entrepreneurship Projects
Semester 2
Macro-Level Social Work Practice: Empowering Communities Toward Cohesion and Wellness
Project Management
Current Research Issues within the Social Work Practice
Educational Assistance in Health and Disease
Understanding of and Practice in the Health Care System
Case Study: Understanding the Client's System
Mezzo-Level Practice: Understanding and Managing Organizations
Planning and Organizing Social Entrepreneurship Projects
Semester 3
Nano-level Social Work: Working with Self (Self-awareness, Competence, and Integrity)
Understanding of and Practice in the Family System
Micro-level Social Work: Counseling Individuals and Families
Contemporary Social Policies and Reforms in Child and Family Protection Field
Understanding of and Practice in the Mental Health System
Spirituality: The Metaphysical Dimension of Social Work
Field Seminar: Implementation and Assessment of Social Entrepreneurship Projects
Semester 4
Research and Master Degree Thesis Elaboration
Testimonials
©Free International University of Moldova

"I never had more intelligent, creative, energetic, dedicated colleagues and students I have here at ULIM and in Moldova. It is an honor to work here, and I am blessed with the chance to have such wonderful students and colleagues".
(Dr. Vadim Moldovan, Associate Professor, The City University of New York, USA).

©Free International University of Moldova

"Studying abroad was one of the biggest experiences in my life and I have changed a lot through studying abroad. It was a good opportunity for not only learning a foreign language, but it was also a good chance to learn about different cultures. I had some prejudices about other countries, but studying at ULIM, it helped me to get along with people from different countries. I know that it is a really big decision to study abroad. However, you can learn many things if you have an open mind and courage."
(Bokilo Ioanna Alison, Congo).

©Free International University of Moldova

"I would like to express my big thank you to the host institution, ULIM, and to take some of my time to express how much I enjoyed being one of its exchange students. Believe it or not, I can't think of a life situation which would have made my career more special than this unforgettable one year experience spent at the Free International University of Moldova."
(Dong Jo, South Korea)

©Free International University of Moldova

"Because of deeply impacting study years at the Free International University of Moldova, I was able to grow as a person, better understand myself, others around me, and overcome challenges with amazing rewards that would impact my life in years to come."
(Malonga Miguel Rockmile, Africa)

©Free International University of Moldova

"Free International University of Moldova is indeed 'international' as I have met here students and colleagues from various parts of the world, which is awesome. Attending an international university has many benefits that can impact your life. Prospective students looking to study in the most international environments in the world should look to apply to this university."
(Xyan Xya, China)

©Free International University of Moldova

"At ULIM, I was able to challenge myself, make new friends, get involved in various activities, and attend numerous events. ULIM is a community where everybody feels welcomed, and in this supportive environment, I grew and got so much more than I had expected."
(Hong Seo Yeon, South Korea)