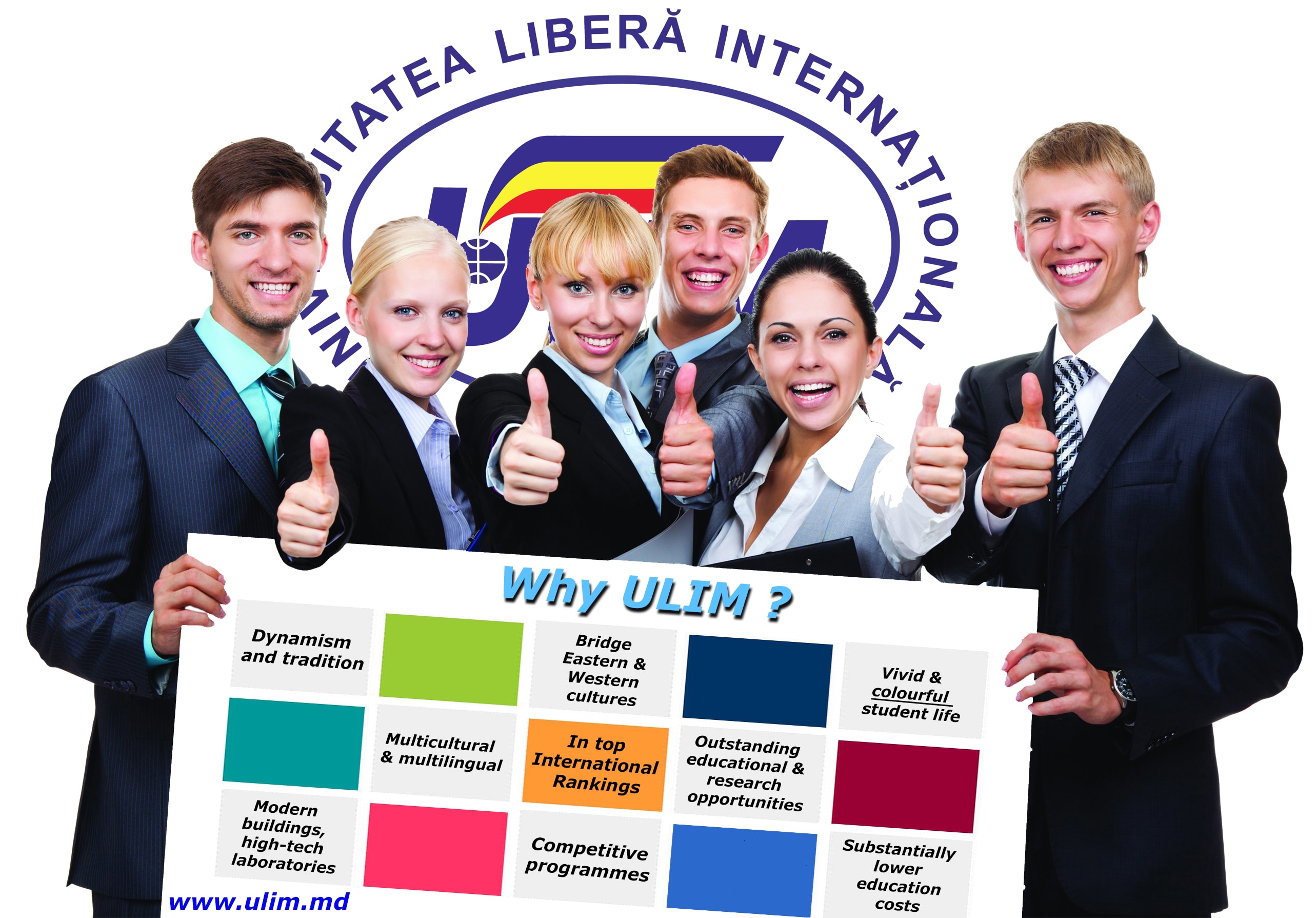 ©Free International University of Moldova
Free International University of Moldova (ULIM) was founded in 1992 by Government Decision and is accredited by the National Council for Academic Assessment and Accreditation of the Republic of Moldova. Based on the "non-profit" principle, ULIM operates according to the Constitution and the laws that govern the higher education system in the Republic of Moldova.
Its community comprises about 6000 students and over 300 academic staff. It is a comprehensive university including 7 faculties with their respective departments.
The faculties (Law; Economic Sciences; Social and Educational Sciences; Letters; Biomedicine and Ecology; International Relations, Economic Sciences, and Journalism; Informatics, Engineering, and Design) functioning within the framework of ULIM offer nationally accredited study programs at Bachelor, Master, and Doctoral level.
The Free International University of Moldova offers students the opportunity to combine theoretical and practical knowledge, in a multi- and inter-disciplinary environment, preparing them to enter a globalized labor market. With more than 30% of the student body being international, the university is intensively involved in processes of internationalization with our faculties offering 76 study programs in four languages (Romanian, Russian, English, and French) at Bachelor, Master, and Doctoral level.
ULIM is certainly boosting up its educational standards, its research, and innovational modules; it hosts various foreign cultural and language centers (Confucius Institute, Korean Se Jong, French Center CRU, British Center, Cervantes Spanish Center), thus, setting up priorities to expand our international horizons and provide excellency in the major disciplines. Highly focused on the internationalization of curricula, the Free International University of Moldova is more and more oriented towards opportunities for graduates' absorption in a globalized labor market.
The Free International University of Moldova has become an important actor at an international level, being subject to global competition and having to face this competition. ULIM has a notable initiative to try, in an organized way, the accession of international elite universities through its active presence in international rankings. It is a feasible goal, involving efforts from the entire academic community, but which is in line with the size, aspirations, and quality of the University. The rankings in which the Free International University of Moldova is visible internationally are U-Multirank, Times Higher Education Rankings, UI GreenMetric World University Ranking, Ranking Web of Universities (Webometrics), uniRank University Ranking (uniRank).
As made clear by the most current edition of World University Ranking (U-Multirank 2020), the Free International University of Moldova is strongest in International Orientation. Its overall profile shows top performance across various indicators, with 5 'A' (very good) scores for the following dimensions: foreign language Bachelor and Master programs, mobilities, internships, international partnerships, and international academic staff.
ULIM has joined the largest university networks like European Universities Association (EUA), International Association of Universities (IAU), as well as many other international bodies and associations (Agence Universitaire de la Francophonie, European Law Faculty Association, Global Network for Innovation, Magna Charta Universitatum, .etc).
Additionally, on a yearly basis, the Free International University of Moldova implements over 30 projects, out of which have a strong international dimension. Fostering a multi- and interdisciplinary approach to higher education and research, with a clear focus towards internationalization, ULIM has over 100 bilateral agreements fostering exchanges under Erasmus+ program and other bilateral agreements with higher education institutions worldwide.
Last, but not least, the student campus is located in the heart of the city and is in itself an attraction, with many opportunities for leisure and living.
Our institution provides high-quality student services and facilities (university hotel, modern residence hall, canteens, cafeterias, clubs, leisure, and sports facilities, library, computer/media labs, judicial clinic, etc.).