Master in
Master of Science in International Management
Franklin University Switzerland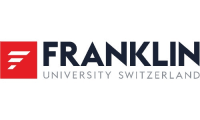 Introduction
Learn to be a responsible and collaborative leader and make the changes needed to safeguard our cultural and artistic heritage.
Created in partnership with SDA Bocconi School of Management, this MA in Responsible Arts Management and Cultural Heritage is designed to provide both a practical and theoretical preparation for change-makers, future leaders and the next generation of art professionals. Through a rigorous curriculum and multicultural experience, the program strives towards preparing leaders for today's international arts and heritage environment.
The program is designed as an applied-learning pathway, including live classroom seminars, online course work and a hands-on, dynamic, experiential learning opportunity. In conjunction with the elite International Program in Arts Management (IPAM) at SDA Bocconi, the program offers a series of masterclasses, a travel agenda through three countries with some of the world's richest cultural heritage, open conversations, company visits, hackathons and other valuable experiences to provide cutting-edge practice. Students will gain the knowledge necessary for collaborating with multiple stakeholders to ensure responsible arts management. Main touchpoints are Law for Arts Management, Arts Collecting, Marketing for the Arts, Ethical Arts Management, Digitalization of Arts Communication and Management, while developing entrepreneurial mindset and leveraging opportunities for networking and career development. Experience turning systemic challenges into functional solutions, through practical projects and strategies, applicable to any arts corporation and institution, business and cultural centers.
Students will actively be engaged in the individual design and execution of the program, through Franklin's tailor-made and customizable study-path, developing professional skills and international relationships along the way to support future impact and drive the transition toward a greener professional ecosystem and society.
Program Outcome
Students will earn a Certificate of Arts Management from International Program in Arts Management (IPAM) in conjunction with the Franklin MSIM degree.
Career Opportunities
Where Our Graduates Go
Employers look for candidates with a reliable skill set, and Franklin students have it! Within a year of graduation, 95% of our students obtain full-time employment in a wide variety of sectors, as shown in the graphic. At Franklin, you'll get the education you need and acquire the skills employers want.
Since we began in 1970, there are now over 7,000 alumni already making a difference in their hometowns and in new, exciting locations around the globe. Let FUS help you get where you want to go.
Curriculum
This participative and collaborative curriculum is designed to provide students with an intensive path of study that gives you a strong background in leadership, creates situations that build experience in collaboration and project management, and launches the next phase of your career through internships working on real ongoing projects. Each of the courses and workshops in the program is a facet of a complete perspective that will help you to be an effective agent of innovation.
Fall Courses
Leadership Development through Action
International Management
Digital Transformation Strategies
Resp Mgt for Sustainable Business
Innovation and Project Management
Challenges in the New Global Marketplace
Global Issues and Responsible Leadership
International Business Economics
Reporting with Purpose
Managerial Finance
Innovation and Design Thinking
Organization Evolution and Design
Responsible Sales Strategies
Spring Courses
Cult Intelligence Diversity Pract Bus
Digitalization and Future of Business
Business Analytics
Thesis and Methodology
Global Governance and the Management
Arts Management
Art Finance
Summer Courses
Capstone Thesis
Scholarships and Funding
70 percent of Franklin students receive financial aid. As an institution Franklin offers scholarships based on academic merit and financial need. Additionally, students may receive aid from various external programs based on citizenship, need, and other factors. Together we create a financial aid package and carefully guide you through your financing options to help you afford your education.
Franklin University Switzerland Institutional Scholarships
U.S. Federal Loans
Private Loans