MSc in
MSc in Marketing Management
ESADE Business School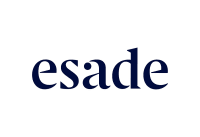 Introduction
Programme details
Start date: September 2022
Format: In-class
Language: English + some elective courses in Spanish.

Language learning: Optional classes in Spanish, German and French.

Location: Barcelona - Sant Cugat Campus

Study tours: January
Internship (optional): 3 - 6 months worldwide
From consumer insights to brand management and from e-commerce to social media, marketing is a critical success-dynamic in today's business panorama. There has never been a more exciting time to work in marketing.
The Esade MSc in Marketing Management prepares you to excel in this fast-changing environment. It exposes you to the essential theory while challenging you to build the agility, strategic thinking and confidence to find effective solutions to complex, real-world marketing challenges. You'll emerge with the rounded capabilities of a world-class socially responsible marketer: able to analyse, evaluate, and manage market opportunities in the global context. Navigate the complexities of today's digital environment. And take your career wherever you want to.
The learning needs for a rewarding international career in marketing
Master the theory. Build a holistic understanding of businesses and stakeholder ecosystems. And develop the skills, agility and sensitivity to manage marketing solutions in a complex business world defined by disruptions and ethical queries.
Discover the details of the Esade MSc in Marketing Management programme: what you'll learn, where you'll travel, who will guide you and when you can start.
Reasons to Choose the MSc in Marketing Management
Esade is defined by thinking differently. When you join the MSc in Marketing Management programme, you enter a world of people committed to questioning assumptions and driving change.
You join a centre of academic excellence that's renowned as one of the best on the world. You learn from game-changing marketing experts who help set the industry agenda. Top recruiters seek out Esade graduates like you because they know that the up-to-the-minute insights, skills and knowledge you develop will prepare you to have a positive impact on business.
And you'll be a part of the Esade community for life, forging ties and networks with next-generation leaders from every continent. Esade is a rock-solid foundation for your future career. How high you want to build it is up to you.
Specialisation

Tailor the programme to suit your career goals and areas of personal interest. Specialise by sectors (E-commerce & technology, Fashion or Sports, and Health) or by function (Brand/Communication, Research/Consulting or Sales).

Professionalisation

While giving you a solid foundation in theory, the programme takes a highly practical, hands-on approach that exposes you to international marketing best practices in action.

MARPRO

The Marketing Professional Challenge is your chance to demonstrate your talent. Show us what you can do and you could be rewarded with up to 100% of tuition fees.

Reputation

Begin your postgraduate education among the business leaders of tomorrow, on one of the best Masters in Marketing Management in the world.

International Experience

During intensive, week-long study tours you'll visit top universities and leading companies around the world. Specialist seminars will give you actionable insights into critical topics.

Languages

Having a second language is a key tool and differentiator; consolidate your knowledge of Spanish, or, for native Spanish speakers, there's the option to take French or German lessons
Program Outcome
What Will You Learn?
Manage marketing functions effectively and creatively, demonstrating a high degree of flexibility and adaptability to changing environments.
Build a systemic vision of the organisation and the complexity of its local and global context, and communicate this vision to teams, clients and other stakeholders.
Research, analyse and synthesise in a way that fosters critical thought and supports informed decision-making.
Develop a sensitivity to the intangible elements that form part of the solutions valued by customers and all other stakeholders.
Become a responsible leader who, being aware of the implicit values and impact of all decisions, is committed to building a fairer society, working collaboratively with integrity and fostering diversity and inclusion, in order to achieve the Sustainable Development Goals.
Ideal Students
Your MSc in Marketing management is more than a chance to develop the skills, knowledge and experience that recruiters value. It's a chance to become a better marketer by growing your understanding of people.
You'll share a classroom with a diverse group of top talents from different backgrounds and cultures. The Class of 2019-2020 brought together students of 33 nationalities from five continents.
At Esade, you have the world in your classroom
Like you, your classmates will be ambitious and driven to succeed. They'll share your goal of driving an international career in marketing. And, like you, they will know how important it is to be part of a world-class business school.
But their diversity will help you to see things very differently, to try new approaches and to re-think your ideas. The experience will help you become a better marketer. And a better person.
Career Opportunities
Active Professionals, Moving Business Through Marketing
The Esade Master in Marketing Management puts you in a pole position to start your career.
You'll graduate with a solid understanding of marketing strategy, specialist knowledge, hands-on skills and the global outlook that top international recruiters want.
That's why 91% of the Class of 2019 found jobs within three months of graduation.
Why a Career in Marketing?
Marketers play a crucial role in any organisation's performance. They join the dots between the consumer, the business and market trends to add value. Marketing is a broad field with endless opportunities for specialisation. It requires technical skills, creativity, strategic thinking, analysis and many other key competencies.
Every company needs marketers but few people offer everything the role requires. The recruitment potential is unlimited. And you can go right to the top: marketing offers extraordinary opportunities for career advancement – from functional specialisation all the way to the C-Suite.
Graduates in MSc in Marketing Management are typically hired as:
Brand Manager
Commercial
Consultant
Lifecycle Manager
Online Marketing Manager
Product Manager
Research Analyst
Store Leader
Trade Marketer
Curriculum
Programme structure
The Esade Marketing Management programme syllabus is designed to deliver the knowledge and abilities that top recruiters are looking for.
Gain a solid understanding of the essentials of marketing strategy. Build the agility and analytical thinking to apply effective solutions in complex real-world environments.
The Esade MSc in Marketing Management gives you the theoretical grounding, the real-life exposure, the multi-cultural skills and sensitivities, and the systemic vision of businesses and their ecosystems to create and deliver cutting-edge marketing solutions.
Have impact. Deliver results. Affect positive change. Prepare for a world-class career in marketing.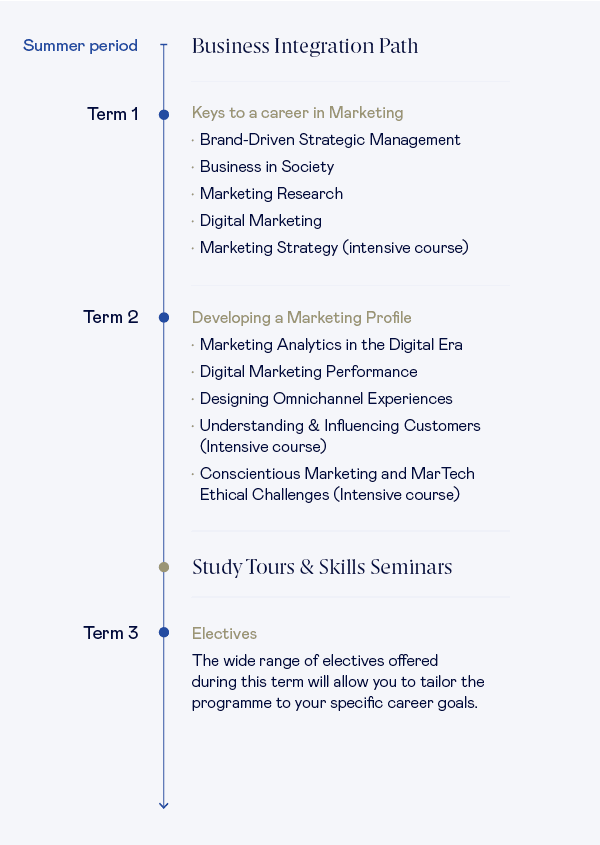 Rankings
1st in Europe, by Eduniversal
6th Worldwide, by QS
Scholarships and Funding
A wide range of scholarships available.