MSc in
Master of Science in Oil & Gas Technology
Eastern Macedonia and Thrace Institute of Technology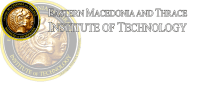 Scholarships
Explore scholarship opportunities to help fund your studies
Introduction
ABOUT THE PROGRAM
MSc in Oil and Gas Technology is a highly academic and professional course providing knowledge and skills for those who are interested in a transition from engineering to management positions and for those who find that complex managerial situations require some deeper technical understanding. Again, it is ideal for new entrants in oil and gas industry too. The course is fully recognized by the Greek State.
DURATION AND CREDITS
The duration of the program is 14 months. The program provides a total of 90 ECTS.
OPEN ACCESS TO HIGH-TECH LAB FACILITIES
MSc in Oil and Gas Technology is a program of lectures, projects, thesis, and research open labware. The latter is a strong asset here at EMaTTech. As a matter of fact, the program provides access (24/7) to our students on very expensive high-tech instrumentation that regularly will not have the chance to see all of them at once and openly work with them in any place in the world. That includes: Small/wide angle x-ray scattering (SAXS/WAXS), x-ray diffraction (XRD), various types of microscopes such as transmission, scanning with energy dispersion system, and atomic force (TEM, SEM/EDX, AFM), gas chromatography combustion for isotope ratio mass spectrometry (GC/C/IRMS), differential scanning calorimetry and thermogravimetric analyzer (DSC/TGA), ground penetrating radar (GPR) and many other surface and fuel science instruments.
ADMISSION REQUIREMENTS
Students with excellent performance on their undergraduate studies in engineering or a relevant science discipline such as geology, physics, chemistry or mathematics, from a Greek or foreign University will be accepted in the program without pre-requirements. Other entrants are possible to attend the course but they may be required to attend classes of undergraduate petroleum engineering technology core courses (production and drilling engineering). In addition to the academic qualifications, motivation and industrial experience are taken into consideration. Professionals, based on their work experience, are welcome too.
LANGUAGE REQUIREMENTS
All applicants must document English language qualifications e.g. TOEFL (IBT 83), IELTS (6.5), Cambridge/Michigan Certificate, or equivalent. You must normally have achieved the score we need, not more than two years before you begin your postgraduate program with us. If you do not have the required scores. Please contact us for further information.
ASSOCIATION OF WOMEN IN SCIENCE (AWIS)
Free of charge membership for all female students in the Association of Women in Science. Women in Science are playing in both Industry and Academia an important role. To this end, we introduce our female students in Petroleum Engineering Technology to the AWIS; hoping to be a part of a movement that will increase the opportunity of women in S.T.E.M.M. (Science, Technology, Engineering, Mathematics, Medicine).