MSc in
MSc in Information Security Technology
Eindhoven University of Technology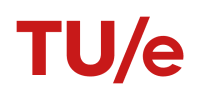 Introduction
From unauthorized access to malicious manipulation: the threats that exist when storing or sending electronic data are on the increase. For that reason, the security of that data is of ever greater importance. Information Security Technology provides essential tools for safe communication and the protection of data.
This Master's program is offered by a collaborative venture between our department and our counterpart at Radboud University Nijmegen. The program has been structured in such a way that you spend one day per week on average taking courses at the other university. The Master's program in Information Security Technology is a special Master's degree program that falls within the Master's degree in Computer Science and Engineering.
NVAO accreditation
This special Master's track is formally a track of the Master's program Computer Science and Engineering. The Master program Computer Science and Engineering are accredited by NVAO (Nederlands-Vlaamse Accreditatieorganisatie), the Accreditation Organization of the Netherlands, and Flanders.
Curriculum
Program information
Study possibilities: Full-time
Degree: Master of Science
Language: English
Times of entry: September or February
Duration: 2 years (120 ECTS)
Master's thesis: 30 ECTS
Content of the Master's degree program in Information Security Technology
The program provides you with a broad overview of the techniques of Information Security Technology, which also covers aspects of business operations, law, and ethics. Information Security Technology allows you to familiarize yourself with subjects such as:
cryptographic codes
operating systems
protocol verification