MSc in
MSc in Construction Management and Engineering
Eindhoven University of Technology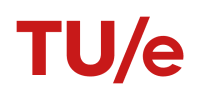 Introduction
The master's degree program Construction Management and Engineering (CME) is offered by the Built Environment (BE) and Industrial Engineering & Innovation Sciences (IE&IS) departments, with their distinctive research-driven and project-oriented approach to education. In this interdepartmental program, the focus is Construction Management & Urban Development: using urban/building sciences and management and innovation sciences to develop solutions for urban development with particular emphasis on smart cities. CME graduation projects are closely related to ongoing research projects in the BE and IE&IS departments.
Program Outcome
Characteristics of the program
The vision of the Graduate School (the Master program is part of it) is that students develop a personalized education program. Therefore the Master program CME offers you:
a series of courses and projects with a lot of flexibility and multidisciplinary opportunities,
the possibility to gain international experience,
educations in soft skills, such as creativity and communication skills in the curriculum.
Curriculum
4TU-CME
The two-year CME degree program is also part of the 4TU Federation, consisting of the four universities of Technology in the Netherlands. The CME degree program is coordinated between the three universities Eindhoven University, Delft University, and University Twente, with the possibility of taking elective courses at each location.