MA in
Master of Arts in History
Duke University Trinity College of Arts and Sciences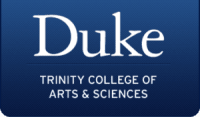 Scholarships
Explore scholarship opportunities to help fund your studies
Introduction
The Master of Arts degree can be completed within two calendar years. Our program is very competitive, and we admit very few students specifically to the M.A. program, although many doctoral students obtain a M.A. en route to their Ph.D.
Academic Requirements
30 Course Credit Units
All Duke Master of Arts programs require a minimum of 30 units of course credit. At least 24 of these units must be graded course work. The other 6 units may be credits for "ungraded research." Students may take graduate courses in other disciplines that relate to their areas of interest with permission of the Director of Graduate Studies (DGS).
Required Courses
Students must take HISTORY 701S: Research Seminar in History or HISTORY 702S: Research Seminar in History, or with the permission of the DGS a similar course sequence in historiography/theory and research methods.
At least one course at the graduate level that explores a specific methodology.
Two Seminar Papers
You must demonstrate proficiency in primary research and writing two seminar papers (of 25-35 pages each). Normally these are products of courses you take.
Foreign Language Reading Proficiency
Candidates for the M.A. degree (but not the JD/MA program) must have a reading knowledge of at least one ancient or modern foreign language. Read guidance on the departmental language requirement.