Master in
Master of Information Systems Management (MISM)
DeVry University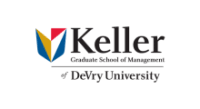 Scholarships
Explore scholarship opportunities to help fund your studies
Introduction


Our Master of Information Systems Management degree program can equip you with a broad range of competencies to meet the business, management and technical demands of this expanding field. Because our professors maintain a current, working knowledge of the latest professional developments, their expertise can prepare you for a career in technology applications and alternatives.
The Master of Information Systems Management degree program is available at the following locations:
Chicago Loop (Chicago, IL)
New York (Midtown Manhattan, NY)*
Concentrations:
Information Security
Data Administration and Management
Health Information Systems Management
Project Management
Information Systems Tools
Information Systems Applications
Network Management
TUITION - Click Here
About DeVry University
If you are looking for an undergraduate or graduate college degree program, consider DeVry University. We offer small class sizes, a year-round enrollment every 8 weeks with processing new or transfer I-20 and degree completion programs. At DeVry, you can earn a reputable degree from an accredited* university respected by top employers around the globe.
Classes start every 8 weeks: January, March, May, July, September, and November
DeVry University has locations across the United States, including 6 campuses specially equipped to address and service the needs of international students in their pursuit of a successful career.
Chicago, IL (Loop & Campbell)
Fremont, CA (San Francisco)
Pomona, CA (Los Angeles)
Sherman Oaks, CA (Los Angeles)
New York City, NY
Student life at DeVry University
DeVry University offers a wide range of activities and clubs, including many professional organizations, in which students can participate. Most activities are planned by the student government or activity organization at each campus. In addition, several curriculum-related organizations, such as computer and electronics clubs, are offered, as are student-produced newspapers and special interest groups in such areas as chess, martial arts, and photography. A variety of intramural sports and field trip activities are also available. Activities and clubs vary by location.
US Career Experience Program (USCEP)
Would you like to earn hands-on experience while attending school in the US?DeVry University's U.S. Career Experience Program provides international students of DeVry University or its Keller Graduate School of Management the opportunity to gain valuable on-campus work experience through a paid, part-time job. Opportunities vary my campus locations. International students may work up to 20 hours per week with the potential to earn up to $10/hour. This is an exceptional opportunity to develop in one or several of the following specialist roles:
Business Development
Marketing
Student Services
Admissions
Community Outreach
Students can learn more about each role description by following our LinkedIn page at https://www.linkedin.com/company/devry-university-&-its-keller-graduate-school-of-management-international
Follow us on our InternationalFacebookpage: www.facebook.com/devryintl
*DeVry University is accredited by the Higher Learning Commission, www.hlcommission.org. Keller Graduate School of Management is included in this accreditation. In New York State, DeVry University operates as DeVry College of New York.
Testimonials
"The small-size classes offered by DeVry create a professional learning environment and also enhances interaction between Professor and student that help me a lot in adapting to a new environment." – Xuan D. Hua, Vietnam
"Networking field is my passion and DeVry has provided me an amazing learning platform to pursue my dream. My advisor, Mr. Nadeem Masood is a wonderful person, and he has been assisting me since day one. He constantly looks out for me, and he is a fatherly figure to me here. I'm sure DeVry will bring me to greater heights." – Amudhan Tamilarasu, India
"This U.S. Career Experience Program is another huge step that DeVry University has taken into the global world. I am honored to be chosen as International Student Specialist in this process and I am going to do whatever it takes to take the progress forward." – Evrim Timur, Turkey


Important information about the educational debt, earnings, and completion rates of students who attended DeVry can be found at devry.edu/degree-programs/ge.html
Important information about the educational debt, earnings, and completion rates of students who attended Keller can be found at keller.edu/graduate-degree-programs/ge.html