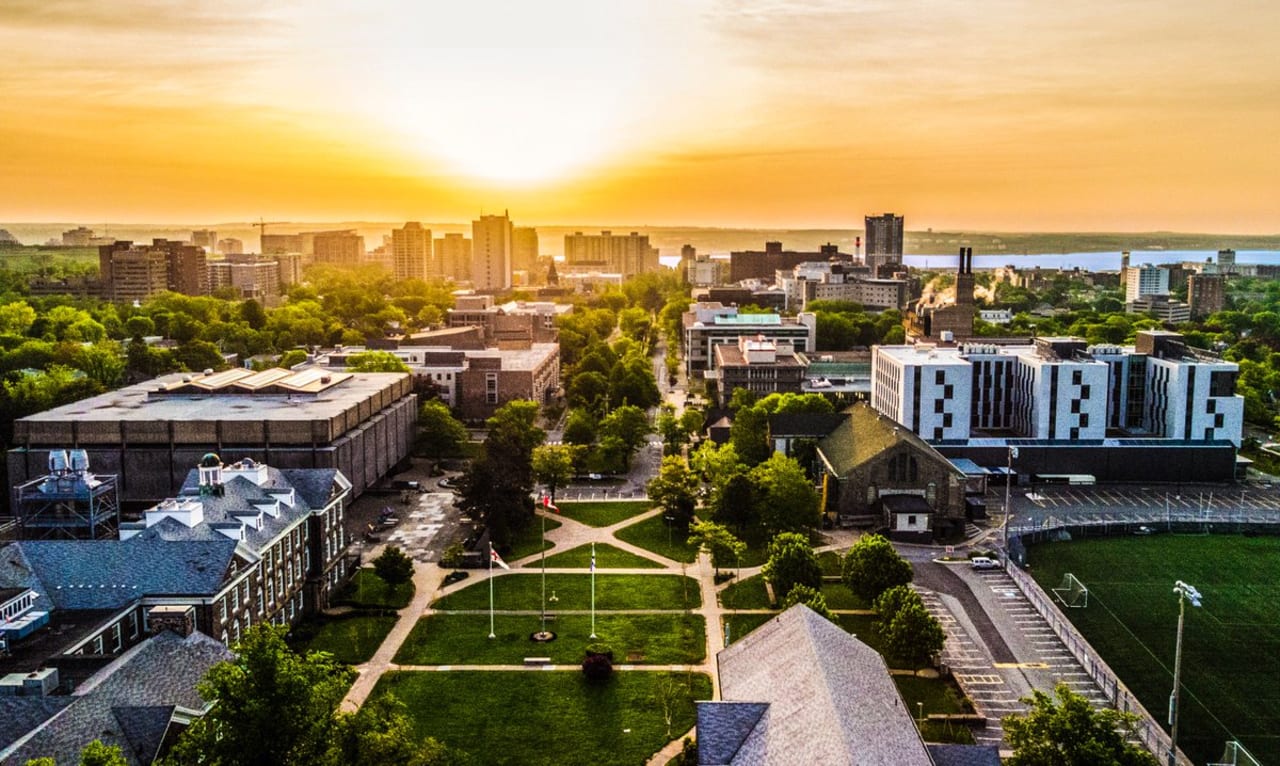 MSc in
Master of Science in Business
Dalhousie University

Key Information
---
Campus location
Halifax Regional Municipality, Canada
Tuition fees
CAD 32,000 **
Application deadline
01 Feb 2024*
Earliest start date
Sep 2024
* February 12: all supporting documents including academic transcripts, statement of research interest, CV, English proficiency test (if required), GMAT or GRE (only necessary if applying for entrance scholarships) and two reference letters are due at our program office.
** domestic: $20,000 | international: $32,000
Introduction
The Master of Science in Business at Dalhousie's Rowe School of Business is a research-oriented graduate thesis program. It is a rigorous program that runs for four full-time semesters and provides you with enhanced opportunities to enter a PhD program in business administration or boost your career in industry with skills in academic research. Students develop their skills through courses in their area of specialization and by writing a thesis.
Why pursue an MSc Business at Dal?
The Rowe School of Business is accredited by AACSB International.
The Rowe School is well integrated with regional, national and international businesses, providing unique research opportunities.
Our program is competitive. We admit only a select number of applicants per year. This gives ample time for you to have one-on-one mentoring with your thesis supervisor and other faculty, provides a small cohort of graduate students for you to interact with and learn from, and ensures an environment in which you can focus on your research skills and goals.
You apply to a specialized area of our program, allowing you to take focused course offerings which directly relate to your thesis and scholarly interests. Choose from Finance, Management, Information Systems or Marketing. For more information on specialties of Faculty accepting students, see the list of our faculty members.
You will have access to scholars who are experts in a wide range of theories and research methodologies, and who are committed to helping you gain in-depth research experience.
During Terms 3 and 4, you will be mentored throughout the research process, from conceptualization to data collection, analysis and writing of results for scholarly publication.
The MSc curriculum provides a strong academic foundation in your area of specialization (see our concentrations below for a sample course plan).
Areas of Specialization:
The Finance specialization provides students with a solid understanding of financial theory and research methodology. Students are prepared to build successful careers in research or analysis in the financial sector. This is excellent preparation for further studies at the doctorate level. All accepted students with GMAT or GRE are eligible for scholarships.
The Management faculty members research topics such as organizational safety, learning from information systems in healthcare, diversity and inclusion in organizations, leadership and business ethics. A specialization in Management will provide students with expertise and research training on individual- and systems-level factors influencing employee, team and organizational success.
The Marketing specialization rigorously trains and coaches students to become researchers in their focused area of marketing such as marketing management, advertising, consumer studies, digital marketing, services marketing, or marketing strategy and globalization. This specialization is designed for students who seek a career as a marketing analyst, researcher in industry and government, or who plan to pursue a PhD in business.
The Management Information Systems (MIS) specialization is offered by faculty with diversified research foci, including business analytics, smart technologies, human-AI interaction, social media, IT & organizations, design-type research, healthcare IT management, IT-enabled decision-making and support, and e-business. A specialization in MIS provides students with the expertise and research training for a focused understanding of the interaction between technologies and individuals, organizations and communities.
Ideal Students
Who Should Apply?
Both domestic and international students with a bachelor's degree in Business, Commerce, Economics, Applied Statistics, Communications and Media Stuides, Commuter Science, Data and Informatioon Science, Engineering, Human-Computer Interactions Studies, Information Management, Information Studies, Psychology, Technology Management, or related disciplines are encouraged to apply.
Ultimately, our program is designed to prepar students to go on and complete a PhD.
Scholarships and Funding
A variety of funding options will be available through teaching assistantships and/or government research grants, fellowships and scholarships (for entering students or students at an early stage of the program). A successful applicant may be offered an initial research or teaching assistantship in the first semester. Renewal of the assistantship will be based on merits of coursework and research productivity.
Harmonized Scholarship Process
The Harmonized Scholarship Process (HSP) allows for incoming and current students to apply for several Faculty of Graduate Studies–managed scholarships using a single online application, the complete list of which can be found on our funding application process page. If you are a new applicant, you are not required to be accepted into a Dalhousie graduate program to apply for these scholarships. However, you must have applied to the program before you will be able to accept a scholarship offer, and offers are conditional upon your eventual acceptance into the program.
While not mandatory, GMAT or GRE is an optional departmental (MScB's) requirement for FGS-managed scholarships (e.g., Harmonized Scholarship, CGS-M, etc.), which means that submitting GMAT/GRE (to [email protected]) when submitting the application for the FGS-managed scholarships (via the online FGS scholarship application system) will improve the chances for you to get an FGS-managed scholarship.
If you wish to apply for the master-level entrance scholarships or research grants for this program, we strongly recommend that you discuss this with your potential thesis supervisor as early as October of the year before your first semester. Please note that all application materials including transcripts and reference letters must be submitted by this deadline. Incomplete applications will be disqualified. HSP deadline for Fall 2023 admission is Monday, January 16, 2023 at 4:00 p.m. AST. Prior to the deadline, you can withdraw, edit and resubmit your saved application in the online portal. No edits or resubmissions are possible after the deadline. Please note that the HSP scholarships are managed by the Faculty of Graduate Studies and therefore we cannot make any accommodation such as deadline extension, etc. For more information relevant to the HSP, please view the details of entrance scholarships for master's students.
Douglas C. Mackay Scholarship for MScB students
In addition to the scholarship available from the Faculty of Graduate Studies and Tri-Agency CGS-M, scholarships are available from the Mackay Fund for students who apply for admission to the MSc in Business. This opportunity is made possible by a generous donation from businessman and alumnus Dr. Douglas C. Mackay (BComm'53). The scholarships are awarded to incoming MScB students based on overall qualification of their application package. All students who apply by February 1 and submit ALL the required documents by Feb 10, with either GMAT or GRE scores will be considered for this scholarship. No further application is required to be considered for this scholarship.
Curriculum
The first two terms comprise coursework including mandatory and elective courses. If necessary, your admission committee may add one or two specific elective courses to your degree requirement. Near the end of Term 2 (before Term 3 begins), you will be matched with a supervisor who will work with you for the rest of the program. In Term 3, with the help of your supervisor, you will choose a research topic for your thesis and work on a field study for your research topic to meet the thesis requirement. In Term 4, you are expected to complete and successfully defend a publishable thesis to be considered for graduation with the degree of Master of Science in Business. If necessary, you may register for additional full-time thesis semesters (up to 8) to revise and improve your thesis.
| | | | |
| --- | --- | --- | --- |
| Term 1 | Term 2 | Term 3 | Term 4 |
| Sep–Dec, Year 1 | Jan–Apr, Year 2 | May–Aug, Year 2 | Sep–Dec, Year 2 |
| Full-time coursework | Full-time coursework | Thesis research | Thesis research |
| Explore research topics and profs in your area | Supervisor and thesis committee decided | Ongoing thesis research | Completion of thesis research and defence |
Concentrations
All students must complete the following, with the required courses for each concentration:
BUSS 7101: Research Workshop (0 credit hours) every term of the first year
BUSS 7100: Master's Thesis (0 credit hours) every term when a student works on the thesis (typically the 3rd or 4th semesters)
One elective course at the graduate level (5000 or above) or the senior undergraduate level (4000) if necessary. The elective course should help improve the student's knowledge and/or skill to write their master's thesis. Please consult with your (potential) supervisor(s) about which elective course to take.
Finance
Management
Marketing
Management Information Systems
English Language Requirements
Certify your English proficiency with the Duolingo English Test! The DET is a convenient, fast, and affordable online English test accepted by over 4,000 universities (like this one) around the world.
Program Admission Requirements
Demonstrate your commitment and readiness to succeed in business school by taking the GMAT exam – the most widely used exam for admissions that measures your critical thinking and reasoning skills.
Download the GMAT mini quiz to get a flavour of the questions you'll find in the exam.