CY Cergy Paris University
Since the first of January 2020, Cergy-Pontoise University and EISTI have merged under a new name: CY, Cergy Paris Université. It is composed of 24,000 students. ESSEC is associated with CY as a partner institution.
The academic course offerings are made up of an undergraduate university (CY SUP) and of five undergraduate and graduate schools, four within the university, with the fifth being ESSEC.
In addition to ESSEC, the other graduate schools led by CY university are:
CY Tech specialized in Computer Science, Applied Mathematics, Civil Engineering, Biotechnology & Chemistry, Economics, and Management;
CY Arts and Humanities, represented by the National Higher School of Arts Paris-Cergy (ENSAPC), the National Higher School of Architecture of Versailles (ENSAV), the National Higher School of Landscape Design (ENSP), and the National Heritage Institute (INP);
CY Education, represented by INSPE, EPSS, and ILEPS institutions;
CY Law and Political Sciences, represented by Sciences Po St-Germain-en-Laye campus.
CY Tech
Located in Greater Paris and in Pau, CY Tech is primarily an Engineering Graduate School. It has earned the "Grande Ecole" status, the highest recognition stated by the French Ministry of Higher Education & Research. CY Tech is also a member of the "Conférence des Grandes Ecoles" (CGE), a French association that gathers elite higher education institutions that meet strict criteria regarding the recruitment process, educational approach, and international and corporate network. Accessible after the completion of a secondary education diploma or through a dedicated post-secondary preparatory class, it delivers a Master's degree in these four fields: Applied Mathematics, Computer Science, Civil Engineering, Biotechnology & Chemistry. Two university departments have been incorporated into CY Tech: the Institute of Sciences & Techniques (IST) and the Institute of Economics & Management (IEG), which broadens our overall course delivery in these specific areas.
CY Tech course offer is structured in the following manner:
A five-year Grande Ecole Engineering program;
Post-secondary preparatory classes leading to Grande Ecole program enrollment;
Undergraduate & Graduate Programs;
Continuous training programs: Specialized Postgraduate Master;
International Master with campuses located out of France;
Ph.D. programs.
Our Mission, Our Values
The mission of CY Tech is to meet the rising expectations of both students and industry. Through innovative programs and faculty exchanges, we seek to provide our students with an ever-increasingly attractive educational experience. Students can choose undergraduate and graduate programs in both Engineering and Management disciplines. Students also acquire valuable knowledge and global managerial skills through internships and study abroad experiences with universities worldwide. Since CY Tech's inception, the institution has gradually adapted itself to the evolving economy that offers an extensive and diversified curriculum that meets a contemporary vision of today's world. Its objectives are:
challenge-driven to prepare students and staff as global citizens and lifelong learners who care and act for the future of the planet and humanity;
committed to the principles of openness and inclusion by building open resources and collaborative platforms, endorsing open science agendas, and sponsoring the access, mobility, and inclusivity mechanisms that liberate our intellectual and social potential.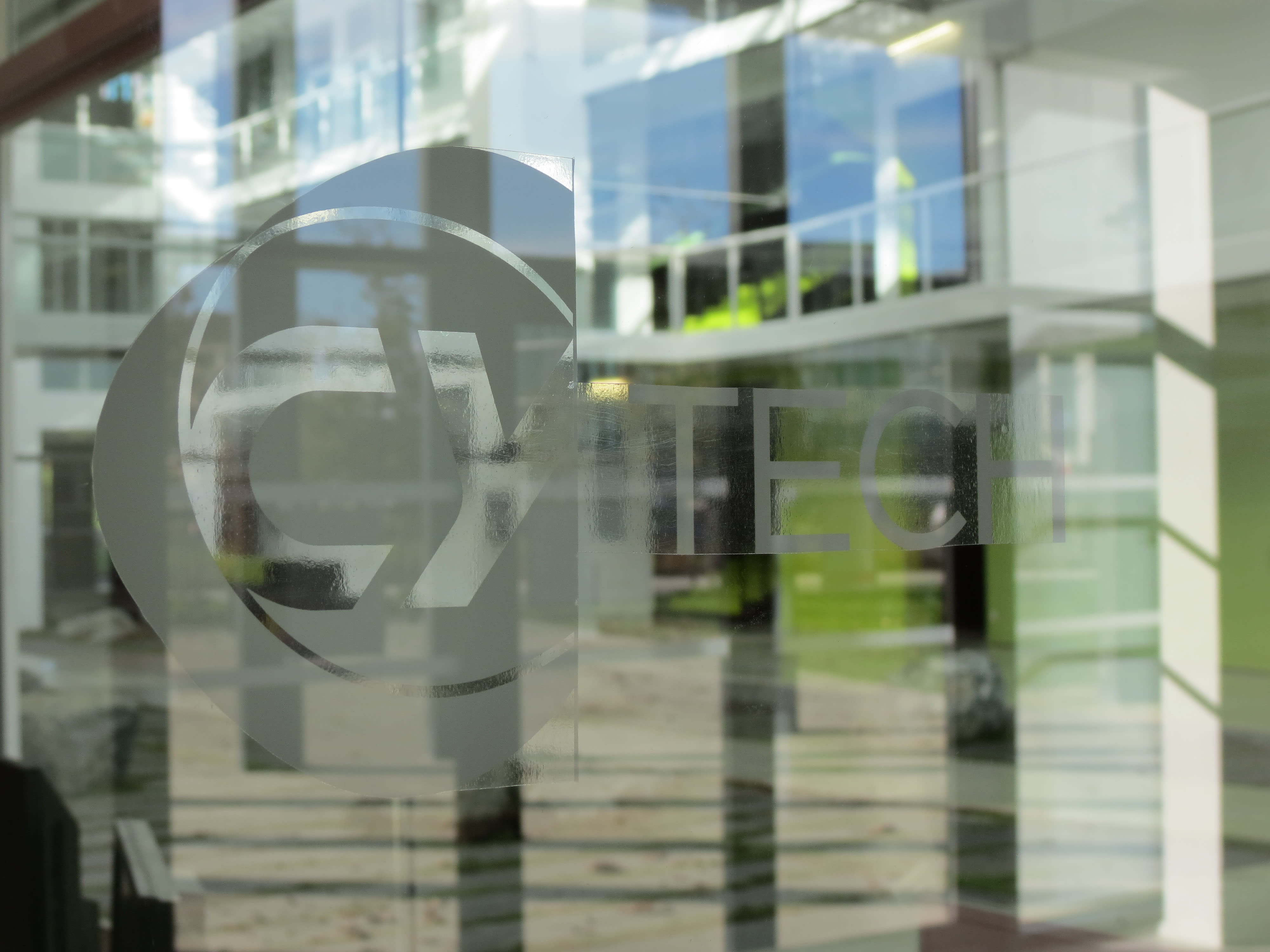 CY Tech International Involvement
CY Tech's international involvement is indisputable and includes work experience abroad, academic exchanges as well we dual degree options. Our institution recently renewed an Erasmus Charter for Higher Education. This recognition demonstrates our expertise in the mobility of students & staff in strong cooperation for innovation and good practices under the Erasmus + policy. CY University is a member of Campus France, the official agency for the promotion of French Higher Education worldwide. CY Tech has also aligned with different European and international organizations and associations (EUTOPIA, EAIE, NAFSA, n+i Network, AIEA, etc.), which aim to promote the progress of international education.
CY owns a Language Centre and is also an ETS TOEIC Authorized Test Centre. Our university was recently awarded the "Bienvenue en France" label, which distinguishes French Higher Education institutions that have developed reception facilities dedicated to international students. CY is establishing solid links with Chinese universities, which will contribute to the creation of a Franco-Chinese Institute to internationalize its educational opportunities further. One of the most remarkable achievements at the European level is the recent development of an alliance of six like-minded universities, located in Belgium, Slovenia, Spain, Sweden, the United Kingdom, and France, entitled EUTOPIA. The mission of EUTOPIA is to build in the long term a unique and daring alliance of transformative and engaged institutions. The alliance has built strong ties within the regional communities, the institutional structures, and the local companies. EUTOPIA students, researchers, and staff work together to build a new academic model, reflecting an open and united Europe, respectful of the citizens and the environment.
CY Tech diplomas require an official language certification in English as a Foreign Language as part of its national diploma recognition criteria. CY Tech will have signed 250 university partnerships worldwide within the coming two years, including more than 20 international dual degree options. A substantial number of cooperation programs allow the institution to enhance incoming mobility through its undergraduate, graduate, and post-graduate English-taught course delivery. In keeping with CY Tech's global vision, our institution plans to open a campus in Singapore in the near future.
What makes CY Tech different?
Our ambitious vision: CY, defined as a university of diverse, society-oriented, and international standing, seeks to educate new generations in the complex challenges of a globalized society in tune with the sustainable development objectives, academic excellence, and quality student experience.
A high-profile ranking status: National and international rankings, recognized by many specialized media and websites, show once again that CY course offerings are considered one of the best in the fields of Engineering, Management, Mathematics & Finance, internationalization, and professional integration.
Cutting-edge Research & Technology Transfer activities: Research and technology transfer are at the heart of the dynamics of CY Tech, whose missions contribute to the appropriation of scientific knowledge. CY Tech asserts its vision and pursues an active policy in technology transfer innovation of its research activities, conducted by recognized full-time researchers within its fourteen laboratories and five Open Labs in modeling and experimental sciences.
A wide range of facilities offered at the Campus:
Four libraries with over 2 million publications;
Four university residences and private housing facilities;
Student sports facilities with over 30 individual & team activities;
Four student restaurants, four cafeterias;
47 student associations;
A full package of cultural activities including a "cultural Pass voucher," a special pass which offers discounts on theaters & cinemas bookings and to other cultural events in Greater Paris.
A "Bienvenue en France" label: This national recognition, awarded by our university, enhances our expertise dedicated to international students, mainly in the following areas:
Quality and accessibility of information & reception facilities;
Tutorial support services;
Housing facilities and campus life development;
Post-graduate career development and alumni services.
Location: Greater Paris
The Paris Region has much to offer to international students, such as history, art, and culture, on top of its academic & scientific excellence. It is a unique place to learn, discover, study, engage and exchange, a place where dialogue, fraternity, freedom, and creativity will always prevail. Paris has been listed in the QS best student cities ranking for many years. At only 25 minutes from the world-famous Les Champs Elysées, or La Défense (one of the major futuristic skyscraper-packed business districts in Europe) stands the city of Cergy-Pontoise. The historic heart of the area of Cergy-Pontoise thrives on a prestigious past which has often found itself at the crossroads of the history of France itself, as when the Royal Court resided there. Its fame was extended through the long residency of Camille PISSARRO, who painted the varied landscapes of the town and its nearby countryside in numerous works, which are now to be found in the greatest museums in the world. Blessed with a rich heritage, Cergy- Pontoise became, on March 30th, 2006, a member of the national network of towns and lands of Art and History. This label, delivered by the Ministry of Culture and Communication, embodies a policy aiming to promote heritage and architecture. Today, Cergy is known as a vibrant student hub.