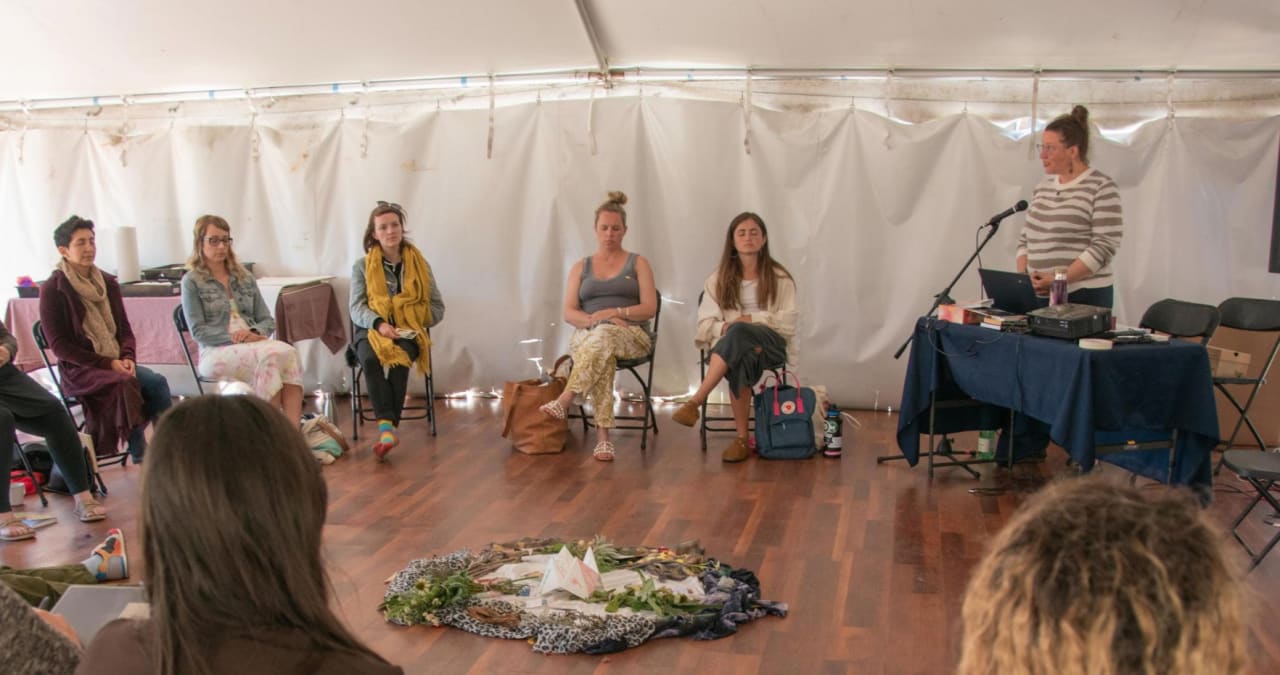 MA in
Master of Arts in Counseling Psychology, Concentration in Expressive Arts Therapy
California Institute of Integral Studies

Key Information
---
Study format
Distance Learning
Application deadline
Request info
Earliest start date
Request info
Introduction
Embracing the power of the arts for healing, growth, and social change
The Master of Arts in Counseling Psychology with a Concentration in Expressive Arts Therapy is a BBS-approved, part- or full-time low-residency degree program for California residents. The pedagogy provides an engaging online, hybrid curriculum that weaves multimodal expressive arts, such as visual and digital arts, music, dance and movement, poetry, spoken word, and drama, into all courses.
Our program utilizes the strength of the arts as implements for human development and healing, social change, and empowered self-agency. Our emancipatory perspective explores individual, group, couples, and family therapy practices.
The program works on the innovative Scholar-Artist-Practitioner model that focuses on uniting academic knowledge, clinical practice, and community engagement. Throughout the program students engage with peers and faculty in a collaborative, liberation-focused, arts-based environment. We place a premium on co-learning between students and faculty by creating opportunities for rich, playful, and diverse conversations and experiences.
Curriculum
Hands-on learning through experiential coursework is emphasized. In the first and second years of study, students have the opportunity to integrate theoretical and expressive arts into practice through volunteering or incorporating these basic principles into their current job/vocation. Third year students engage in a year-long, supervised practicum, gaining direct client work experience.
Classes are taught online in asynchronous and virtual synchronous formats. Students are expected to attend an in-person, one-week intensive that is held at the start of each fall and spring semester in the San Francisco Bay Area. Students work in clinical practice dyads and small groups to deliver collaborative assignments.
Intensive Arts-Based Seminar
Students, faculty, and advisors come together in residential seminars to engage in extensive, experiential, and intermodal arts-based learning. Up to a third of the coursework for the semester is completed in person, with the remaining coursework delivered in combined asynchronous, and occasional virtual synchronous learning formats to support clinical skill development.
Ongoing Arts Practice
Throughout the program, all students commit to ongoing engagement with new or existing arts practices. First semester courses allow students to employ modalities with which they are familiar, and provides exposure to new modalities as well. At the end of the first semester, each student outlines a practice plan that will promote their learning and preparation to become an expressive arts therapist. Plans are flexible and adaptive to respond to a student's growth and changing needs over their time in the program. Expressive Arts Therapy courses offer frequent opportunities for art-making, response art, and arts-based inquiry through which students can apply their arts practices and experiment with new ones.
Students have the freedom to choose less formal, self-guided practices and/or those involving more structure, including guided training, presentations, publication, performances, and more. All costs and materials involved with a student's individual arts practice are the sole responsibility of the student.
Personal Therapy Requirement
Students are required to complete 50 hours of personal psychotherapy with a licensed mental health professional (ideally an Expressive or Creative Arts Therapist).
License Ready
The Master's in Counseling Psychology with a Concentration in Expressive Arts Therapy meets the educational requirements for MFT licensure in the state of California, and LPCC in the state of California with additional optional units. After graduation, students must complete a number of supervised client contact hours and pass the MFT licensing examination before becoming a Marriage and Family Therapist. This process takes, on average, 3 to 5 years post graduation.
Program Outcome
A dynamic program weaving the arts across the curriculum, enabling students to:
Demonstrate the capacity to integrate a range of expressive arts practices into psychotherapy with individuals, couples, families, and groups; with sensitivity to differences including gender identification, sexual orientation, race, ethnicity, differing abilities, socioeconomic status, and spiritual and religious practices
Translate expressive arts interventions and processes into standard psychological language, and vice versa
Articulate when expressive arts approaches are appropriate and when they may be contraindicated within particular clinical situations
Demonstrate the capacity to weave together expressive arts and recovery-oriented principles and practices into treatment
Demonstrate personal growth and development through the use of expressive arts practices
Demonstrate the ability to conceptualize and intervene holistically (addresses body, mind, and spirit)