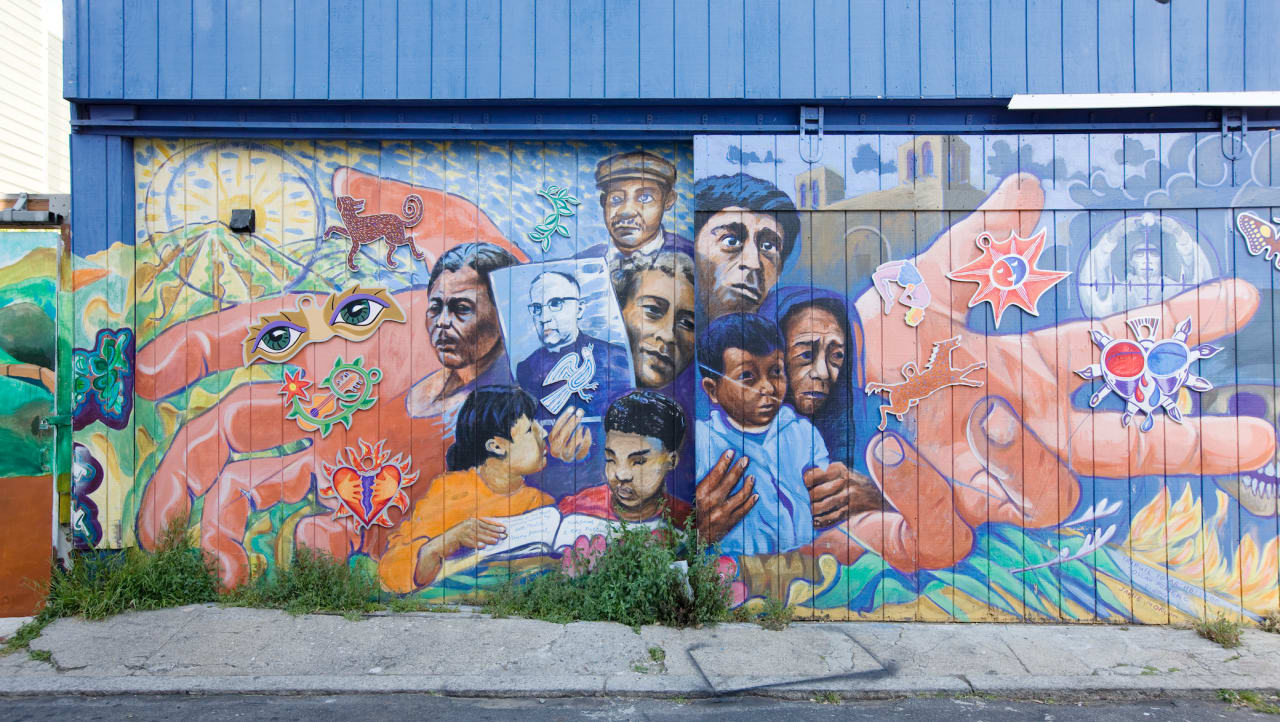 MA in
Master of Arts in Anthropology and Social Change
California Institute of Integral Studies

Key Information
---
Study format
Distance Learning
Application deadline
Request info
Earliest start date
Request info
Introduction
Our Approach to Anthropology
CIIS' online master's degree in Anthropology is unique among graduate programs for its focus on activism and social justice. You will work with some of the most prominent activist scholars and progressive organizations in the San Francisco Bay Area, as well as program faculty. Activist research, focusing on concrete utopias, makes this investigative experience rewarding both for students and the local community.
Our mission is to generate dialogue between social justice leaders and academia. Through our coursework the Anthropology and Social Change master's program creates an institutional space where social movement activists immersed in organizing can meet scholars engaged in theoretical work.
Events, Workshops, Research Working Groups, and Visiting Scholars
The program regularly hosts lectures, conferences, and workshops on a variety of social justice issues that bring together scholars, activists, and artists, both local and international. A one-day political laboratory on Radical Pasts, Radical Futures combined the intellectual and political experience of social movement theorists and activists Selma James, Peter Linenbaugh, Andayie, George Katziaficas, Ruth Reitan, and Scott Crow.
Aymara feminist from Bolivia, Julieta Paredes, gave a workshop presentation of "feminismo communitario." Against the Grain producer Sasha Lilley interviewed Iain Boal on his book on communes in Northern California. Silvia Federici and Selma James gave lectures, and organized a political laboratory, around the issue of Reproductive Labor and the Commons. Anarchist anthropologist David Graeber gave a key-note lecture on the first 5000 years of debt. Arturo Escobar presented on anthropology and post-capitalism.
Our visiting activist scholars include John Holloway, Jason W. Moore, Silvia Rivera Cusicanqui, David Graeber, Silvia Federici, Arturo Escobar, Adrienne Pine, and Havin Guneser. We co-sponsor events such as American Indian Movement West conferences, Howard Zinn Bookfair, The Western Workers Labor Heritage Festival, World-Ecology Research Network Annual Conferences, Anarchist Studies Conferences, Revolutionary Organizing Against Racism Conference, and the Institute for Social Ecology summer school. The Anthropology and Social Change Program now has its own book imprint-- Kairos-- with the PM Press publishers.
Curriculum
Our two-year online master's degree program is centered on the successful completion of a research-based portfolio. This portfolio will include original activist research, a collection of essays from core courses in the program, and one shorter integrative essay.
Coursework for the program consists of three areas: theoretical, media skills, and organizing skills. Theoretical courses are required and include ideas for action, global social movements, radical political economy, radical theory, and unthinking social science. For the skills-based coursework, you will have the opportunity to choose two courses:
Media skills: Strategic filmmaking, writing and publishing, Internet skills, radical radio.
Organizing skills: Legal skills, policy analysis, environmental skills, economic skills, and campaigning and organizing skills.
Each semester, a residential intensive is also held to foster community-building while also accruing units. Over the week, you will have an inspiring experience that includes fieldwork exercises, skills-based in-person courses, attending public talks and film screenings, and other collaborative sessions.
Program Outcome
The M.A. in Anthropology and Social Change offers an opportunity to develop research, theory, and skills that are relevant to careers in education and social justice work. Our program has been structured to respond to two related aims: the first is to provide a particular experience in training for research in education; and the second is to provide relevant knowledge and skills required by social movements, networks, and nonprofit/non-governmental organizations. Like our sister programs in Leeds, Maynooth, Puebla, and Exeter, the program will offer students extensive knowledge of critical theory and activist anthropology; academic skills needed for the continuation of their graduate studies; engagement with the important debates in anthropology and other social sciences; experience in working with networks and community groups; competence in various activist research techniques; organizing and media skills appropriate for employment in a range of progressive and social justice professional environments.