MA in
MASTER OF ARTS IN BIBLE TRANSLATION
Carolina College Of Biblical Studies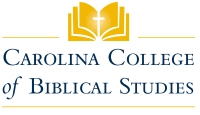 Scholarships
Explore scholarship opportunities to help fund your studies
Introduction
The Master of Arts in Bible Translation (MABT) provides students with an interdisciplinary knowledge of translation studies, biblical studies, and theology. It prepares students to engage in research and analysis informed by those disciplines and contributes to the advance of the church, global missions, and vernacular Bible language or missionary contexts and their work in translation.
The foundational classes in Bible, theology, and hermeneutics will also help the translator serve in pastoral, church planting, or missionary contexts to compensate for their translation work.
Program Objectives:
Have the capacity to describe, analyze, and evaluate effective Bible translating.
Apply theoretical knowledge to practical contexts involving the production of translations.
Apply various methods of checking translations.
Understand the history and process of translation.
Be directly involved in advancing the translation.
Create and evaluate resources and technology supporting translation.
Demonstrates a foundational understanding of theology, biblical studies, and hermeneutics.
WHAT SERVICES WILL BE OFFERED?
Access to academic journals in the fields of biblical translation, Linguistics, and Applied Linguistics.
Access to e-books related to the fields of biblical translation, Linguistics, and Applied Linguistics.
Access to Translator's Workplace, a foundational library of more than 1000 reference materials selected for translation work.
Graduate students will have access to the LOGOS Bible Software Bible Translators package.
As part of the Field Methods course, students will work with a translation leader to facilitate a project. This is an excellent opportunity for students to have hands-on experience.