MSc in
MSc in Marketing
Alliance Manchester Business School - The University of Manchester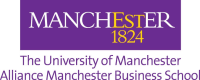 Introduction
Get your ideas out there and your messages heard with a specialist degree which gives you all the skills and knowledge you need for a successful career in marketing, plus a range of options to help you specialise in your chosen field.
Enjoy a stimulating and flexible degree designed to help you develop a critical appreciation of key areas in marketing, while giving you the chance to hone your skills in a specific area, or you can pursue an academic career via subsequent doctoral work.
Curriculum
Course units details
During the course, you will be taking 180 credits in total. The eight taught modules during semesters 1 and 2 will total 120 credits.
We now offer a choice of two routes through the final stage of your Master, which accounts for 60 credits.
Dissertation
The Group Business Case Project. You will get the opportunity to apply the knowledge gained in the first two semesters to practical business problems. If you select this route, you will work in a group to develop a report on a contemporary business problem and then individually develop an analysis of your group report.
There may also be an opportunity to study for one semester in an Exchange Institution.
Coursework and assessment
Assessment across the course units varies and includes a combination of examinations, course work, group projects and presentations, individual essays and assignments.
Program Outcome
Gain the key skills required for a successful career in marketing.
Learn about marketing management strategy and the development processes to bring new products to market.
Learn about research methods, including techniques of data collection and analysis.
Career Opportunities
Option to choose a specialist pathway to help you stand out in the job market:
Business-to-business
Corporate Social Responsibility
International marketing
Retailing
Services
You have the opportunity to apply for an international exchange to broaden your horizons and enhance your employability in the global job market.