MSc in
MSc in Business Psychology
Alliance Manchester Business School - The University of Manchester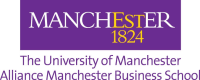 Introduction
For students without a British Psychological Society (BPS) accredited degree, this course offers an opportunity to study alongside MSc Organisational Psychology students, and gain a look at the science of how people and groups behave at work. The course builds your theoretical knowledge and research skills used in organisational psychology.
You do not need to be registered with the BPS and BPS Occupational Test User (Level A and B) training included in the tuition fees.
Curriculum
Special features
Students taking the MSc Business Psychology course will sit with students from MSc Organisational Psychology and study the same course modules.
Course units details
During the course, you will be taking 180 credits in all. The eight taught units during semesters one and two total 120 credits which can be viewed in the list below.
Over the summer period, you will carry out your Research Dissertation, worth 60 credits. Examples of recent dissertation project topics include:
What factors determine successful mentoring relationships? A study of a formal graduate mentoring scheme
The role of individuals' personality and perceived values in the adoption of mobile data services
An exploration of the job satisfaction and career progression of visible minority women in Canada
Understanding financial responsibility: an exploratory analysis of the main characteristics that influence spending and saving behaviours
A study of occupational stress in the Indian information technology industry
A Gravesian values-system perspective on the design of consultative interventions in organisations
Why organisational change programmes fail
Coursework and assessment
Assessment across the course units varies, and includes a combination of examinations, report, course work, practical assessment and presentations. A dissertation is normally undertaken.
Program Outcome
Gain understanding and research skills in the following areas:
Psychological Assessment at Work
Learning, Training and Development
Leadership, Engagement and Motivation
Well-being and Work
Work Design, Organisational Change and Development
Research Design, Advanced-Data Gathering and Analytical Techniques
Applying Psychology to Work and Organisations