MSc in
Master of Science in Digital Engineering
Bauhaus-Universität Weimar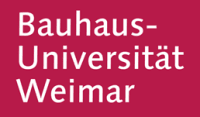 Introduction
The use of digitally connected systems is increasing in every industry. The developments currently unfolding under the buzzword "Industry 4.0" are essentially based on the comprehensive digital representation of every step in the value chains in industrial production.
From the planning phase through to the design/draft and production process to monitoring products over their service-life, virtual product and process models are networked with each other to expedite development processes, raise product quality, and optimise production. That is why these developments require well-trained specialists at the interface of computer science and engineering.
This course of study, which was jointly developed by participants from the professorships of Engineering and Computer Science and Media at the Bauhaus-Universität Weimar, is designed to provide you flexible and interdisciplinary training to meet the challenges you'll face in the professional world of tomorrow.
The Digital Engineering Master's programme places a high premium on introducing you to current research issues that are jointly defined and supervised by industry partners at an early stage. The Digital Bauhaus Lab is a state-of-the-art university research facility offering optimal conditions for success.
Be a part of generation 4.0!
The consecutive Digital Engineering Master's programme combines academically specialised expertise from the Civil Engineering and Computer Science and Media disciplines. The coursework is centred on a practical transfer of methodical interrelations between engineering and computer science for complete digitalisation of design, manufacturing, and application processes. In this international Master's programme, you will use a range of modelling concepts as a basis for experimentation with complex processes in computer-aided modelling, simulation and visualisation of engineering problems. In addition, you will deepen your knowledge of information-theory methods of data generation and data handling. The aim is the representation, interpretation, evaluation, and optimisation of interdisciplinary processes in construction, mechanical engineering and other industrial fields.
This prepares graduates of the English-language Digital Engineering Master's programme in a targeted way for work in the field of virtual product and process modelling and optimisation. They are active in a diverse range of fields such as technical administration, model management, engineering analysis and consulting, technical data analysis, as well as software and product development for digital networking in the industry.
Curriculum
Course of study
The Master's programme in Digital Engineering comprises 120 ECTS and is completed after four semesters of study. In the first two semesters, all students receive foundational courses in order to prepare them to participate in more advanced courses. You will be offered both compulsory and elective courses covering the two core areas of computer science and engineering. Depending on your previous knowledge, we will develop your individual module plan with an emphasis on either engineering or computer science.
From the third semester onward, you will deepen your technical knowledge in the three areas of modelling, simulation and validation, and visualization and data science. In each of these areas, you will have the opportunity to choose elective courses that allow you to create your own specialisation. The curriculum is complemented by a research project with partners from the professional community, as well as elective modules in the Media and Civil Engineering faculties or the Language Centre of the Bauhaus-Universität Weimar. During the fourth semester, you will write and defend your Master's thesis. In the process, you will receive support from professors and external industry partners, who will support you in the context of consultations.
Fundamentals
The Fundamentals include the following modules:
Algorithms and Data structures
Applied Mathematics and Stochastics
Nonlinear Continuum Mechanics
Numerical Linear Algebra
Software Engineering
Statistics
Structural Dynamics
Structural Engineering Models