MSc in
MSc in Creative Computing
Bath Spa University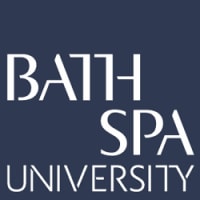 Introduction
Push the boundaries of digital creativity on our MSc Creative Computing course.
Leverage creative technology to design interactive experiences that inspire curiosity.
Develop skills in digital storytelling, creative research and project leadership.
Refine your co-working skills via interdisciplinary creativity and industry insight.
Creative Computing is everywhere. The collision of good ideas and technological innovation continues to enhance how we communicate, learn, play, work and live. Our growing reliance on computing tools and experiences nevertheless demands a new form of talent - people who are technical yet creative, analytical yet playful, and experimental yet business-minded.
MSc Creative Computing has been designed to respond to this growing need within the creative industries. You'll undertake modules designed to enhance your understanding and application of technology in a creative context, while gaining essential skills in creative research, interdisciplinary collaboration and enterprise.
Ideal Students
We look for students with a drive to pursue big ideas and a clear willingness to try out new things. Successful applicants will be imaginative and organised with a keen eye for detail.
We encourage applications from individuals entering with industry experience, or from undergraduate study in fields such as computer science, creative computing, digital media, games development, digital art and creative technologies.
We also value interdisciplinary working, and would welcome conversations with people who have not graduated from a technical subject but have some experience in colliding computing with other disciplines.
Curriculum
What you'll learn
MSc Creative Computing aims to develop high-value postgraduates that can enhance the output and trajectory of any digital agency. You'll be taught the key skills needed to conduct creative research, shape a product to 'market ready' stage, and collaborate productively with practitioners within unfamiliar fields.
This is a flexible course that responds to your practice - whether you're a game designer, software developer, animator or web technologist. You'll undertake modules designed to enhance your understanding of the creative industries and digital creativity more widely, yet on your own terms, with an emphasis on deploying your own creative and technological skills in new, rewarding contexts.
MSc Creative Computing helps you become a well-rounded and capable creative technologist with the capacity to generate original ideas, evaluate their sociocultural and commercial impact, prototype, and then identify the most effective routes to market. Throughout the process, you'll be supported by a team of talented artists and developers who each have significant experience in the field of creative computing in both research and industry settings.
Course structure
Hackspace
Hackspace takes an experimental approach. You'll develop demonstrable proof-of-concept artefacts that target a selection of creative tools and technologies.
Research Methods
Gain essential knowledge of project scoping, objective setting, data collection and analysis methods, and effective documentation.
Creative Leadership
Learn how to lead teams to shape original social enterprise or commercial ideas for the marketplace. You'll work with members of the Creative Computing subject team to project manage and support undergraduate students who are negotiating an in-house creative incubator.
Digital Storytelling
Interrogate the intersection of storytelling and digital creativity. You'll collaborate with Creative Computing and Publishing students to create artefacts that inform, persuade or entertain.
Devised Project
A practice-led research investigation in the field of Creative Computing. Here you have the opportunity to refine your creative and technological skills, apply research and development skills, and importantly, create something that nobody has created before.
Course modules
This course includes or offers the following modules. Please check the programme document (below the main image on this page) for more details on which modules are core, required or optional.
Hackspace
Research Methods
Creative Leadership
Digital Storytelling
Devised Project I
Devised Project II.
How will I be assessed?
MSc Creative Computing is entirely coursework assessed. You'll deliver a varied and balanced collection of computing artefacts, tech experiments, and interactive experiences. Project work is supported by contextual essays, research reports, reflective commentaries, sketchbooks, development documents, and presentations.
How will I be taught?
You'll be taught through creative workshops, technical labs, seminars, and individual mentorship. In addition, there are opportunities to engage students studying BSc (Hons) Creative Computing as well as key players in various digital agencies and tech companies in the South West.
Career Opportunities
Work placements, industry links and internships
We collaborate with various digital agencies, tech companies and creative technologists across Bath, Bristol and beyond. Our students are invited to collaborate with the creative industries, which includes staff-led research work and commissions. You may also draw upon our networks to help secure work placement and internship opportunities.
A small selection of our contacts and collaborators include:
IBM Watson
Bristol Virtual Reality Lab
Pervasive Media Studio
Complete Control
Create Studios
TechSpark
Network N
Careers
Careers for MSc Creative Computing graduates are wide-ranging. Options include:
Creative technologist (various roles)
Roles within digital marketing
Web and mobile app development
Producer roles within digital agencies
Computer graphics designer
Interface and interaction designer
PhD study.
English Language Requirements
Certify your English proficiency with the Duolingo English Test! The DET is a convenient, fast, and affordable online English test accepted by over 4,000 universities (like this one) around the world.