MA in
MA in Fine Art
Bath Spa University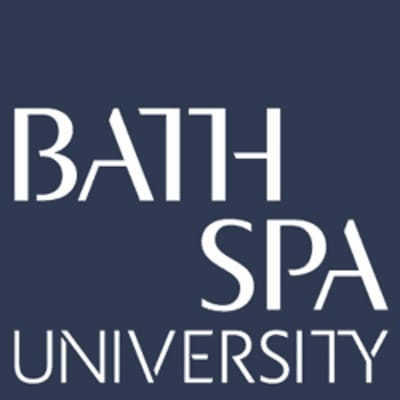 Key Information
---
Campus location
Bath, United Kingdom
Tuition fees
GBP 16,235 / per year *
Application deadline
Request info
Earliest start date
Sep 2024
* international students full time - UK full time £8700
Introduction
Become a diverse maker in this studio-based course that intersects with a wide range of fine art mediums, from painting to video and lives art performance.
Advance your creative potential and develop your work to professional exhibiting level.
Taught by practising artists of national and international standing.
Permanent individual studio spaces (for full-time students) and excellent technical expertise and support.
Notable Alumni
Alumni from the Department of Art include Glenn Brown who was nominated for the Turner Prize in 2000 and John Wood and Paul Harrison whose videos are exhibited widely in both Europe and America and as part of a survey of British video art at Tate Britain.
Among our MA alumni who exhibit widely; Zanne Andrea; Sarah Ball; Guy Bigland; Max Cahn; Broose Dickinson; Deborah Feiler; Fiona Haines; Lydia Halcrow; Dan Hampson; Jan Johnson; Jayne Lawless; Catherine Knight, Melissa Mahon; Mike Newton; Graeme Preedy; Dermot Punnett; Sarah Rhys; Matthew Spencer; Rebecca Taber and Karen Wood.
Curators and gallery directors include Kate MacGarry at Kate MacGarry Gallery; Kay Pallister at Gagosian; Jemma Hickman at bo lee; David Risley at David Risley Gallery; Colin Ledwith with FutureCity.
Curriculum
Our courses are designed to allow you to tailor your programme of study to your academic interests and career aspirations. You'll take a mix of taught modules (core and optional) and complete a major dissertation/consultancy project.
If you choose to study one of our Business and Management pathway routes, there are pathway-specific required modules, and your final dissertation/consultancy project will be in your chosen specialism.
In addition to the University's English Language Unit, further support is offered to international students whose first language is not English via the Advanced Academic and Business Skills module. This module works in conjunction with your other modules to develop your employability, business and academic English language skills, and to help you build confidence in your own ability to work at postgraduate level in international, cultural and professional contexts.
Course structure
Research Methodologies
Introduces generic principles and processes of research relevant to the practice and study of art, design and curatorial practice. It provides you with a strong sense of methodological purpose when thinking about your practice. It will give you confidence and authority by assisting you to identify key areas of interest and to build on this towards mastery of your subject. It will outline established models of academic enquiry – both practical and intellectual – proposing ways to gather, analyse and communicate a wide range of information and ideas.
Studio One: Re-establishment of Studio Practice
Is designed to re-establish and situate your existing practice. Its aim is to support and challenge you in further developing an awareness of this using material and methods acquired in the Research Methodologies module. You'll produce work based upon a written proposal, negotiated individually and agreed with staff. Technical staff will introduce you to a wide variety of workshops as necessary, so you can experiment and explore, bringing your outputs to a finished level for exhibition at assessment.
Studio Two: Developing Studio Practice
Develop your re-established practice. The module aims help you consider the initial studio developments you made in Studio 1: Re-establishment of Studio Practice and develop a working strategy to build on and develop these further. You'll be encouraged to pay greater attention to the exhibition element of your practice and to test finished resolutions not only of individual works in isolation but of a group of works relating positively to each other in appropriate exhibition settings.
Aspects of Contemporary Art Practice
Develop relevant research methods and advanced reflective research, including appropriate references to theoretical and critical resources. This will give you a greater understanding of the historical context of your studio practice. You'll analyse your previous studio work and build on agreed experimentation/exploration in order to develop your technical, contextual and conceptual understanding of your studio practice.
Studio Three: Advanced Studio Practice
A double module that leads to the award of MA Fine Art. The aim is that you'll carry out a proposal developed in Aspects of Contemporary Art Practice. The outcomes based on this proposal will have been agreed and this forms your programme of study for the module. You'll work in the studio with increasing independence and you'll be able to demonstrate an advanced capacity to work within your chosen idiom and have advanced your understanding of this.
Course modules
This course includes or offers the following modules.
Research Methods
Re-establishment of Studio Practice
Developing Studio Practice
Aspects of Contemporary Art Practice
Master's Project
How will I be assessed?
At the end of each trimester, the modules are assessed by internal staff, moderated by an external examiner. Assessment of each stage of the studio element of the course is by the exhibition and all related materials together with an advanced written reflective statement. The research modules are assessed by an oral/visual presentation made by the student of their practitioner 'position' at the Postgraduate Certificate and Diploma stage.
How will I be taught?
An individual programme of studio work, negotiated with staff, will re-establish and then develop your work to professional, exhibiting level. Progress is guided by the scheduled an optional group and individual tutorials, and by group critiques of work led by academic staff.
The context for studio work is informed and clarified by a programme of seminars and discussions which set out a wide range of practice, both in terms of individual artists' work and contemporary museum, gallery, exhibiting and curating activity.
Opportunities
Field trips
From London to Venice, you'll have opportunities to participate in field trips across the MA Fine Art modules. Please note that you may have to pay for some of these study visits.
Program Outcome
The aim of the course is to examine and critically engage with the practice of art making. It is designed to stimulate and influence you to develop independent language in Fine Art through ambitious and disciplined studio practice.
This studio-based course encompasses the whole range of Fine Art, from painting and sculpture to video and live art. Each element is supported by excellent facilities and taught by nationally and internationally practising artists.
The programme is designed to fully develop your individual creative potential in an ever-changing and challenging Fine Art environment.
Through a critical understanding of your own practice and developed knowledge of the discourses that surround your chosen idiom, you'll develop the skills and confidence to be able to communicate effectively and exhibit your work with authority.
Career Opportunities
Fine Art graduates our BA and MA courses have worked and exhibited widely as professional artists, had work purchased by the Tate and other institutions, represented the UK in exhibitions such as the Sao Paulo Biennale and have been nominated for the Turner Prize. Graduates work as curators and gallery professionals in public and private galleries and for arts councils and organisations and write for journals.
Among the many opportunities, there are for students to develop professional skills, experience and networks, the opportunity to work as interns for the Jerwood Drawing Prize gives them a unique perspective on the origination and organisation of the longest running annual open exhibition for drawing in the UK.
Employers such as Hauser and Wirth, Woodford Litho, Idea Generation Gallery, Yorkshire Sculpture Park, GX Gallery, London, Arnolfini (Bristol) and The Nottingham Contemporary Art Gallery have recruited graduates from the department.
English Language Requirements
Certify your English proficiency with the Duolingo English Test! The DET is a convenient, fast, and affordable online English test accepted by over 4,000 universities (like this one) around the world.