Master in
Master of Marketing (MMktg)
University of Auckland Business School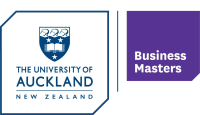 Introduction
The Master of Marketing is an 18-month coursework masters degree programme aimed at helping you to develop the skills and knowledge needed to pursue a career in marketing. Graduates will gain an appreciation of contemporary marketing in a global context and the ability to identify market opportunities and develop appropriate marketing strategies.
Degree structure
The Master of Marketing is an 18-month, 240-point programme studied over six quarters. You will study core business courses before continuing on to a set of specialised Marketing courses that focus on contemporary marketing practice, market analysis, branding and strategy, as well as relationship management.
You will also complete four professional development modules as an important component of your degree. These will equip you with the professional skills that you will need to enhance your employability and success in the business world.
Career Opportunities
Career prospects
With a Master of Marketing, graduates will be equipped with the skills and knowledge required for a career in the marketing and communications industry. Students may pursue a career in corporate, consulting or market analysis, among other options.