Master in
Master of Management (MMgt)
University of Auckland Business School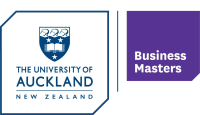 Introduction
The Master of Management is a 15-month coursework masters degree programme aimed at providing you with the practical skills and networks to support your successful entry into a business management oriented career with SMEs through to larger corporations.
Degree structure
The Master of Management is a 15-month, 180-point programme studied over five quarters. You will study core business courses before selecting from one of four specialisation options in Business, Accounting, International Business or Marketing. You are able to confirm your choice of specialisation at the end of your second quarter of study.
You will also complete four professional development modules as an important component of your degree. These will equip you with the professional skills that you will need to enhance your employability and success in the business world.
Career Opportunities
Career prospects
Designed to add value to any bachelors degree, the Master of Management will prepare you for a career in general business. Graduates may find employment in a wide range of positions in the retail, manufacturing or service industries.