Master in
Master of Education
Albany State University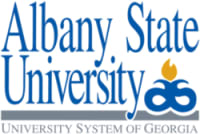 Scholarships
Explore scholarship opportunities to help fund your studies
Introduction
College of Education
Welcome to the College of Education at Albany State University, where our goal is to enhance the educational attainment of stakeholders in the Southwest Georgia region and beyond through our transformative educational initiatives: Transforming the Educator Preparation Program through Continuous Program Improvement; Transforming Faculty and Staff through Professional Development; Transforming Candidates through Knowledge, Skills, and Dispositions; and Transforming Schools and Communities through Active Engagement. As such, our dedicated and diverse faculty and staff are committed to transformative education in which we endeavor to help each stakeholder realize his or her full potential.
The College of Education is comprised of two departments:
Teacher Education
Counseling and Educational Leadership
Accreditation
The College of Education at Albany State University is accredited by the Council for the Accreditation of Educator Preparation (CAEP) and is an American Association of Colleges for Teacher Education (AACTE) institution. All teacher preparation and other school professional programs in the College are accredited by CAEP and the Georgia Professional Standards Commission (GaPSC). Our School Counseling is accredited by the Council for Accreditation of Counseling and Related Educational Programs (CACREP).
Mission
To prepare teachers and other school professionals who reflect on pedagogical and content knowledge, transform educational environments with research-based practices and skills, demonstrate culturally-responsive dispositions, and integrate technology into the teaching and learning process to improve educational opportunities for students.
Vision
To be the Educator Preparation Program of choice for teachers and other school professionals who desire to deepen their content and pedagogical knowledge; learn to integrate technology in the curriculum, and cultivate dispositions of leadership that promote educator effectiveness and student success.
Quality Assurance System
The Educator Preparation Program (EPP) Quality Assurance System or QAS reflects state and national standards for candidate performance and was designed for systematic and comprehensive data collection and analysis, which facilitates continuous program improvement or CPI. The QAS allows the EPP to regularly review candidate performance data at the program, departmental and unit levels for purposes of curricular improvement, improved candidate performance, and overall process improvement.
The Unit Quality Assurance Team monitors the Unit, and Program Assessment system, work collaboratively with department chairs, program coordinators, and faculty in the EPP to develop, design/redesign assessment instruments and make recommendations to the EPP for improvements to the Quality Assurance System. Assessment data from candidates, graduates, faculty, and other members of the professional community are based on multiple assessments from both internal and external sources that are systematically collected as candidates progress through each type and level of preparation program (alternate route, off-campus, and distance learning preparation programs).
Consistent with a culture of CPI, the EPP relies on partnerships with the professional community (P – 12 Partners and Advisory Boards) to regularly review candidate and program performance for input on relevant improvements.
English Language Requirements
Certify your English proficiency with the Duolingo English Test! The DET is a convenient, fast, and affordable online English test accepted by over 4,000 universities (like this one) around the world.