Master in
Master's Course in Fashion Brand Management
Accademia del Lusso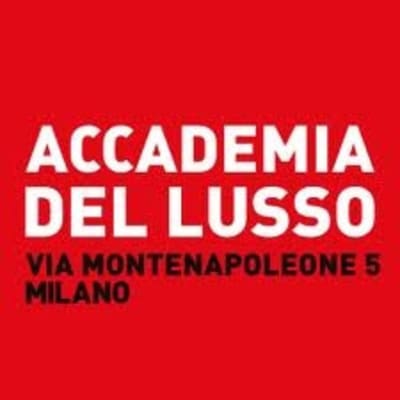 Key Information
---
Campus location
Milan, Italy
Languages
Italian, English
Tuition fees
EUR 21,350 / per year **
Application deadline
Request info *
Earliest start date
Oct 2023
* There is no application deadline. We do recommend that students apply early to avoid disappointment, since class sizes are limited.
** EU citizens / fees for non - EU citizens: €26,350
Introduction
Course Overview
Managing a brand in the fashion and luxury industry requires professionals who are able to expertly combine creative ability and business acumen.
This course provides a unique and specialist approach to this fast-paced industry, offering hands-on workshops and projects combined with dynamic and interactive teaching by professionals who all work within the industry.
You will be given the opportunity to learn and enhance a wide range of practical and strategic skills including marketing, communications, retail, business awareness, critical thinking, and management.
By the end of the master's you will have developed knowledge, skills, and real experience, and you will have had the chance to network within the industry through exclusive meetings, events. seminars, and a whole host of other similar opportunities offered by Accademia del Lusso.
Scholarships and Funding
***Scholarships Are Available
Scholarships are available at Accademia del Lusso and are awarded on an individual basis throughout the year. We look for talent, passion, and ability in our scholarship candidates. Please contact us for more information.
Curriculum
Course modules
Made in Italy & Luxury Goods System
Luxury & Fashion Marketing
Trends & Research
International & Fashion Markets
Fashion Graphic Design (Photoshop &InDesign)
Fashion & Luxury Communication
Social Media Management
E-Commerce
Buying Techniques & Merchandising
Experiential Marketing & Branding
Retail Management & Sales Techniques
Licensing & Brand Extensions
Fashion Product
Personal Branding
Practical Workshops
For more detailed information and to receive the full course guide please contact us.
Program Outcome
The course is designed to enable students to develop a high level of managerial, marketing, strategic, and entrepreneurial skills, allowing them to cover high-profile roles in the fashion and luxury industry worldwide.
Career Opportunities
Career prospects
This Master's Course will prepare you for top management roles spanning diverse areas of the fashion and luxury sector, including:
Fashion and Luxury Brand Management
Marketing Management
Buying for the Fashion and Luxury Sector
Retail Management
Product Development
Sales Management
Licensing
Branding
Fashion Communication and Public Relations
Merchandising
Fashion Distribution Management
Fashion Account Management
Strategic Planning
Fashion Consultancy
E-commerce Management
Social Media Management
Communication Management
The knowledge and skills you'll acquire during the course will also be transferable to roles within other industries.
Internship opportunities
Accademia del Lusso has an internal, dedicated, and constantly active Careers and External Relations Office whose role is to create meaningful and relevant job and internship opportunities for our students. As a student and alumni of Accademia del Lusso, you will have exclusive access to the opportunities provided through our careers service as well as guidance and training in the employment procedure, from CV and portfolio presentation to interview techniques, networking to targeted workshops and other valuable resources.
Previous students have worked at:
Valentino, Prada, Fendi, Ralph Lauren, Salvatore Ferragamo, Bottega Veneta, LVMH, Hugo Boss, Vivienne Westwood, Ermenegildo Zegna, John Richmond, Krizia, L¹Espresso, L¹Oreal, Luxottica, Marina Rinaldi, Stefanel, Baci & Abbracci, OVS, +39 Manifacture, UPIM, 1st floor, AB&COM, Aeffe, Agent Lux Venture, Alviero Martini, Antonio Marras, Barbara Giannelli, Be-Ma, Betty Blue, Brooks Brothers, Cashmira, Celine, Class Publishing, Colangelo, Columbus, Conde Nast, Corps et Ame, Datura, PEM Publishing, Emilù, Eres, Fabrizio Melzi, Fashionist, Franca Soncini, Francesco Scognamiglio, Fun and Fashion, Future Concept Lab, G.F. Service, Gianfranco Femzia, Gruppo Zannier, Guitar, Ileana Turrini, Info Draft, Ingenio, Insight Communication, JM Fashion & Advertisement, Jonofui, Krizia, L¹Autre Chose, Le Van Kim, Les Copains, Marly¹s Fashion, Martin Margiela, Matteo Sorbellini, Monica Leoni, Muse Magazine, Nardelli, Page Adv, Philippe Plein, Popai, Prime Donne, Ruffo, S.P. Management, Saatchi & Saatchi, Sabatini, Salima Arfoudi, Schema, Scudrera, So jeans, Società Italia, Staff International, Studio Re, Studio Uno, Tosi Communication, Ulisse Barbi, Uragano studio, Urrà, Videolook, Vigevano 41, VW Consulting, White Gallery, XT.