The cultural capital of Russia, St. Petersburg is a port city on the east-most coast of the Gulf of Finland, on the Baltic Sea. St. Petersburg was initially conceived as a business and cultural bridge between Europe and Russia, and its position on the edge of Western Europe and within hopping distance of Asia assures its future as a hub of intercontinental cooperation.
The shipping port, Pulkovo International Airport, and five railway stations make coming and going straightforward, while the city's five million inhabitants are known for their warmth and engagement. This is the welcome that greets six million tourists each year and makes a home for St. Petersburg's population of more than 20,000 international students.
It's an ideal city to make home-from-home while you study towards your Bachelor's or Master's degree.
A historic city
Built as a display of Tsarist grandeur, and enjoying two reigns as Russia's capital city, St. Petersburg retains an elegant and genteel charm that – along with its canals and 342 bridges – has earned it the nickname 'Venice of the north.' Peter the Great laid the first stone of the city as recently as May 27, 1703, but the three centuries since have been packed with the comings and goings of Emperors, the Bolshevik revolution, the Leningrad siege, and much more.
When family and friends visit, they'll be stunned by the colourful, five-domed Church of the Saviour on Spilled Blood with its 7000 sq metres of mosaics. The Peter & Paul Fortress is another grand attraction, housing a cathedral, a former prison, and several exhibitions. Students who stay a bit longer in the city will always find something new to discover in the enormous Hermitage art museum.
And this is just a handful of the city's 300 museums, world-famous theatres, parks, gardens, and other activities that curious visitors can enjoy. Beyond the UNESCO-protected historical centre, there is also plenty to see in local suburbs like Peterhof, Strelna, and Tsarskoe Selo.
'Coming to the most European city of Russia, I was literally surprised with this striking mix,' reports Turkish student Rüzgar Akgün. 'There's a very special atmosphere. You have to see those canals and the little courtyards like in Dostoevsky novels.'
A modern city, too
In amongst the monuments and museums, a thriving modern art scene keeps things fresh. Established contemporary galleries jostle among pop-ups for the attention of an art crowd that loves to get a beer and soak up new ideas.
An active arts scene brings with it youth and inventiveness. It's no surprise, then, that St. Petersburg has become something of a start-up hub. The Ingria Business Incubator at Saint Petersburg Technopark is an ultra-modern place-to-be for investors, coders, and entrepreneurs.
Local travel and accommodation options are also strictly 21st century – although living costs remain low compared to other European cities. Students can secure brand new dorm accommodation for as little as 1,000 rubles (€15) per month.
St. Petersburg universities are among the best
Creative thinking, ambitious entrepreneurship, and the brightest and best thinkers lead to one thing: an education environment par excellence.
The HSE University - St. Petersburg is a dynamically developing university of high international reputation, providing advanced education in Management, International Business, Finance, Economics, Logistics, Mathematics and Mechanics, Political Science and Area Studies, Sociology, Social Studies and Humanities, and History and Design.
Star talents can benefit from scholarships that cover tuition fees and a flexible discount system covering up to 70% of an annual tuition fee. And the most mobile of international students will appreciate the fact that all courses are part of the ECTS system, meaning they can transfer credits between different European institutions.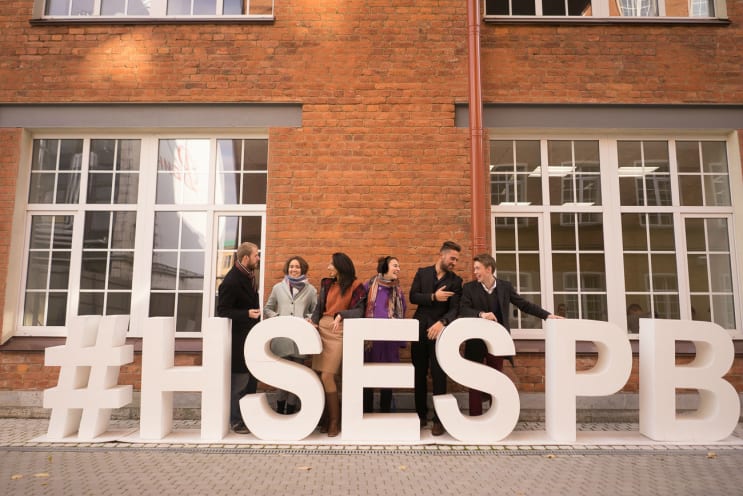 New programmes
This year marks the 20th anniversary of the HSE University - St. Petersburg campus. The school will mark the date with a range of new degrees for international students, including English-taught programmes. The St. Petersburg campus now has 3 Bachelor's and 5 Master's level programmes held in the English language, in addition to its enticing Summer School modules. Indeed, students from more than fifty countries make up a growing international student community that accounts for more than 9% of the university's intake.
The programs are thus designed to be of great value and interest to scholars from Europe, Asia, Middle East, Latin America, North America and CIS countries. And there is also the opportunity for foreigners to learn or improve their Russian language skills while they immerse themselves in the local culture – empowering them to become more confident and comfortable in their surroundings.
'The level of Russian classes was good,' continues Akgün. 'I didn't feel like they were dumbing it down for me to understand, nor did I feel it was too complicated. That exact adequate level, just perfect. The teachers were very nice and friendly, so I would recommend it definitely.'
Innovative learning
Akgün is not alone: exchange programmes have given many a memorable experience with the university's great professors. Education is based on world-class research, supervised by leading Russian, European, and American scientists including Professors Jacques-Francois Thisse, Ronald Inglehart, and Herve Moulin.
'The professors are tremendous,' says American exchange student Katherine Bernhardt, 'and it has been interesting to learn about Russia from a Russian perspective without the bias that typically comes when talking about Russia and the US.'
The school's well-equipped campus buildings are a comfortable environment in which to become immersed in the HSE's innovative learning experiences. Modular programs are interdisciplinary and practice-based, and students can fulfil the practical element through an internship at one of the university's scientific units, research centres, or partner companies. The digital environment is just as well maintained: computer rooms and 24/7 access to the university's learning management system are available, and MOOCs ('massive open online courses') are embedded in the curriculum.
Dream and shape your future
The chance to dream and shape your future does not end when you graduate. HSE University in St. Petersburg is on the Top 10 list of Russian higher education institutions to provide the most sought-after graduates
If you're looking for a challenging degree in a vibrant cultural atmosphere where job opportunities are plentiful, HSE University in St. Petersburg is the place for you!