1. It's an up-and-coming city.
Lonely Planet explains of this coastal city in southwestern Wales, "[Swansea is] currently in the grip of a Cardiff-esque bout of regeneration that's slowly transforming the drab, postwar city centre into something more worthy of its setting on the glorious 5-mile sweep of Swansea Bay."
While Swansea boasts a rich history and has always been home to remote beaches, impressive castles, museums and art galleries, its recently developed waterfront means there's even more to see and do. "Swansea will both astound and impress," concludes Culture Trip.
2. It has a large and active student population
Student cities are known for having a dynamic and vibrant vibe. As home to more than 24,000 students, Swansea falls into this category. Lonely Planet continues, "A hefty student population takes to the city's bars with enthusiasm, and pockets of hipness have emerged in inner suburbs such as Sketty and Uplands (which is, conveniently, where all the best B&Bs are located)." Swansea is also known as one of the UK's most friendly places, so you can expect to feel welcome there -- a major boon when you're a stranger in a strange land.
3. It's conveniently located
While there's plenty to do and see in Swansea, it's also a quick jaunt out of town if you're so inclined. Just three hours from London by train or car, Swansea is also in close proximity to many other top European destinations. Plus, it's just an hour from Cardiff International Airport meaning easy access to flights elsewhere.
4. It's home to gorgeous seaside scenery
While Cardiff may draw more crowds, many insiders make the case for Swansea. Its stunning seaside location is a primary reason for this.
Culture Trip raves, "Unlike Cardiff, you can go for a walk along the beach, have fish and chips and an ice cream on the pier and pop into the city centre to do your shopping in the same trip – and on foot. Swansea is a waterfront city, right beside famous beaches and the seaside resort feel of Mumbles, meaning you get city living, wild seaside and a traditional beach holiday feel rolled into one."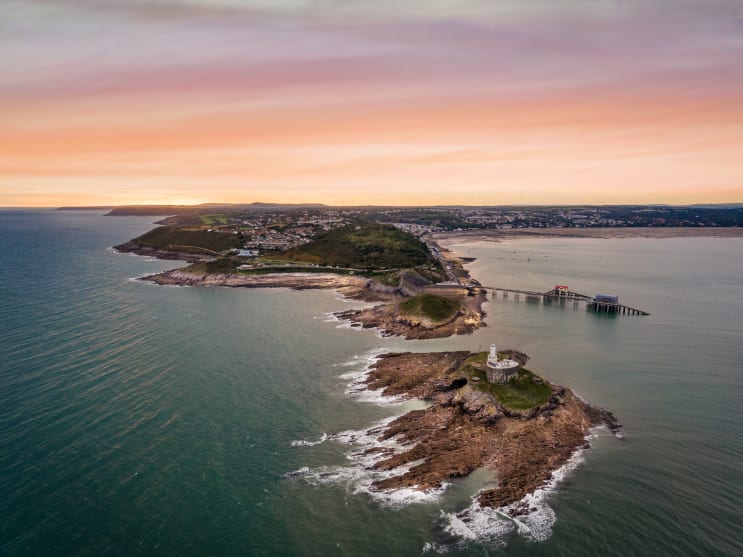 No mention of Swansea is complete without mention of The Gower Peninsula, home to massive and awe-inspiring limestone cliffs and beaches, along with a huge variety of flora, fauna, and wildlife. Three Cliffs Bay, The Mumbles, and Swansea Bay are also must-see destinations.
Of course, with its proximity to the ocean, it follows that Swansea also offers amazing seafood and some of the best takes on Welsh delicacies, such as cockles, laverbread (AKA "Welshman's caviar), and salt marsh lamb. Iconic Swansea Market is the place to go to indulge thanks to more than 100 stalls serving up these and other treats.
5. It also offers the best of both worlds
While "Swansea" and "seaside" may be interchangeable, there's much more there than the ocean. The waterfront area is also a bustling modern city suitable for avowed urbanites.
At the same time, Swansea also offers the tranquil feel of the countryside due to a number of parks and other green spaces. "From Singleton Park, with its botanical gardens and lake, to Clyne Gardens' flowers and historic Cwmdonkin Park with its connections to legendary writer Dylan Thomas, AKA 'Swansea's most famous son', you're spoilt for choice," says Culture Trip.
6. It lays claim to a remarkable culture
If you're looking to soak in some culture along with the salt air, Swansea delivers on this front too. A perennial top finisher in the UK City of Culture awards, Swansea plays host to many cultural events and activities, including the International Jazz Festival, the Glynn Vivian Art Gallery, the National Waterfront Museum, Liberty Stadium, the Dylan Thomas Centre, and many others.
Swansea's rich history is also intriguing. Consider Wind Street, for example. WalesOnline enthuses of its 1,000-year history, unknown origins, and current status as the "beating heart" of the city, "These days it may have a reputation for its lively nightlife and a kebab on the way home, but over the centuries the street has had many lives, and has changed as Swansea has changed...When you are on Wind Street, you are in the heart of what Swansea was."
7. It's home to top-ranking universities
We already covered that Swansea is an ideal city for students, and with good reason: higher education is at the heart of the city. Especially noteworthy is Swansea University.
In addition to offering a comprehensive range of undergraduate and graduate programmes across hundreds of subject areas, Swansea University also offers many international scholarships, including the prestigious Excellence Scholarship. It's also a frequent recipient of the title of "Welsh University of the Year" by the Times and Sunday Times Good University Guide.
A global university, the institution is a hub for international students: roughly 20 percent of its population are international representing 130 nationalities. As such, its two campuses, Singleton Park and Bay, are wonderfully vibrant and diverse. And while both are close to the beach anyway, Swansea University's Bay campus has its own private beach! Both campuses offer access to both the city and plenty of green space, too.
If a robust student life is at the top of your international studies destination wish list, you'll find it at Swansea University. The Swansea University Students' Union ranks among the UK's top 10. Furthermore, Swansea University is also known for offering some of the UK's most affordable student housing.
Rinal Gudhka, an international student at Swansea University who hails from Kenya, also highlights the school's friendly and supportive staff. "From the time you meet a representative at a university fair or speak to someone regarding your queries through email or call you become a part of the family. So, you can sit back and relax as you decide to study at Swansea University as the staff here are friendly, enthusiastic and very supportive. If they can't help you, they will always be able to signpost you to the right place. They aren't only there for support, but some are also there for having a chat and a cuppa," she says.
Swansea may not be the first city that comes to mind when you think of European study destinations, but there are many reasons why it should. If you're looking for an off-the-beaten-track place to study with all of the allures you'd find in a more popular spot, Swansea --and Swansea University -- may be exactly what you've been looking for. Find out more about its January entry postgraduate programmes for international students here and sign up for Postgraduate Online Open Day on November 4 here.
Article written in association with Swansea University.