Did you know that around one-third of the world's population lives in a coastal area? There are 1.6 million kilometers of coastline around 123 countries. And 40% of us live within 100km of the coast.
But coastal zones are changing all the time. Geologists define such zones as 'the interface between the land and water,' with waves, wind, erosion, and fluctuations in the ecosystem continually affecting the nature and character of these areas.
This is of particular importance since many coastal communities are among the poorest on Earth and rely on coastal ecosystems to provide food and work. The social and economic factors have a massive impact far beyond the regions in question, as do the environmental ramifications of coastal and marine ecosystems.
And coastal areas are already facing the consequences of climate change.
Much of our fishing industry relies on coastal marshes that will disappear as sea levels rise, reducing the undeveloped areas between the sea and the built environment. And researchers are hard at work trying to understand the social and economic risks of tsunamis, flooding, droughts, severe storms, and population and development pressures.
In the States alone, by 2045 flooding is predicted to affect 311,000 residential properties at a cost of $117.5 billion, and directly affect half a million people.
"Right now we are in a time of great change, both environmental and social," says Dr. Catherine Chambers, program director of theCoastal and Marine Management master's program and acting program director of the Coastal Communities and Regional Development (CCRD) master's program at the University Centre of the Westfjords.
"Rural coastal communities are canaries in the coal-mine, and feel the negative impacts of rapid change first."
The topic has been neglected for a long time
"We have good programs looking at say marine ecology or urban planning or regional development, but there's nowhere you can look at how nature interacts with society at the coast," says Dr. Kristinn Hermannsson, one of the instructors on the Coastal Communities and Regional Development master's program at the University Centre of the Westfjords.
"In the modern era, there are similar sets of livelihoods and challenges that are repeated in coastal communities, at different stages of economic development throughout the globe – for instance, a disproportionate reliance on fishing, aquaculture, shipping, off-shore energy and coastal tourism to name but a few. Likewise, there are shared challenges, erosion, flooding, decline of resource-based livelihoods that are equally relevant in the South Pacific as they are in the North Atlantic."
Study coastal communities at the University Centre of the Westfjords
Hermannsson's CCRD program and the Coastal and Marine Management master's at Westfjords both include intensive, multidisciplinary courses for those interested in coastal areas, and are of particular interest to students or professionals in sociology, anthropology, geography, economics, political science, and the humanities in general.
"First, students get to dive into a subject exclusively," says Chambers. "And instructors are readily available and in close contact during that time.
"Second, the range of courses in the program are unique and come from multiple disciplines related to the study of coastal communities.
"Third, students get the intimate experience of living in a rural coastal community -- this real-life experience can be just as valuable as what is learned in the courses!"
Importantly, this combination of specializing within an area of multiple fields leads to a broad range of careers, including in local, regional and national governmental organizations, planning institutions, NGOs, development organizations, or of course PhD studies.
With such broadness of interests and urgency of subject matter, it's no wonder the coastal communities programs welcome students from various academic backgrounds.
Hermannsson continues: "Studying such a broad and complicated range of topics has to be driven by curiosity and enthusiasm. It's also going to be a highly diverse intake, so there's a clear need for willingness to engage with different perspectives, whether in terms of culture or academic disciplines.
"The criteria for prior academic credentials are deliberately broad. We know people from widely different backgrounds work with and are interested in coastal communities. Planning, natural sciences, law, social sciences, public policy, these all have a direct connection to this program. I hope we get a few arts and humanities candidates as well to widen the discourse."
Study at a unique place on Earth
Specially positioned in the small coastal community of Ísafjörður, Iceland, at 66°N just 40 miles or so south of the Arctic Circle, and surrounded with nature and endless outdoor recreational opportunities, these programs offer a frontline glimpse of the beauty and mutability of coastal ecosystems.
"We're based in the Westfjords," says Hermannsson, "where there are working communities dealing with challenges and triumphs at the edge of the Arctic Circle. I was born here so I might be biased - it's a beautiful and romantic place and always makes you feel very grounded. It takes a lot of effort to maintain a modern society at the northwestern edge of Europe, and that's down to nature's generosity, but also a lot of ingenuity and tenacity."
The setting makes for a strange kind of natural campus where you can get snowed in over the winter and watch the sun hugging the horizon before rising again very shortly after on long summer nights.
"There's lots of energy, and it's an ideal place to be a student. The sense of geographic enclosure with the mountains on three sides makes it feel like the natural equivalent of an ancient college or a monastery, but it's effortless to escape into nature when you've had enough of people and need a break to gather your thoughts."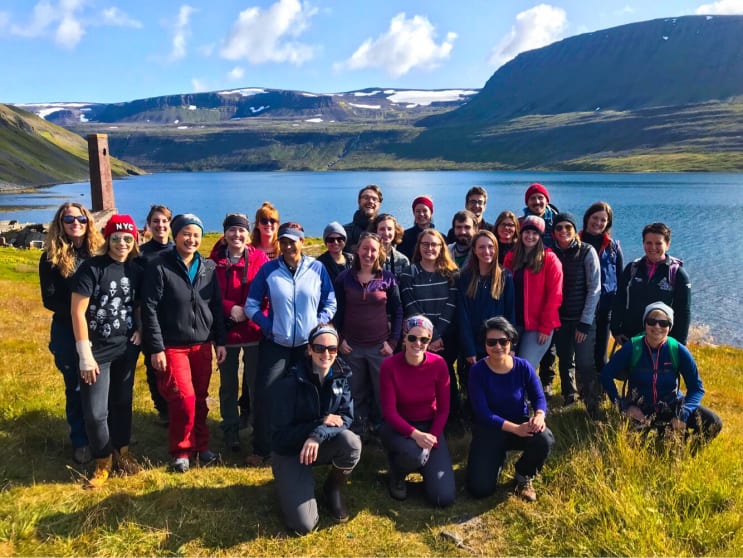 Extracurricular activities at the top of the world
Students develop their thesis topic in close cooperation with the faculty and staff, and with access to community leaders and local businesses. Prospective thesis projects are shaped by the students' ideas and interests, allowing for a broad array of research that can be conducted anywhere in the world. In the meantime, the world outside your window can be life-changing for those motivated to embrace Ísafjörður's unique location.
An annual trip to the Arctic Circle Assembly in Reykjavík gives students the opportunity to attend a multitude of cross-disciplinary forums and the chance to meet influential leaders from both the academic and political spectrum.
"Students still keep busy with extracurricular activities such as hiking, skiing, sports clubs, music, and many other things," adds Chambers. "When you live in a small town, you tend to be able to be independent and driven, and you can see this definitely in Ísafjörður.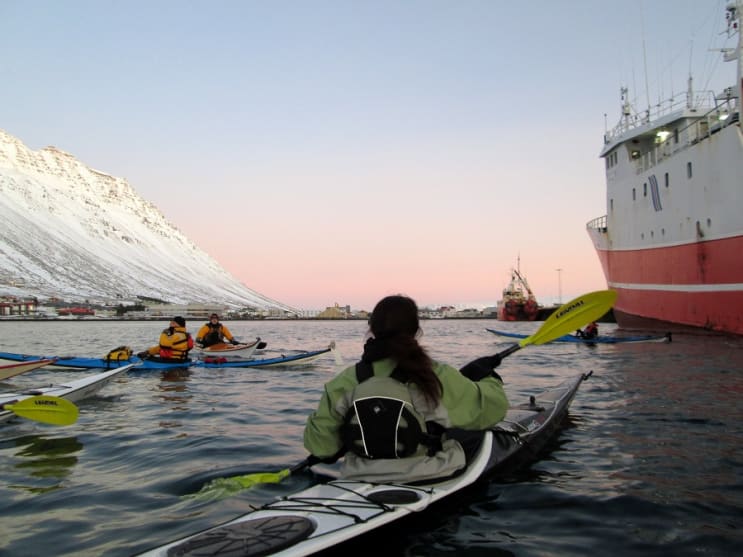 You can even surf there, under the Northern Lights! There is a burgeoning, committed, close-knit community of surfers in Iceland. "Surfing has started to get more popular with Icelanders," Icelandic surfing veteran, Atli Guðbrandsson, says. "[It is] cold, beautiful and unpredictable." This was documented in a recent film, Under an Arctic Sky, which tells the story of an intrepid group of surfers in the Westfjords, on their mission to find the perfect waves in deep winter, as a huge storm is on its way. 
Chambers added, "No, we don't have a big concert hall: let's have cozy house concerts instead! No, we don't have a shopping mall, let's learn to knit our own clothes instead! No, we don't have a huge grocery store, we catch our own fish instead!"
And while only a few thousand people live in Ísafjörður, the ideas and solutions you can develop there have the potential to impact billions the world over!