The potential of renewable energy:
Earlier this year, the World Economic Forum (WEF), reported that an extensive body of research examining different situations and geographies indicates that a "fully sustainable global energy landscape" is possible by 2050. However, for it to happen on this accelerated timeline, it will take the support of policymakers, businesses, and other organizations. The results would be profound. Not only would this greener world reduce the impact of climate change and the floods, storms, and other extreme weather events it causes, but as many as seven million deaths from air pollution could be prevented annually.
Industry trends, facts and figures:
Produced for the Business Council for Sustainable Energy by BloombergNEF, the 2020 edition of the Sustainable Energy in America Factbook took a close look at the US energy transformation over the past decade. Key takeaways included the following:
The sector is booming, and currently accounts for 18% of total power generation in the US compared to 10% in 2010.

Clean energy continues to transform the power sector, which saw a 25% drop in emissions between 2010 and 2019.

Sustainable energy went mainstream, with natural gas and renewable energy generating 56% of electricity in the US in 2019 compared to 34% in 2010.

US greenhouse gas emissions levels dropped by 4.1% over the past 10 years; they are now approximately 12% lower than they were in 2005.

More than $390 billion has been invested in new clean energy assets over the past decade; an average of $39 billion annually.

Energy is cleaner and cheaper: US households spend under four percent of their budgets on energy costs compared to 5.1% a decade ago

Renewable energy, together with energy efficiency and natural gas, is powering the US economy and now supports more than 3.2 million jobs.

The USA's energy productivity grew 3.3% in 2019.

4.1% drop in US greenhouse gas emissions of the past decade (2010 – 2019), and provides the annual update on the progress of energy efficiency, natural gas and renewable energy sectors in 2019 in America.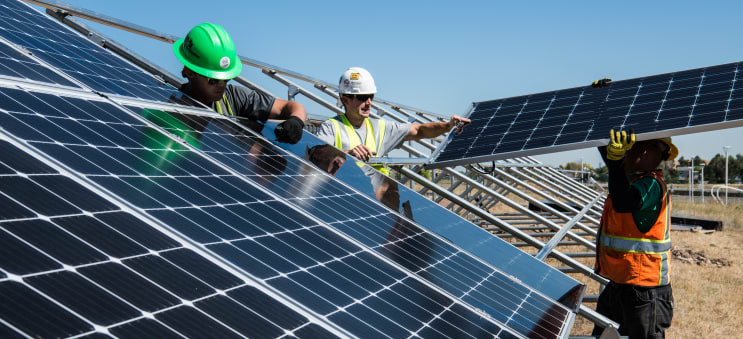 On regional trends:
Home to the world's largest and most competitive clean energy auction market, India has been hailed as "a model for the world" in the renewable energy revolution. It's also on track to achieve its ambitious renewable power target of 450 gigawatt (GW) over the next 10 years, according to the Sustainable Energy in America Factbook.
India isn't alone in its leadership. Developing countries in the global South, which refers to the regions of Latin America, Asia, Africa, and Oceania, are also making record investments in renewable energy, according to 2020's Global Trends in Renewable Energy Investment report.
The central borough of Australia's largest city, Sydney, is now completely powered by wind and solar energy for an emissions savings of the equivalent of 6,000 homes. The shift will save in the neighborhood of 20,000 tons of CO2.
Exciting things are happening in Sweden, including the erection of the first wooden wind power tower on the island of Björkö outside Gothenburg. A major breakthrough for next-generation wind turbines, the tower is stronger, cheaper, and more eco-friendly than steel alternatives. "Wind power is expected to be the EU's largest power source as early as 2027. With wind towers in wood, we get even more climate-smarter renewable electricity to face the climate crisis," says Ola Carlson, director of the Swedish Wind Power Technology Centre and assistant professor of renewable power generation.
Floating wind farms are also having a major moment, with Dr. Thomas Hillig stating that they are positioned to play a significant role in the second phase of the renewable energy revolution. Leading the way is the world's first floating wind farm in Peterhead, Scotland, which features first-of-their-kind wind turbines constructed in Stord, Norway.
Following the introduction of its Offshore Wind Promotion Act aimed at assisting the development of Japan's offshore wind power market, the country is in the process of developing offshore wind farms at 30 sites over the next decade.
Wavestar, a facility located in Denmark, is equipped with kinetic-energy harvesters known as "floats," which convert kinetic wave power into continuous energy. It can be upgraded to utilize wind and solar power, as well.
The role of international cooperation:
With the Netherlands falling short of its renewable target, Denmark has stepped in to help make up the difference through an EU cooperation agreement. In exchange for a payment of at least €100m, Denmark will transfer a volume of eight terawatt-hours of renewable power. Signed in June, the deal will support the Netherlands in reaching its 14% renewable energy target by 2020. "The Netherlands has a great deal of experience in hydrogen production. The partnership is not only a unique opportunity to finance some of our green ambitions, it will also strengthen international cooperation and knowledge sharing in the field," says Danish Minster of Energy and Climate, Dan Jørgensen.
The European Union, meanwhile, has adopted dual strategies of energy system integration and promotion of hydrogen as a fuel source as it endeavors to become climate-neutral by the year 2050. "The new hydrogen economy can be a growth engine to help overcome the economic damage caused by COVID-19. In developing and deploying a clean hydrogen value chain, Europe will become a global frontrunner and retain its leadership in clean tech," says Frans Timmerman, Executive Vice-President for the European Green Deal, a set of EU environmental policy initiatives.
The impact of COVID-19:
Speaking of COVID-19, the novel coronavirus has had a profound impact on the world. According to the International Energy Agency (IEA)'s Global Energy Review 2020, renewable energy has proven to be far more resilient through lockdown measures than other energy sources with renewable electricity in particular seeing increased demand. Despite supply chain disruptions, renewable energy is expected to continue to rise in 2020, even in the case of a slower recovery.
Still, not all renewable energy players emerged unscathed. While the rooftop solar panel industry was booming earlier this year, the pandemic caused a major drop as homeowners cut back on spending, while also adopting social distancing measures toward workers. There is hope and reason to think it will bounce back. Renewable energy utility Holaluz co-founder, Carlota Pie, says, "This is the rooftop revolution. We have spent so much time at home, we have become much more conscious of the value you can create by transforming your roof into a source of energy generation."
The travel industry took during COVID-19, but some travel-related companies are using renewable energy to innovate, amid increased environmental awareness and the rise of ecotourism. For example, one family in New Zealand is launching LandEscape, a renewable energy-focused e-biking experience in breathtaking, remote Otago. And another New Zealand business is also forging ahead with its sustainability initiatives: Pernod Ricard Winemakers New Zealand is partnering with Meridian Energy toward the goal of using certified 100 percent renewable energy. "Being sustainable and responsible is an integral part of our New Zealand wine business and has been for many years, which makes this a natural next step for us," says chief operations officer Brett McKinnon.
Roadblocks and setbacks
This isn't to say it is all smooth sailing for the renewable energy industry. While eco-friendly activism and expanded federal attention have hindered construction of oil and gas pipelines, the wind and solar power industries are also being impacted by growing legal and regulatory barriers relating to the building of power lines. Unfortunately, if renewable energy can't reach certain regions due to a lack of power lines, those regions will be forced to continue to use non-renewables like gas and coal.
There's no denying the world is up against its fair share of obstacles at the moment. Work and research on renewable around the world, combined with a collective commitment to building on this momentum, is a beacon of hope in challenging times.