Universities are celebrating
The UK's University of Plymouth shared its plans for celebrating the month on its website, including raising its own custom-made Pride flag for the first time. The flag won't just fly during June, but will soar over the campus year-round as an expression of the school's commitment to its LGBTQ members.
"No member of our community should ever have to hide any aspect of who they are and this flag will serve as a reminder to everyone that diversity isn't just tolerated here but truly celebrated in all that we do," says University Equality and Diversity Manager Andrew Grace.
After being forced to cancel its first-ever Pride parade, Penn State responded by arranging a virtual film festival in partnership with Centre Film Festival, Q&A, and other virtual activities. "We felt that it was really important to still have Pride because even though [it's a big celebration] it really comes out of a need of a demographic that is historically, and still, really hurting," says Tamar London, the Centre LGBTQA Support Network's co-chair and a Penn State World Campus professor.
Ohio University (OU) also announced a full schedule of digital Pride Month events. Assistant director of OU LGBT Center Dr. Jan Huebenthal said in a press release, "Pride has a deeply intersectional history, rooted in taking a stand against discrimination, celebrating diversity and solidarity, and speaking up for what's right."
And some are leading the way
While many schools are just starting their efforts to serve their LGBTQ community members, UCLA's LGBTQ Campus Resource Center has been around for 20 years. Providing a range of education and advocacy services, it aims to affirm people of all sexual and gender identities across the entire campus community.
The University of Minnesota Duluth (UMD) is hoping to empower underrepresented students and faculty by providing a variety of scholarships and funding for students and faculty from minority populations. It also invites donors to "be the change" by giving to these causes.
Additionally, many schools have a multitude of clubs and organizations aimed at serving the LGBTQ population. At the University of Michigan, numerous LGBTQ student groups exist, including AHAVA, a Jewish LGBT group; Alliance for Inclusion (Dental School); the Coalition for Queer People of Color; STEM: Out in Science, Technology, Engineering, and Math; and many others.
Wondering which other colleges and universities come out ahead when it comes to inclusion? Check out BestColleges.com's ranking of The Best Colleges for LGBTQ+ Students.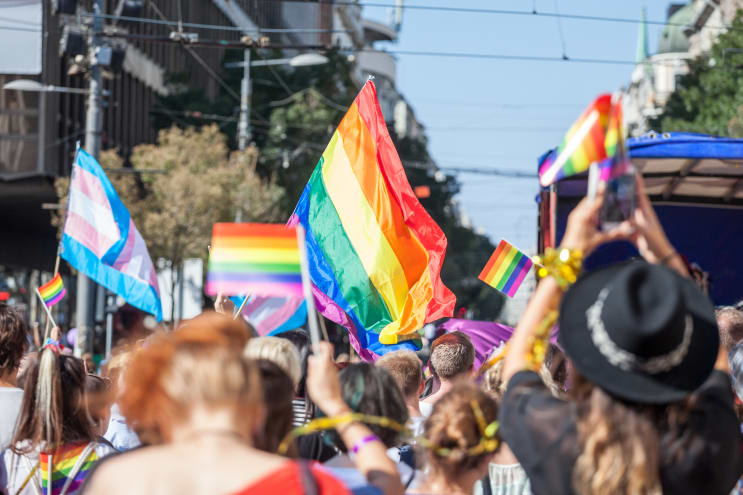 It's not just about the students
While inclusivity for LGBTQ students may take center stage on campuses during Pride Month, the issue impacts others, as well -- including employees. Earlier this month, Australia's RMIT University received the honor of "Employer of the Year" at the 2020 Australia LGBTQ Inclusion Awards for its efforts for LGBTQ inclusion in the workplace.
Community members are making a difference
With so many people coming together and working toward more inclusive campuses, many people are being recognized for their above-and-beyond contributions. At the University of Delaware in the US, three community members received the 2020 Triangle Award for their commitment to the cause: undergraduate Joe Kim, for his work in developing an LGBT Lounge as well as working with the community to support community members needing food and accommodations during the pandemic; staff member Ludy Delgado, for being "extremely helpful in aiding students in formally creating the Drag RSO;" and grad student David Woodruff for being "a proud advocator for LGBTQI rights at government levels [where] most of us wouldn't be able to have an influence. He plans to use his academic knowledge and professional experience to develop non-profit organizations that protect and defend [the] community."
Despite these efforts, change is still necessary
Many colleges and universities are expressing their intentions to do more to promote inclusivity on campus. While the most acute issue has been systemic racism toward black people, institutions like the US's Northern Kentucky University (NKU) are also acknowledging other areas for improvement, including gender and LGBTQ equality.
"Representation is important. Having black and brown faces and LGBT faces on the faculty and staff that's important, but representation is not inclusion in my world. Inclusion means shared power, which means that those same individuals are part of a decision making process. They're engaged at the institution that they have a voice and making sure they have a voice," NKU Chief Diversity Equity and Inclusion Officer Darryl Peal said.
Students have also been stepping up and sharing their stories, like University of Oklahoma alumnus Eduardo Campbell. As an Afro-Latinx LGBTQ activist, Campbell has an invaluable perspective. He told OUDaily, "How can we all contribute as a college campus to [make] an educational experience of people more pleasant? Because it is really difficult to be in spaces where you don't feel protected."
How you can get in on the celebrations
Regardless of your own university's Pride Month programming, there are plenty of ways to be involved. Check out The Guardian's roundup of online LGBTW exhibitions -- all aimed at educating and entertaining audience members through LGBTQ history and art, as well as CNET's extensive list of Pride 2020 online events.
Certainly, this Pride Month has been different than Pride Months of days gone by. While it may feel difficult to muster enthusiasm with so many challenges facing the world, the internet is serving as a critical "lifeline" in keeping people connected during these times.
Interpride co-president Julian Sanjivan told USA Today that these digital events may fall short in replicating in-person events, but "we are trying to come close." He declares, "What we are trying to do at this difficult time is find a way to celebrate who we are as a community."