What is economics?
Economics is concerned with the production, distribution, and consumption of goods and services. It examines how individuals, businesses, governments, and other institutions distribute and allocate resources. Generally speaking, economics can be broken down into macroeconomics, which looks at the economy as a whole, and microeconomics, which is concerned with businesses and people.
In other words, economics isn't just about money. It's also interested in human behavior and people's choices. Traditional economics supposes individuals make economic decisions rationally; they choose the option offering the most value. And it's the sum of these choices that make up our local and global financial markets. Some commentators believe economic choices and incentives are what define entire societies, for good or bad.
How economics is changing
But people don't always act rationally or in their best interest. Moreover, what defines a rational decision is often relative to external factors. To better understand these nuances of human behavior, economists came up with a new approach. It's called behavioral economics. Unlike classical economics, where decision-making is based on cold-headed logic, behavioral economics allows for "irrational" behavior and attempts to understand its root causes.
Behavioral economics also looks at how businesses and institutions can influence people's choices. In 2017, US academic Richard Thaler won the Nobel prize in economics for his pioneering work on 'nudge theory'. As controversial as it is innovative, this is the idea of how small measures can encourage individuals to make different decisions -- and therefore, due to the cumulation of many individuals, large changes in the economy and society. For example, the UK government recently started sending tax reminders in handwritten envelopes. This simple 'personal' touch helped bring in an extra £200 million in unpaid taxes every year.
Why study economics now?
It's an exciting time to be an economist. Some of today's most revolutionary economic innovations include central bank digital currencies (CBDCs) a new type of virtual money issued directly by central banks. CBDCs could boost economic efficiency, increase financial inclusion, and reduce (or even eliminate) transaction fees. Over 80% of central banks are looking into CBDCs. At the same time, cryptocurrencies like Bitcoin and Ethereum are becoming mainstream, ushering in a new age where money, assets, and even property are being dematerialized.
Then there's development economics. At a time where we face the United Nations' universal call to action to end poverty, protect the planet, and ensure that by 2030 all people enjoy peace and prosperity, development economics studies the ways to achieve the Sustainable Development Goals.
Economies need to grow in the right way
Economic growth doesn't mean anything if it leaves people behind. And it will mean even less if it ignores other vital factors, such as its environmental impact. This is why experts and economists from all over the world are emphasizing the need for a green, post-COVID recovery powered by sustainable technologies and policies.
Launched by the United Nations, the Environmental, Social, and Corporate Governance (ESG) is a framework that allows investors to identify socially conscious projects or companies. Also known as sustainable investing or impact investing, the ESG investment economy is growing fast, especially among younger entrepreneurs and venture capitalists. According to a recent report from US SIF Foundation, investors now hold $17.1 trillion in assets chosen according to ESG criteria. The same figure was 'only' $5 trillion just three years ago.
"Investors used to have to compromise between ethics and returns," says David Doughty, Chief Executive of Excellencia. "ESG investing changes that. Businesses can now be ethical and offer great returns. And the industry is booming. ESG is arguably one of the most exciting and critical areas to be in for the foreseeable future."
Nova School of Business & Economics
Nova School of Business & Economics has a range of innovative, world-class programs aimed at students and professionals interested in a career in economics.
Ranked the third best Master's in Economics in Europe, Nova SBE's Master's in Economics is a one-year course combining rigorous analysis of social and economic issues with a hands-on, practical approach to problem-solving and policy-making. Learning modules include behavioral economics, development economics, financial economics, and empirical macroeconomics. Students interested in sustainability issues can study modules on impact investing, environmental policy, or sustainable finance.
By the end of the course, students have the knowledge and skills to apply state-of-the-art theoretical and empirical techniques to real-life policy issues, putting them in a prime position to land exciting professional roles. This is why 100% of its graduates find work within six months of graduating, with 62% of those working internationally.
Nova School of Business & Economics also offers a Master's in International Development & Public Policy It's tailored for high-quality international students with a background in social sciences, humanities, management, political science, or engineering. Students learn about economics, management, political science, and the quantitative methods used in assessing and directing public policy. It's the ideal option for students interested in the socio-economic context of public policy-making. Graduates are qualified to work for international organizations such as the United Nations, policy-making consultancy firms, public relations agencies, and government or non-governmental organizations.
Future innovators and impact-driven students can hone their natural talents by enrolling in Nova SBE's Master's in Impact Entrepreneurship & Innovation. Dedicated to nurturing the next generation of socially-conscious market disruptors, the course blends theoretical learning and practice, helping students develop their ideas into exciting new businesses or develop solutions to social problems within the organization they work for. It's a course for ambitious entrepreneurs an entrepreneurial and intrapreneurial mindset with a passion for doing things differently.
Located in Lisbon, Portugal, Nova School of Business & Economics is one of the best business schools in the world. All classes are taught in English by renowned faculty with years of real-world experience. The school has 3,000 students from more than 70 different countries, creating a lively, multicultural, and welcoming community that embraces diversity and carries out its unique Nova Way of Life.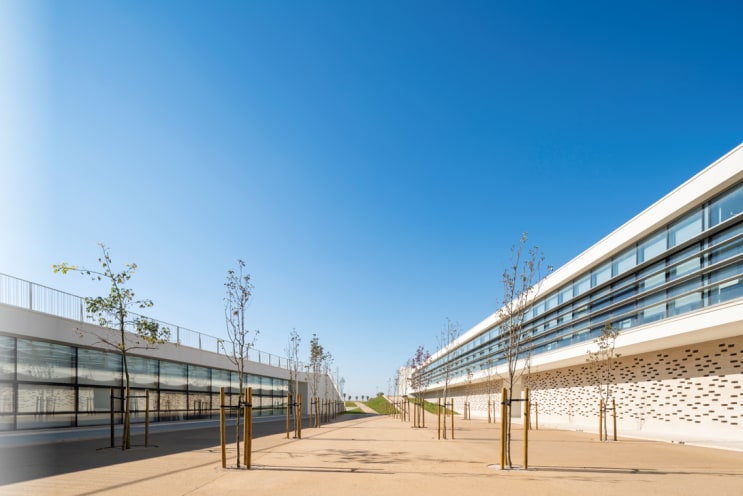 The campus benefits from the fantastic Lisbon weather and invites students to go outside as much as they want, given that it is just a short walk from the beach and many of Lisbon's best attractions, including the trendy Bairro Alto and Cais do Sodré neighborhoods. These are home to artsy hip stores during the day, and a wide variety of bars and restaurants during the night., so they're a great place to be embraced by this culture and hang out after class.
Ilaria graduated from Nova SBE with a Master's in International Management earlier this year. She says, "Nova [SBE] is an amazing university, very international, people come from everywhere and the teachers are super competent. It's the best university in Portugal according to the statistics and I totally agree."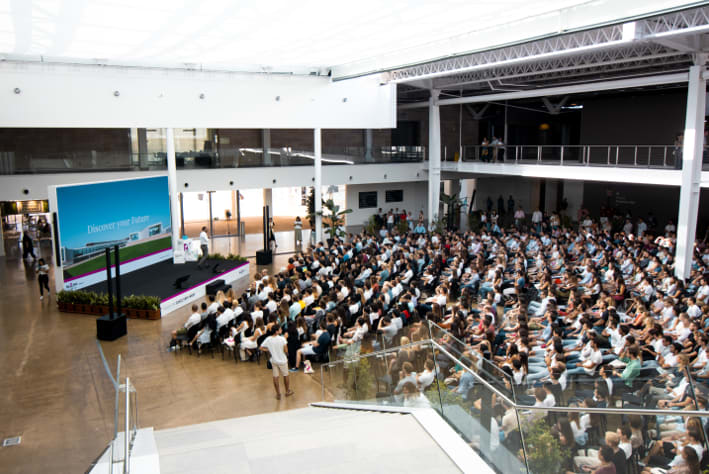 Flavia moved from Chile to study business and economics at Nova [SBE]. "I came here because I heard it was a great school and it matched all my expectations. I liked the activities to welcome the exchange students, the international department really puts a lot of effort into it," says Flavia. "The campus is the perfect studying environment. I recommend any future students to come here. And life in Lisbon is great. There are many things to do here!"
For more information on when and how to enroll in any of these courses, visit Nova SBE's admissions page today.
Article written in association with Nova School of Business & Economics.