1. It's vital now
Watched much news lately? Lots of people are alternating between binge-watching current affairs shows, and taking time off to calm down. The U.S. election, in particular, has been of note to onlookers around the world. Trump's surprise win in 2016 was superseded by an election more contentious than ever before. The rules of politics, or the choice to adhere to those rules, are no longer what they were.
Over the past decade, the international political landscape has shifted dramatically. Changes in technology, climate crisis awareness, globalization, and socio-economics have made the world seem more precarious. Gender relations and colonial legacies are being redrawn. The coronavirus pandemic is a game-changer that caught everybody off guard. The way we think and conduct our daily lives has changed radically since the turn of the century.
Who is equipped to predict, advise, and strategize ahead of the next inevitable seismic shocks for the global community? Only those who can combine depth and breadth of knowledge with tools for thinking and acting with wisdom and care in a troubled world.
2. The skill set is valuable and transferable
What sets a master of international affairs apart from the ordinary opinionator is their skill set. A master's degree delivers essential competencies in critical thinking, analytical writing, in-depth research, diplomatic debate/discussion, and the presentation of often complex ideas on sensitive issues.
These skills are transferable across a range of careers within and beyond traditional roles in international affairs, and are applicable to just about any interest you may hold and wish to explore, be it the environment and climate change, health, conflict resolution, or social justice.
3. You're a problem solver
A career in government or a nonprofit agency tends to be a calling. If you're compelled to be a part of solving the fundamental problems facing our societies today, you'll be itching to get started.
However, being a natural thinker and problem-solver is not enough. Your problem-solving skills will benefit from being developed through the specific courses, research, and experience of an international affairs degree. This type of degree includes focused problem-solving case studies and exercises. You'll learn how to evaluate a problem, identify key players, and develop solutions that answer to conflicting needs in a complex world.
4. You're interested in other cultures and people
International affairs: it's in the name. Learning about and working with different cultures is a fascinating way to spend your time. Figuring out the relationships between these cultures is more challenging: indeed, it's one of the fundamental challenges our species has faced across millennia.
Resolving issues and communicating ideas and policies to a wide variety of people may be the most challenging facet of the sector. But if you're passionate about how human beings relate to each other and the world around us, you are passionate about international affairs.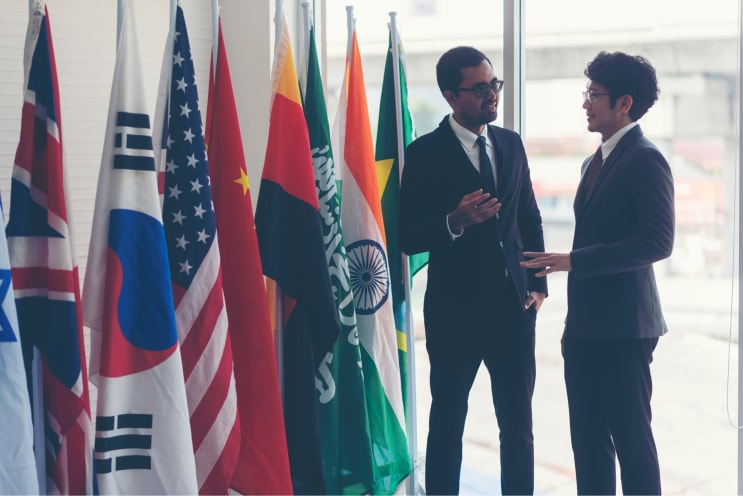 5. You'll be eligible for a variety of positions
So an international affairs degree is both timely and an effective means of developing your skills. But what sort of career might you pursue with those skills? One advantage of this sector is each job provides valuable, unique experience that will serve you throughout your career. You might stay on one path from start to finish, or find unexpected new roles as a result of your achievements along the way.
Popular job positions for international affairs graduates include:
Diplomat. Representing your country's interests around the world through research, communication, and networking.

Analyst. Working for the government, the media, or academia to research, analyze, predict, and strategize political developments.

Lobbyist. Convincing governments and the public of the importance of your association or NGO's interests.

Intelligence Specialist. Working with the military or security agencies to gather, analyze, and report on matters of international significance.
Each of these positions commands an average wage of more than U.S. $70,000/year.
6. You can make a difference
You want to do the best for the people whose welfare you will be responsible for. The most responsible way is to learn everything you can, from the experts, in a challenging yet supportive environment.
The greater awareness you have of international affairs and the networks of meaning and influence between individuals, cultures, and states, the better positioned you are to deliver solutions that respect people's needs from their point of view. In a world where political actors, even genuinely well-meaning cross-cultural figures, can frequently be myopic, being both sensitive and informed cannot be overrated.
Global policy and strategy
The University of California San Diego School of Global Policy and Strategy (GPS) is at the forefront of developing ideas and practices across contemporary international affairs. The institution is renowned as a pioneer in public policy analysis and global conflict and cooperation. GPS draws on a faculty particularly noted for its expertise of the Americas and Asia, reflecting the school's Pacific focus and its position at the tip of Latin America.
"We have a regional expertise on the Pacific that's quite unique among American policy schools and institutions more broadly, and so clearly the 21st century is going to be the Asian century," says GPS Professor Gordon McCord. "The United States and the rest of the world are positioning themselves [to respond to] Asia and all of its growth that's happening and that's forthcoming."
GPS collaborates with UC San Diego's celebrated science and technology schools to develop original analytic tools side-by-side with emerging international affairs thinkers and experts. In this way, the school directly impacts the development of solutions and problem-solving practices across the globe. In addition, students have access to a range of classes across the campus, empowering them to combine the specific knowledge they require with the tools to deliver solutions in a policy-making environment.
In addition to the Pacific focus, students note GPS' emphasis on quantitative analysis as a deal-breaker when choosing a school and program. "I think the main skills were quantitative analysis and being able to think of a situation, figure out what is the issue, why should you focus on it, and how to bring an answer," says GPS alumna Amandine Berro.
Graduate studies in international affairs
San Diego's extensive slate of Global Policy & Strategy programs ranges from bachelor's to Ph.D. At master's level, two stand-out degrees are the two-year, full-time Master of International Affairs (MIA) and Master of Public Policy (MPP).
The MIA focuses on the Americas and Asia, delivering expertise, particularly through the use of relevant, real-world case studies, in public policy, global politics, international security, business and economics, and environmental sustainability. Students learn processes for developing policy and foundational knowledge in economics, and international politics and security.
The MPP is geared specifically toward policy-making in a global environment. The faculty introduces design and evaluation methodology in a context of social science policy expertise and benefits from UC San Diego's world-class profile in STEM and the health sciences. In addition to some of the core topics explored on the MIA program, the MPP makes a feature of developing specific policy-making skills through modules such as Public Finance and Policy Analysis and Decision Theory.
Both programs are designed around career paths with multiple options to tailor and adapt to your evolving ambitions. The skill sets students develop at GPS improve performance and employability, and students can plug directly into an global alumni network.
"GPS is unique in the rigor of methods that it offers its graduate students," says McCord. "Every time I speak to people in ministries of education, ministries of public planning, ministries of development all over the developing world – those kinds of students come to our MPP program looking to be able to go back home with a rigorous toolkit to do good policy analysis and policy evaluation, and we are unique in the rigor that we offer in that regard."
If you're passionate about making a difference to the world around you, enroll with the UC San Diego School of Global Policy & Strategy for the skills to develop and deliver your solutions most effectively.
Article written in association with UC San Diego School of Global Policy and Strategy.