When we think of video games, we often think of the coders, but video game artists are also integral to bringing them to life. If you are a creative type with a passion for video games, you may be wondering: could there be a career in this for me? The answer is a resounding 'yes!' Here's a closer look at video game art, its future, and how Universal Arts School can prepare you for a successful career in this red-hot field.
To take just one example, the Mass Effect franchise has been widely hailed as groundbreaking, particularly in terms of artistry and story-telling. Aggregate review scores put the games well into the nineties and critics eulogise about them. IGN reviewer and games expert Colin Moriarty hails it as "one of the defining video game franchises of [its] generation" and Games Radar says, "The galaxy was so well-constructed that it felt like a decades-old franchise and represented a high-water mark for video games as a storytelling medium."
The Last of Us has also been heralded as one of the greatest video games of the century. In addition to its captivating story and compelling characters, it boasts extraordinary art -- so much so that it was recently featured in an exhibition at London's V&A Museum.
It has just been announced that the game will be made into a HBO series, written by Craig Mazin, the creator of the highly acclaimed series Chernobyl. "This is the first of many shows we intend to develop with our friends at PlayStation Productions," Meanwhile, Uncharted is being made into a movie, which is due for release in January. All of these developments show the old notion of films and TV being higher in artistic value than video games is fast disappearing -- or indeed has arguably disappeared already.
What is Video Game Art?
Video games are entertaining; however, many people argue they are also an art form, equal to cinema. In the United States, for example, the Supreme Court has afforded video games the same legal protection as creative works. Meanwhile, French culture minister Renaud Donnedieu de Vabres told the New York Times, "Video games are not a mere commercial product. They are a form of artistic expression involving creation from script writers, designers and directors."
Since this claim over a decade ago, video games have continued to evolve, to the point where several years later Verizon corporate strategy for media and entertainment director Chris Melissinos declared video games "one of the most important art forms in history" because "they're the only medium that allows for personalizing the artistic experience." Directly impacting the player experience, video game art comprises all of the visual elements of a game, including concept art, sprites (computer graphics), character models, environments, and more. Game artists work alongside game designers, writers and producers to bring their ideas to life in this interactive medium. This art can make or break the player experience depending on the degree to which it supports their full immersion in the game.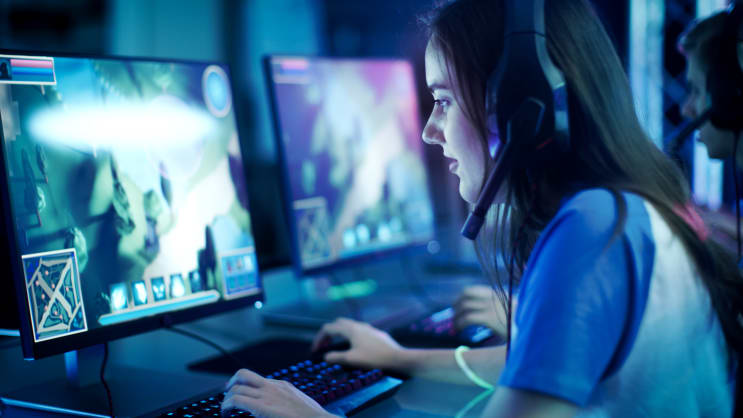 Pioneers
Two figures leading the way in video game art are Universal Arts School instructors Armando Sepulveda and Jamey Moulton, both Lead VFX (visual effects) Artists at Bioware with over 20 years of experience in the industry behind them. Jamey has worked at Disney and is responsible for the visual effects on Anthem Live, and Armando has worked at leading companies such as Hollywood animated film studio Dreamworks, Framestore, and more, and contributed to hit films including Shrek and Gravity and the record-breaking TV series Game of Thrones.
Reel 2016 from armando sepulveda on Vimeo.
"Right now, there aren't schools available that currently offer the specific training focused training," Jamey says of the Universal Arts School. "Visual effects require a very trained eye. We want to teach you the small details that matter and how to troubleshoot. It's very hard to find great VFX artist right now in the industry and, if you're good, you'll be in hot demand. We want to give you a full understanding of our industry."
"UA School has educated students in films and games for over 25 years. They have a great online platform with many resources and they have an expert team that will support your production. Some of the examples of projects might be a real-time game where you get to work with programmers, designers, and other artists, or maybe running through cinematics with directors, animators and storyboard artists."
And Armando adds, "We designed a well-crafted training that will shape you into a top professional in real-time VFX. We were thinking, 'what was the best way to bring [this industry] to you?' So we [Bioware] partnered with Universal Arts School, which we think is the best platform. Our VFX courses, we will run like a real project. So we will have producers, designers, and supervisors, and we have also other arts disciplines that are going to be blended with us. This is a complete training and we will mold you into a great VFX artist."
Where is video game art headed?
Video games have changed significantly since the days of classic 1970s-era video games like Pong. So has video game art. An Art Now and Then blog entry proposes, "When we start talking about gaming art, and the broader category of digital art under which it falls, the changes have been so relatively rapid and extensive as to constitute not evolution but revolution....The "art" of Pac-Man and Space Invaders, such as it was, rose barely beyond that of cave painting."
But given its brief history, it's also fair to assume that video game art may still be in its infancy, and that the sky's the limit when it comes to looking ahead toward the medium's future. Indeed, the $120 billion gaming industry is booming. A Business Insider article insists that with more than two billion gamers around the world, "Video games have become an irreplaceable part of our global culture. [...] The gaming industry inspires innovation by constantly pushing the boundaries of what's possible, driving companies like Google and Microsoft to create new technology to serve the billions of gamers around the world." By 2020, the gaming industry is expected to produce a staggering $196 billion in revenue.
Gaining the inside edge to a career in video game art
It follows that careers for video game artists are also booming. From character artists who create character sprites and models to concept artists and illustrators, there are many jobs for people with the requisite talent and skills.
If you have artistic talents, putting them to work designing video game art may be a uniquely fulfilling career. But a passion for video games and a flair for the artistic isn't enough in and of itself enough to get hired in this sought-after line of work. Other key skills for aspiring video game artists include vision, storytelling ability, knowledge of gaming trends, a strong analytical mind, programming skills, and the ability to work as part of a team.
If a career in video game art does seem like a good fit, you may be wondering how to further position yourself for success in such a competitive field. This is where Universal Arts School comes in. Ranked 15th in the world in animation school rankings and declared "Spain's best animation school" by Animation Career Review USA in 2019, UA School may be exactly what you've been looking for thanks to its full-stack approach to preparing graduates for careers in the tech and entertainment industry, including programs in Concept Art, Videogame Art, Digital Film, and more.
Some things that make UA School a standout? For starters, it offers the opportunity to study in the world-class cities of Los Angeles or Valencia, Spain. Each of these cities is dynamic, diverse, and bustles with creative energy. UA School's cutting-edge virtual campus further amplifies the learning experience.
With students landing jobs at many of the world's best companies, UA School's success stories and student projects (i.e. video games) speak for themselves. For example, Blue Sky Studios senior animator Hector Godoy, who taught at UA school, reinforces the importance of collaboration to the artistic process. "[W]ork with the people around you as much as you can. We all have valid opinions and ideas when facing a plan, so getting used to showing our work to colleagues in search of feedback is a great tool. It helps you to find ideas, solve things that do not work, or simply solve technical issues in ways that never occurred to us. Feedback is key in animation."
The spirit of collaboration is alive and well at UA School, a diverse community with many enriching perspectives thanks to an international student body, instructors with real-world knowledge, and a hundreds-strong network of mentors, speakers and collaborators.
Finally, no discussion of UA School is complete without mention of its exclusive professional employment program. Working with several employment agencies, UA School is able to expertly guide students on the path to successful careers.
Video games can also do good through everything from raising awareness about real-world topics like climate change to improving the cognitive capabilities of the elderly. Gamified applications are increasingly being used in many different fields. Gamification involves incorporating video game elements, such as points, leaderboards, and badges into non-game contexts, in order to improve engagement. It is widely used in education and has also been applied to risk management, software development and design, health care, organization effectiveness and marketing. The possibilities are endless.
And then there's the fact that video games are fun, which can improve relationships, moods, and outlooks. In other words, you won't just enjoy a satisfying career as a video game artist, you'll also be helping to make the real world a better place!
Article written in association with Universal Arts School.