Product design, design thinking, and business
"Product design is the process of identifying a market opportunity, clearly defining the problem, developing a proper solution for that problem, and validating the solution with real users," developer Nick Babich writes for Smashing Magazine. Clearly, this comprises much more than the proverbial lightbulb flashing on over your head. No product is the result of a mere moment of genius but instead is nurtured into being through a complex series of interrelated decisions and actions.
Understanding product design through this lens leads us to design thinking, which looks beyond the "design phase" to address end-to-end product development. While there may be many variants of the definition of design thinking, the common thread is the human-centered approach addressing actual needs.
At first glance, elements of design thinking may seem outside the designer's job description. However, the more acutely designers understand these factors when conceptualizing products, the more successfully they will be able to build truly great products.
At the same time, design is also integral to business growth. McKinsey Quarterly's recent report, The Business Value of Design, reveals there is a strong correlation between high McKinsey Design Index (MDI) scores and superior business performance across all industries. The report also identifies common company characteristics that foster this dynamic. First on its list? Analytical leadership.
"The companies in our index that performed best financially understood that design is a top-management issue, and assessed their design performance with the same rigor they used to track revenues and costs," the report insists. However, less than five percent of the companies surveyed felt their leaders could make effective design decisions.
The conclusion, according to McKinsey? "Companies with the best financial returns have combined design and business leadership through a bold, design-centric vision clearly embedded in the deliberations of their top teams."
Northwestern clinical professor of mechanical engineering Dr. Walter Herbst reiterates the interconnectedness of business and design. "The 'business' side of design and the ability to speak a 'business' language is critical for those in design leadership, especially so, now that 'design' has been elevated to the 'C' suite," he says. "Taking a 'seat at the table' is best served and perhaps only served, by those with both design and management backgrounds."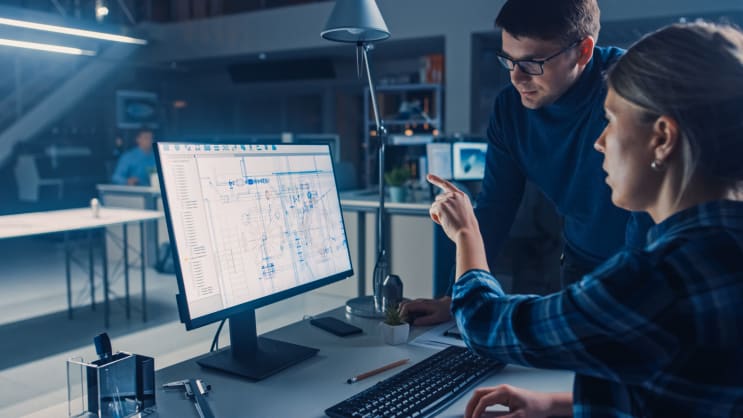 An innovative program for aspiring product design leaders
As Director of Northwestern's innovative Master of Product Design and Development Management Program (mpd²) at the Segal Design Institute within the McCormick School of Engineering, and as a longtime award-winning leader in the design and product development space, Dr. Herbst is uniquely positioned as an authority on the matter.
The mpd² was the first program of its kind to equally integrate business and advanced design and development methods into a cutting-edge educational opportunity that imbues students with the skills they need to manage creativity, execute design, and lead product development. Using a hands-on, team-based approach that draws on the students' diverse professional and personal backgrounds, the master's is designed with the participants' wants and needs in mind, including the choice of a nine-month full-time program or a two-year part-time program.
Now approaching its 20th birthday, the mpd² remains a standout in the field. "While other schools both domestically and internationally have started their own programs, the NU program is the only program, with dedicated faculty to that program from both academia and the professional world," Dr. Herbst says. Both Dr. Herbst and his co-director, Dr. Stephen H. Carr, embody this attribute having excelled in industry as well as in academia.
Also, in recognition of the ever-changing, fast-moving design world and the need for lifelong learning, it allows graduates to audit classes for the rest of their lives.
Because all design professionals know products are made and lost on the testimonials of users, it would be remiss not to share some first-hand feedback. Harley-Davidson Financial Services Business Analyst, Brandon McNamara, a 2011 mpd² graduate, explains, "The mpd² program cultivates your skills to confidently tackle the complex and challenging problems you face outside the classroom."
Insight and Exploration Director, Gretchen Gscheidle, mpd² 2010, adds, "My mpd² experience has introduced me to different lenses through which to view product design and development -- the results of which are personally fulfilling and competitively advantageous."
The mpd²'s ultimate goal is an ambitious but necessary one: to create a new generation of design leaders with the business skills necessary for creating truly advanced and groundbreaking products. If you're looking to be an integral part of driving innovation, generating momentum and transforming the world through brilliant product design, a master's degree which acknowledges the critical business context is an advantageous path to success.
Article written in association with Northwestern University.