The Master's program Innovation through Business, Engineering and Design at Linnaeus University focuses on our societies' social needs and values to provide the best possible local and global future for us all. The program has students from three different faculties -- Business, Engineering and Design. This brings together a diversity of competencies, backgrounds, and experiences to enable the innovation process in all its complexity and address the challenges humankind faces.
"We all have different perspectives, and our working processes are also different from each other. We get to learn how designers and engineers think, just like in real-life projects,"
explains Sebastian, a student on the Business specialization.
Towards a greener future, in collaboration with IKEA
The program also has a unique collaboration with IKEA, the world's largest furniture company. IKEA provides the latest methods and tools, as well as workshops and tutoring to practice product development processes in real-time. Students learn to develop sustainable solutions that consider function and form as well as resource efficiency. The students get hands-on opportunities to participate in corporate projects and the opportunity to implement knowledge and create a better everyday life for people.
"First, we worked four weeks with the development of a design model, and now we have reached the engineering process. Once we have completed that, we will work four weeks with the business process. In this way, we will all learn the entire development process, which is very rewarding,"
adds Sebastian.
Study at Linnaeus University
Studying at Linnaeus University means being part of a dynamic environment where knowledge and new ideas flow freely. Linnaeus University believes in personal meetings -- since the more we meet and discuss, the more we develop ourselves and our ideas.
To study abroad is more than just getting an education. Studying means making new friends, learning about new cultures, falling in love, building a career, learning a new language, getting a bicycle, and becoming part of a community. Linnaeus University is full of life and possibilities.
"I would say it's the people in general that make a university what it is, and at Linnaeus University, the people are the best. You'll make friends with people from all over the world, and the teachers are very helpful,"
says Cajsa, a Peace and Development student from the USA.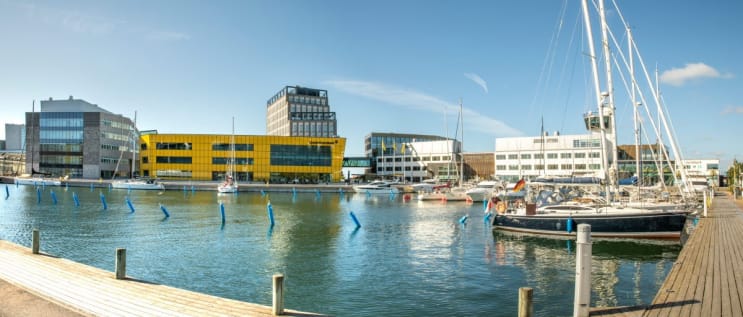 Academic culture in Sweden
The Swedish teaching style has many advantages and might differ from what international students are used to. At Linnaeus University, lectures have an informal style, providing room for discussions to flow freely between students and teachers. And if you struggle to focus on several things at once, no worries. In Sweden, students only study one course at a time, giving you the opportunity to focus all your energy and time on one topic. You see what this means, right? NO EXAM SEASON!
The heart of entrepreneurship
Located in the south-east of Sweden, Linnaeus University is in the heart of Swedish entrepreneurship, in the very county where IKEA was founded. The region of Småland is also known for its rich nature, and Linnaeus University is located in two beautiful, nature-loving cities, Växjö and Kalmar. Both cities have their own unique characteristics. Kalmar is known as the student city by the sea, and Växjö is the city of lakes, combined with woods in which students can enjoy many beautiful landscapes while studying or taking relaxing walks with fellow students.
Welcome to a university where everything is possible!
Article written in association with Linnaeus University.