Booming economy
Mexico isn't just one of the most popular cultural destinations in the world. Thanks to its geographical location, it has become a premium destination for business investors as well, making Mexico currently the second-largest economy in Latin America. Besides the year-long tourism industry, Mexico exports vehicles, oil, electrical machinery, and fresh produce. Other growing markets in Mexico are fintech, medical cannabis, and e-commerce. These and other fast-growing industries have made Mexico one of the world's booming economies, turning the country into a sea of new business opportunities.
Affordable living
QS Top Universities has ranked Mexico as one of the top five most affordable destinations for international students. With the low cost of comfortable living standards and the quality of education provided, Mexico is among the leading choices for students worldwide. Depending on location and lifestyle, the cost of living in Mexico can vary from US$600 to US$2,000 per month. According to Shannon O'Donnell, National Geographic Traveler of the Year, a single person on a modest budget can live comfortably on US$750 a month. And as a great benefit for students, many establishments offer significant student discounts for anyone with a valid student card. The tuition rates at Mexican universities are low compared to other countries such as the USA and Canada. In Mexico, tuition fees can be as low as US$378 per year at certain public universities.
Work experience
One of the main concerns for any student is securing a job upon graduation. With this in mind, many universities in Mexico have partnerships with companies in different fields that provide students with professional internships early on in their chosen program. Reading up on the program website and getting in touch with the universities you're interested in is the best way of learning more about what kind of opportunities they offer before making your final decision.
Amazing culture and food
Mexican culture is well recognized across the world - the country is home to no less than 35 UNESCO World Heritage Sites. Mexico has a vibrant culture, made up of a mix of indigenous culture and Spanish influence, with Mayan and Aztec architecture and world-famous, diverse and flavorful cuisine. The food is different in each of the country's seven regions, so regardless of your taste, you will find a dish perfectly suited to your palate. While studying in Mexico, you can learn history by visiting cities like Chichén Itzá, an ancient Mayan city filled with sacred temples and home to the famous step-pyramid El Castillo. Mexico is also known for its many unique and widely recognized festivals and celebrations, such as Cinco de Mayo and Día de los Muertos. The Day of the Dead is a major attraction to anyone visiting Mexico.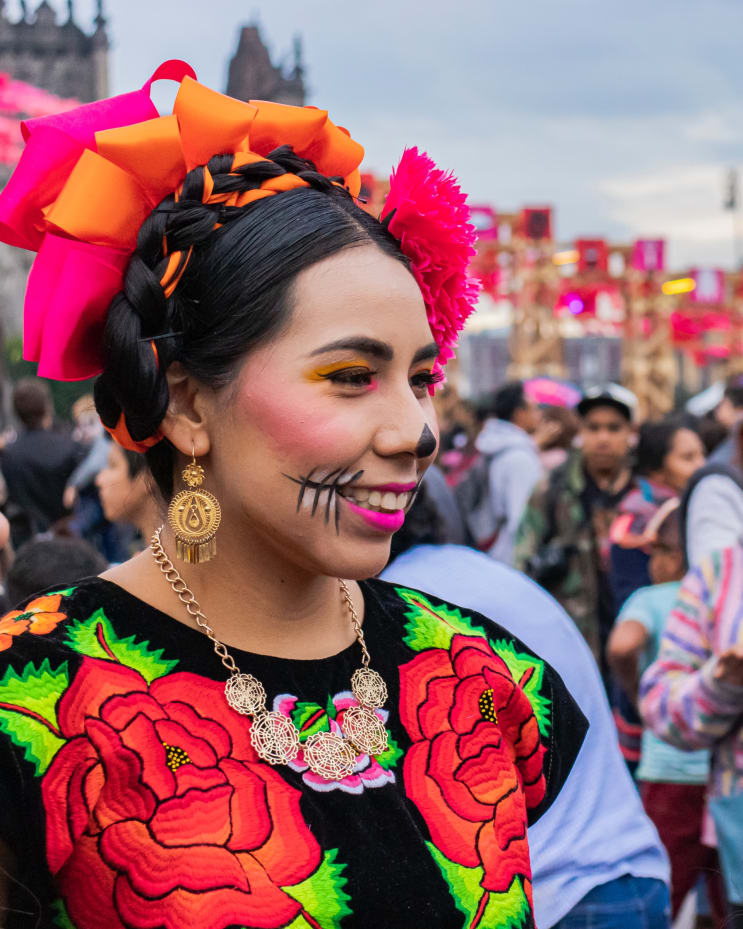 Heather, a University of British Columbia student, spent an academic year on exchange at the Tec de Monterrey campus in Guadalajara, went to Michoacàn, in western Mexico, for the Day of the Dead with a couple of other exchange students and her friend's Mexican boyfriend. She told My World Abroad, "We took a walking tour of the town, watched a live performance of Don Juan, and wandered through the graveyard where the locals camped out by the graves of their loved ones for the night. The celebration is so unlike anything back home and so culturally rich that it made a real impact on me. The fact that it is celebrated only a day after Halloween only marks the contrast between our North American fear of the dead and the indigenous Mexican celebration of the dead. It was wonderful to see them building shrines around their loved ones' graves rather than carving jack-o-lanterns to scare away the spirits of the dead."
Learn Spanish
Spanish is one of the most widely spoken languages in the world, with nearly 570 million native speakers. It is the official language of 20 countries, plus Puerto Rico. With Mexico being the world's largest Spanish-speaking country, it is one of the best places in the world to become fluent in a different language. Being bilingual is the first step in launching an international career, and learning Spanish is an especially great investment for the future. A survey by The Language Educator shows Spanish is the #1 most in-demand language by U.S. employers.
"I was privileged enough to travel a lot as a child and I've always had a strong desire to immerse myself in other cultures," Heather, who focused on studying Spanish in Mexico, adds. "If you're going on exchange to learn the language, then make a real point of speaking it right from the time you arrive. Most of the world speaks English and if you fall into the trap of speaking it until you're comfortable with the host language, you'll never get comfortable and you'll only grow used to speaking English with everyone around you. If you have a base in the language, insist on using it right away: I did and I was able to skip a level of Spanish between terms. [Language] is your gateway into the hearts of the people."
"I took a ballroom dance class offered by the university, which gave me a great opportunity to meet locals; however, the best extra-curricular activity I took part in was volunteering at a local primary school for blind children. I helped out with their dance classes once a week, which was a good challenge for my Spanish (no hand motions when talking to the blind!) and gave me an opportunity to step outside the upper-class world I was living in. I would highly suggest volunteering to any exchange students heading to Latin America or another region of the developing world: it's an amazing way to see the country from a different perspective."
Good quality universities
The higher education system in Mexico is similar to those of the U.S. and Europe, and the country was featured in the last edition of the QS Higher Education System Strength Rankings at #31st, being one of the best in the world. Mexico has over 60 institutions among the QS Latin America University Rankings and 14 institutions among the QS World University Rankings, being the second country in Latin America with the most universities featured. The highest-ranking institute is Universidad Nacional Autónoma de México (UNAM), a public university with a student population of over 350.000 spread over several campuses across the country. The main campus, located in the University City of Mexico, became a UNESCO World Heritage Site in 2007.
Good healthcare system
The healthcare system in Mexico is one of its most attractive qualities for those looking to move to a different country. Mexico residents have two primary options of accessing national healthcare: the IMSS system and the Seguro Popular. Temporary and permanent residents can apply to IMSS online or at the nearest office, and the association costs about US$40 per month. However, some restrictions exclude people with certain pre-existing conditions from being accepted into the system. But, with Seguro Popular, there are no such restrictions - anyone can apply regardless of pre-existing conditions. The charges are based on income, so the annual fees can range from nothing to US$500 per household, and the system mostly includes free medication.
Friendly people
Following the norm for Latin American countries, the people of Mexico are very friendly. Mexican culture is very laid back and relaxed, so the locals are usually very patient. The locals also love to talk to foreigners and learn about their experiences before coming to Mexico. They will also typically be happy to answer any questions you have about living in their country, such as how to get around or where to find the best bars and restaurants. They will appreciate it even more if you speak their language, naturally, so socializing with the locals is an excellent opportunity to meet new people and practice your Spanish.
With over 1,200 higher education institutions, Mexico offers a wide variety of programs to choose from, many of which can be completed on a part-time basis. The cultural and economic environment undoubtedly make it an unforgettable experience for anyone who decides to spend a year or more as an international student in Mexico, so make sure to consider this wonderful country when deciding on your perfect destination.