1. High quality universities
Uruguay is known for its high quality of life and a fundamental part of that level of satisfaction in its high quality education. The country's higher education system is mainly comprised of two public and four private universities. Of these institues, four are ranked among the best universities in the world: Universidad ORT, Universidad de Montevideo, Universidad Catolica, and Universidad de la Republica.
These universities offer a wide range of programs in various areas, so finding a program for you shouldn't be any trouble. Most institutes have well developed research, teaching, and education branches that provide students with an excellent academic and professional foundation for their careers.
Tuition rates vary depending on the institute and the programs, but yearly tuition fees in prestigious universities can start as low as US$1,281, going up to the US$10,919 in some private institutes. However, many universities have scholarships and other funding options for international students, so don't hesitate to contact your desired institute to find out more about the opportunities offered.
2. Live affordably
One of the best parts of studying in South America is how affordable it is compared to most European and North American cities. In Uruguay, it is no different – the cost of living and studying in this fascinating country is perfectly affordable for international students.
While daily expenses like groceries are about 29% lower than in the U.S., housing is where you'll save the most money: renting prices can be nearly 50% cheaper in Uruguay. Accommodation in the country's capital Montevideo can range from US$100 to US$400 per month, with an estimated expense of around US$300 on food per month. As for transportation, the usual urban bus ticket is US$1.
3. Improve your Spanish
Studying abroad brings many benefits - expanding your cultural experience, studying in prestigious institutions, connecting with professionals from around the world, learning new skills -- but one of the most useful skills is becoming fluent in a new language.
Being multilingual opens doors both in your personal and your academic life. Candidates who speak multiple languages often have better chances of being hired, earn more money, and have more room for growth in multinational companies.
In Uruguay, you'll be in a great spot to brush up on your Spanish. Uruguay is South America's smallest nation, with friendly locals and a peaceful environment - a perfect place to interact with people around you and quickly become a fluent Spanish speaker.
4. Enjoy the nature
Uruguay may be a small country, but there is no shortage of beautiful natural scenery to be enjoyed. Laguna de Rocha is one of the country's most popular destinations - the lagoon became a national park in 1977 and is now home to over 200 species, including flamingoes and the black-necked swans.
Punta del Este is a touristic city that combines an urban scenery full of high-rises with beautiful white-sand beaches. If you visit Brava beach, you'll get to see the iconic sculpture "La Mano" - five fingers poking up from the sand that represent the hand of a drowning man warning swimmers to be careful in the waters.
Meanwhile, historic Colonia, or Colonia del Sacramento, is renowned for its cobblestoned Barrio Histórico and hosts sweeping sea and river views. Makena Forster, a University of Nevada, Reno student who studied in Uruguay, says, "The two days we spent in Colonia [were] culturally enriching, learning about the Portuguese/Spaniard colonization that took place in this part of Uruguay. The town has preserved its historic buildings and prevented new developments from happening in order to keep the colonial town feel. It was a well-organized and incredible trip!"
But, if you want to go off-grid while having an adventure, going to Cabo Polonio will be an unforgettable experience. Cabo Polonio is a remote coastal city, home to one of the world's largest sea lion colonies. Getting there will be the adventurous part - there is no road leading to the town, so you'll need to choose between going on a seven-kilometer hike across the dunes or going on a bumpy 4x4 ride. Once you're there, though, you'll have nothing but nature and some well-deserved peace and quiet to enjoy.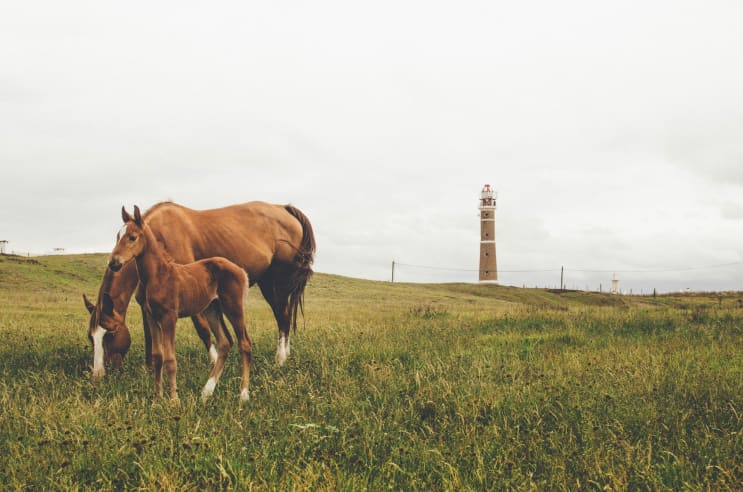 5. Engage in the culture
With nearly 90% of its population claiming European descent, Uruguay offers a unique South American and European culture blend. Almost half of the country's population lives in the capital Montevideo, which has been rated by the Mercer Quality of Living Survey as the South American city with the highest quality of life.
While Montevideo is a perfect urban picture of Uruguay's culture, the countryside is strongly influenced by the "gaucho" tradition - a cowboy-like lifestyle that expands over to the territory of Argentina and the south of Brazil. If you're in a gaucho-influenced region, you can expect to see barbecues everywhere you go - the love of beef is one of the landmarks of gaucho culture.
But the most important thing to remember while in Uruguay is: relax! The "Tranquilo" culture is one of the best things to be enjoyed during your trip. Forster explains, "Even living in a large capital city, the relaxed attitude is tangible and so important; it teaches you to enjoy daily life rather than rushing through it."
"I've always had a strong desire to travel deep into the South American continent," she adds. "Ideally where not many people had gone before. I saw Uruguay is something of an oasis from the tourist meccas that are Argentina and Brazil while possessing aspects of each culture. I was intrigued by the authenticity, uniqueness, and generally undiscovered nature of the country. Montevideo seemed to have all of the aspects of big-city life balanced with a generally mellow disposition which I had never seen before."
6. Enjoy the nightlife
If you go to Uruguay, you need to make the most of the local bars and restaurants. The local cuisine enchants travelers from around the world with its wide variety of meats and excellent wine. Barbecue is something to be taken seriously in Uruguay and the meat will be cooked to perfection before being served along with lemon slices. Visiting a traditional vineyard just a short drive away from Montevideo is a great weekend program for wine lovers.
Uruguayan nightlife is also one of the country's best attractions. Montevideo is a lively city with buzzing clubs, music festivals, and performances by internationally famous artists. Uruguayans take the term "nightlife" quite literally - most restaurants don't open until 7:30 pm, and friends like to get together at bars at around midnight for drinks. After that, they move on to a nightclub at around 2am, where they dance until sunrise!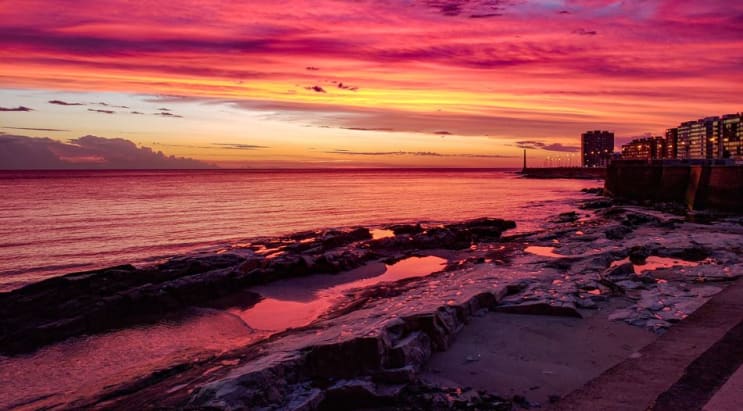 Uruguay is statistically one of the best countries in Latin America to live in. The country has nearly zeroed the indices of extreme poverty in its territory, and its low levels of corruption result in an effective government, well-trusted by its people. Uruguay is an excellent option for students looking for an affordable, stable, and exciting country to study in. Pursuing a degree in Uruguay will surely give you an outstanding academic experience while still providing you with unforgettable life experiences!