University Master in Commercial Management
Home ›
Master ›
University Master in Commercial Management
Program Description
Our official master in marketing and commercial management, which prepares you to take on the challenges of today's market, and gives you the managerial skills to define tomorrow's market.
Differential factors
The students who study the University Master in Commercial Management at the URJC will also obtain the Master's Degree in Marketing Management from ESIC by taking additional private subjects equivalent to 12 credits.
Comprehensive training in marketing and management skills with an eminently practical nature.
Mastery of international strategies for the implementation of content in a global context and the development of a transnational career.
Employability Ratio
6 months after the end of the program: 94%
One year after completing the program: 97%
Data of former students of the program
Functional areas that our students occupy
62% Marketing
27% Commercial and sales
9% Business development
2% Communication and Advertising
Geographical areas where they work
80% Spain
13% Rest of Europe
6% LATAM
1% USA
Methodology
The methodology of the program is focused on student learning through the combination of an adequate individual effort and the ability and involvement demonstrated in teamwork.
Tutors, mentors and teachers, facilitate the process of understanding and applying knowledge and transmitting skills.
Virtuous circle of action-feedback-analysis-action in the participants of our program.
Development of critical thinking, promotion of independent learning (Student Centered Learning).
Sessions oriented to decision making.
Individual requirement in evaluations, cases, exercises, etc.
Team presentation of company cases.
Preparation, presentation and defense in groups of a final project supervised.
Methodological Criteria
Theoretical component
Practical component
Works and cases
Final project
Individual evaluations
Group evaluations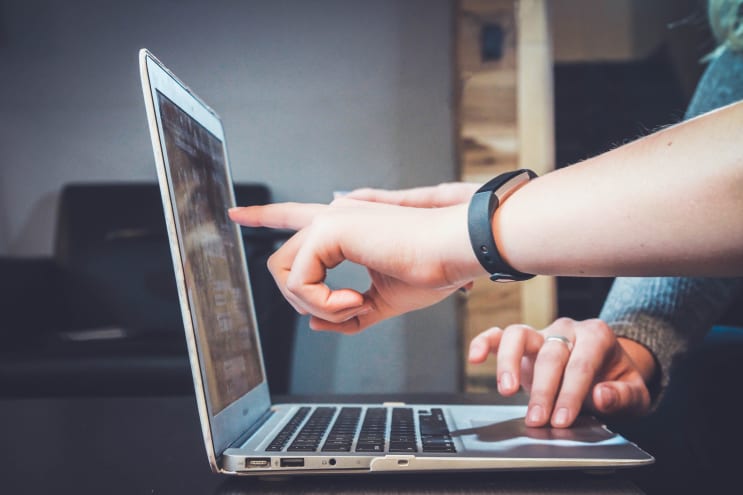 John Schnobrich / Unsplash
Academic structure
The URJC Master's Degree in Commercial Management has a specific high-level program that will prepare you to assume managerial functions in the field of marketing, commercial organization and business. This degree allows you to combine the official nature of a university program with the practicality, experience and professionalism of the company, in a business school of international prestige.
You can also obtain the Master's Degree in Marketing Management from ESIC by taking 12 additional credits of the program or accessing the Doctorate Program.
Qualification: Title issued by the Rey Juan Carlos University, with official recognition and full validity in all EU countries. Possibility of access to the completion of the Doctoral Thesis.
Faculty: Specially selected faculty. Teachers with extensive professional and international experience.
Quality of the program: Program Accredited by ANECA (National Agency for Quality Assessment and Accreditation) with its VERIFICA Program. Taught by the leading school in marketing education in Spain.
Core modules
Analysis of the competitive environment
Business and Marketing Intelligence
Market Research: analysis and information management; main variables and indicators of the business sector or idea, for marketing decision making
Study of the changes in the ways of consumption and approach to products, and their impact on the value chain
Analysis and assessment of market opportunities
Marketing Plan in international expansion and intercultural negotiation
Operational Marketing in action
Creativity and innovation applied to the launch and development strategies of new lines of products and services
Consumer & Shopper Business: execution and strategy of the plan and evaluation of achievements
Customer Experience
Digitization of operational marketing processes
Competitive intelligence and pricing
Pricing policy in the digital environment
Revenue Management
Development and implementation of marketing actions aimed at the channel; promotional, sponsorship and events policy
Orientation to marketing results
Marketing and Customer Analytics: Customer-centric marketing models. Data mining. Advanced Customer Segmentation: New Models
Marketing Decision Model
ROI analysis of a digital marketing plan
Attribution models
Inbound Marketing: lead generation and customer conversion
Omnichanel Retail Marketing
Analysis of customer experience on any device or location
Time to market
Organization and business management
Customer Management. Key account management
Sales forecast and business plan
Work with Marketing Simulator for decision making
Immersion in business reality through cases and masterclasses
Value communication
Strategic planning of communication to different stakeholders
Branding and Communication Strategies
Integrated Marketing Communication
The role of the Communication Directorate
CSR Policies
Branded Content. Content development for Marketing strategies
Analysis of influence markets
Media planning and purchasing
Development of the idea (Brand Purpose)
Cross sessions
Development of analytical skills and market orientation
Creativity and innovation
Communication skills
Ability to design and implement a Marketing Plan and its monitoring and control
External internships in companies
TFM
TFM
Rankings
# 27 ESIC among the 27 best International Business Schools in MBA teaching - Bloomberg Business
TOP - ESIC in the top 250 of the best MBA Business Schools in the world - QS
TOP - ESIC in the world top of university centers and business schools - U-Multirank
Last updated Apr 2020
About the School
ESIC is a group of leading business schools in Spain, with an experience of over fifty years of training business and marketing professionals. We strive to incentivize, promote, and maintain a direct ... Read More
ESIC is a group of leading business schools in Spain, with an experience of over fifty years of training business and marketing professionals. We strive to incentivize, promote, and maintain a direct relationship with the business environment in order to provide you with practical academic training that focuses on the needs of the labor market. We offer training with values, to engage successfully as a highly qualified professional with excellent command and knowledge of the latest trends.
Read less
Madrid ,
Barcelona ,
Valencia ,
Seville ,
Zaragoza ,
Málaga ,
A Coruña ,
Pamplona ,
Bilbao ,
Granada ,
Vigo ,
Spain Online
+ 11 More
Less