Sustainable Development Program (MSc)
Home ›
MSc ›
Sustainable Development Program (MSc)
Program Description
Gain multidisciplinary knowledge of green innovation, and learn the key aspects and dimensions of sustainable development. AUC's sustainable development graduate program is ranked #1 in the 2019 Eduniversal Best Masters Ranking in Africa, offering a comprehensive and in-depth study of sustainability, covering the three dimensions of economy, environment, and society. In addition to the theoretical and analytical components of the program, students are encouraged to carry out community-based activities. Concentrations in engineering, business studies, public policy, or social sciences may be pursued, depending on the student's interests and background.
For more information on the program courses, head to http://catalog.aucegypt.edu/preview_program.php?catoid=29&poid=5246&hl=sustainable&returnto=search
For more on AUC's Center for Sustainable Development: http://schools.aucegypt.edu/Sustainability/CSD/Pages/default.aspx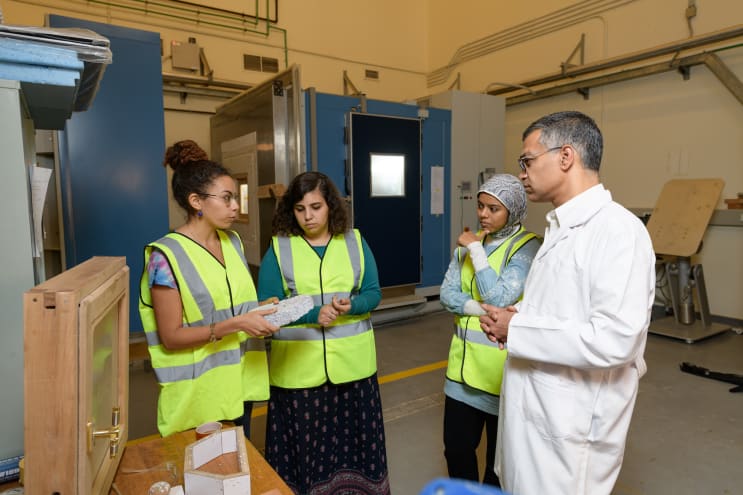 Available program tracks:
Master of Science in sustainable development, with concentrations in Green Technologies, Entrepreneurship, Sustainable Cities and Sustainable Communities.
Master of Science in sustainable development dual degree with Politecnico di Milano in Italy
Graduate diploma in sustainable development.
Who it's for:
Innovative and visionary leaders from varying academic backgrounds with an interest in exploring sustainable solutions to global challenges
What you'll learn:
Through this program, you will learn the skills needed to start-up green businesses, launch innovative ventures and products, and put in place public policy and social entrepreneurship innovations that, together, address society's environmental and natural resource challenges.
Where it can take you:
Graduates of the program typically pursue careers in any of the following: start-up businesses in the field of green technologies, international organizations that are active in sustainable development, local or regional nongovernmental organizations that work closely with their communities, governmental institutions on the policy level, corporate social responsibility, consultancy firms working in the area of environmental services or social development, and bilateral donor agencies.
Admission Requirements:
A candidate for the program must have a bachelor's degree in engineering, science, business, political science, or social science. Admission is also subject to the University's general requirements for graduate study, including English language proficiency. A minimum GPA of 3.0 out of 4.0 is required for full admission into the program. Students who have some deficiency in their undergraduate training but are well-qualified in other aspects may be admitted provisionally. The program director and track coordinators may prescribe a program of noncredit work to make up for the deficiency. AUC's Office of Residential Life provides students with a dynamic, student-centered experience and a variety of accommodation styles.
For more information on admission requirements, tuition fees and scholarships, head to https://www.aucegypt.edu/admissions/graduate
For more information on university housing, go to https://www.aucegypt.edu/students/residences
If you have any questions or need more information, email us on csd@aucegypt.edu
Expert Faculty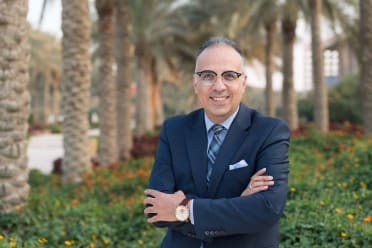 Hani Sewilam: Hani Sewilam (Ph.D., RWTH Aachen University) joined AUC as a professor of sustainable development and water resources management. He is the director of the University's Center for Applied Research on the Environment and Sustainability (CARES) and the founding director of both the Center for Sustainable Development and the MSc in sustainable development at AUC. Sewilam has more than 25 years of academic and professional experience in the fields of sustainable development, water resources management, water-energy-food nexus, desalination, and capacity building. He has managed international research and capacity building projects in 21 countries and has authored many peer-reviewed scientific papers and book chapters. He has also served as a consultant and reviewer for several international research and development organizations.
Last updated May 2020
About the School

The American University in Cairo (AUC) is a premier English-language institution of higher learning. The university is committed to teaching and research of the highest caliber.
The American University in Cairo (AUC) is a premier English-language institution of higher learning. The university is committed to teaching and research of the highest caliber.
Read less