Program Description
Pathway for Top-up to MA in Strategic Sports Management*
N|A|M|E Dubai is licensed by KHDA (Knowledge & Human Development Authority – Dubai) and offers the credit-bearing UK Qualifications at all levels in new-age careers. Definitive progression to partner Universities locally and internationally for students to earn their Degree.
With more than 3000 students enrolled and studying in 7 campuses across 6 cities, Nest Academy has had a vintage of 18 years delivering programmes in new-age careers and shaping careers of more than 11,000 students.
Why N|A|M|E?
UK Qualification in Dubai

Progression Pathway to earning bachelor's & Master's Degree
Awarded by UK University of Bolton upon credit transfer
Global credit transfer

Modest Tuition Fees

Starting from $4,500 onwards per academic year
Flexible Instalment payment structure

Student Visa

High success rate
Get UAE Residence ID card

IELTS Exempted
Part-time work Permit

Part-time work permit on a student visa
Special Evening and weekend lectures
Dubai - the World's lowest unemployment rate (0.7%)

Internships

Dedicated placement cell
Practical job-oriented curriculum
Up to 25 internships per year
N|A|M|E's Pathway for Postgraduation in Strategic Sports Management is a knowledge-oriented programme that focuses on advanced aspects of modern Sports Management industry. It is designed for current and future higher education professionals who wish to integrate their passion with profession. By the end of this programme, students will be well-versed in all facets of Sports Management and will have thriving careers as confident and competent professionals.
Our theory-to-practice curriculum enables students to have comprehensive theoretical knowledge and considerable practical experience in equal measures. The actual work experience allows students to develop technical skills, confidence and a chance to network with professionals of the industry. N|AM|E's Placement Cell offers diverse opportunities to students in Marketing, Advertising and Public Relations, Finance, Law, etc. related to Sports Industry.
*Top-up degree awarded by University of Bolton – Academic Centre RAK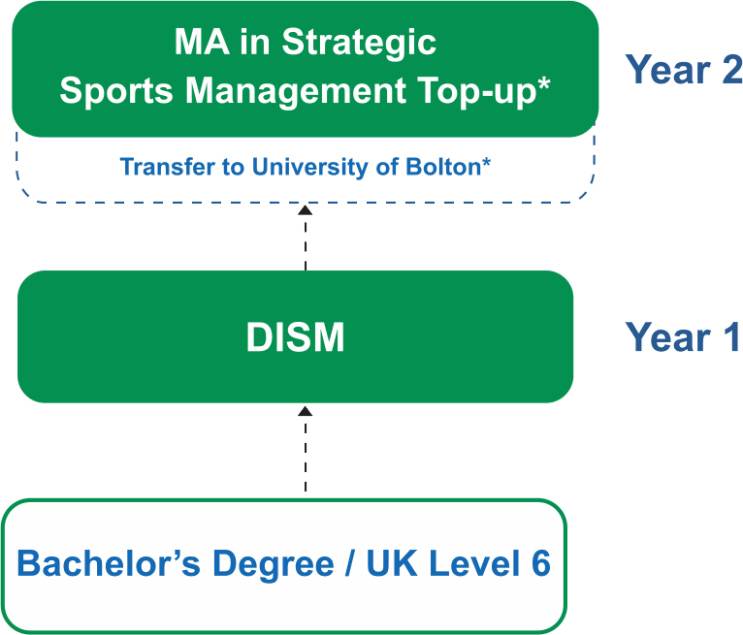 Programme Details
Duration: 2 Years
Eligibility: Bachelor's Degree / UK Level 6
Programme Modules
Semester 1
Module 1
Strategic Planning for Sport Business
Module 2
Finance for Strategic Sport Managers
Module 3
Sports Operations Management
Module 4
Personal Development for Leadership and Strategic Management in Sport
Semester 2
Module 5
Strategic Human Resource Management in Sport Organisations
Module 6
Strategic Marketing for Sport
Module 7
Sports Events Management
Module 8
International Sports Business Environment
Semester 3
Module 9
Contemporary Strategic Issues in Sports Management
Module 10
Strategic Sports Management Dissertation
Semester 4
Campus to corporate (Business Communications, Business Etiquette, Resume and Profile Building, Industry Projects)
Career Opportunities
The objective of our courses is to generate skilled Sports Professionals who wish to integrate their passion with their profession. The institute also extends an opportunity to professionals in the field of sports, to upgrade their knowledge; and to individuals from other fields, who wish to enter the sports world. Retired sportspersons who now aspire to continue in the sports arena as Managers, can also benefit from the academic courses offered at N|A|M|E Dubai.
Upon completion, students will be able to work in a variety of fields, in different capacities. Here is a list of some opportunities:
Sports Federations
Sports Marketing & Branding
Sports Merchandising
Sports Celebrity Management
Sports Journalism
Sports Facilities Management
Sports Event Management
Sports Equipment Manufacturing
Sports Media & Broadcasting
Recreation and Sports Club Management
Sports League & Team Management
Sports Retail
Sports Agencies
Sports Tourism
Sports Marketing Research
Admission Procedure
Application Form

Send the filled Admission Application Form along with the Last Qualification transcripts to admissions@namedubai.ac.ae.

The admission application form can be downloaded from https://namedubai.ac.ae/admission/apply-now/

Telephonic Interview

Upon establishing eligibility and after review of Academic Documents/Transcripts a telephonic /skype interview with the students will be conducted with the prime objective to assess the purpose & the motivation of the applicant and English proficiency.

An Application Fees of USD 100 needs to be transferred by the student to the Academy or to the referring Education Consultant before the results of the interview are shared

Conditional Admission Confirmation Letter

After successful completion of Interview, the student will be sent a Conditional Admission Confirmation Letter which will include all details such as the Fees Schedule.

Student Visa

Upon having received the Conditional Confirmation Letter, the student will have to remit Student Visa application charges of USD 1,100. The process normally takes up to 3 weeks; hence, the students are advised to remit the visa charges as early as possible

Entry Permit

Normally within 3 weeks of having applied for the student visa, the immigration will issue a Student Residence Visa Entry using which the student can travel to Dubai, UAE.

A preview copy of the Entry Permit will be shared with the student, which serves as a confirmation of the student visa. The student will have to remit the Tuition Fee or the Instalment due as per the Admission Confirmation Letter within 2 weeks of having received the preview copy of the Entry Permit.

After having entered the UAE, the student will need to complete the Emirates ID and visa stamping process which can take up to 60 days.

Student Accommodation

Student Accommodation/ Hostel charges are $200 per month to be paid in advance for a Quarter (3months)

$200 per month of hostel charges include the following:

Fully air-conditioned dormitory accommodation

Free 24/7 Highspeed WIFI and Broadband

Free Unlimited home country calling - VOIP calling package

Free Airport pickup*

Free Transportation from the Accommodation to Campuses

Free Transportation from the Accommodation to the Practical Internships/Training venues*

Fully Equipped Kitchen with utilities such as Cooking Range, Washing Machine, Crockery etc

24/7 security
Scholarships
We believe in providing high-quality education at a very affordable tuition fee; we are committed to offering accessible higher education for talented students by keeping our tuition fee low and providing a generous scholarship package on the bases of Merit and Need-based Scholarship.
Last updated Feb 2020
About the School

N|A|M|E Dubai is licensed by KHDA (Knowledge & Human Development Authority – Dubai) and offers credit-bearing UK Qualifications at all levels in new-age careers. Definitive progression to partner ... Read More
N|A|M|E Dubai is licensed by KHDA (Knowledge & Human Development Authority – Dubai) and offers credit-bearing UK Qualifications at all levels in new-age careers. Definitive progression to partner Universities locally and internationally for students to earn their Degree. At N|A|M|E Dubai, our objective is to generate skilled industry-ready professionals in new-age careers. We encourage students to make their passion into a profession by supporting them with Scholarship Assistance, providing Student Visa and procuring Student Work Permit.
Read less