Specialty of Sustainable Development
Home ›
Master ›
Specialty of Sustainable Development
Program Description
Name of the program: Specialty in Sustainable Development
DGP key:
Normal period to graduate: 2 semesters
Credits: 60
Diploma that confers: Specialty in Sustainable Development
Campus where it is offered: Hermosillo
Program description
General purpose
To train professionals with a comprehensive perspective of the technical, administrative, economic, social, environmental and ethical areas according to modern models of sustainable development.
Specific objectives
The goals are those listed below:
To train students in the state of the art of knowledge in sustainability.
Prepare students to solve unsustainability problems taking into account all the dimensions of Sustainable Development.
Promote technological innovation in the solution of sustainability problems.
Offer consulting services to all types of organizations located in the region.
Participate with society in its transition to sustainable lifestyles.
What Will Your Competencies Be When You Finish The Program?
Egress Profile
In the understanding that the purpose of the specialty degree is to provide the student with a broad and solid training in a field of knowledge with a high capacity for professional practice and the master's degree has the purpose of training to prepare a student for a career in applied scientific and / or technological research; It is expected that the professional graduated from both programs has been trained with the following professional competences:
Understand and put into practice in the projects in which it participates, the three dimensions associated with sustainable development, as well as the good management of the complexity of the interactions between the different elements of sustainability.
Evaluate social problems and their relationships with the dimensions of sustainable development.
Apply the methodologies of sustainability in the realization of projects.
Implement training programs to apply techniques and methodologies that prevent, reduce or eliminate environmental and occupational risks.
Identify the social and environmental cost of development projects.
Coordinate groups for the sustainable management of resources.
Advise the working groups in the elaboration and application of the official norms and Mexican norms.
Understand compliance with environmental, occupational and public health regulations.
Advise and evaluate the regulations and procedures in organizations.
Advise on environmental quality management systems.
Promote public and organizational policies with a sustainable approach.
Promote procedures so that sustainability becomes the transversal axis of public policies.
Encourage the development and increase of community management capacities.
Proficiency in the English language in reading comprehension, spoken and written.
Curriculum
Curricular map
List of subjects
0807 - design of experiments
0808 - separation process
0809 - advanced mathematics
0810 - advanced kinetics
0811 - numerical engineering methods
0812 - advanced thermodynamics
0813 - transport phenomena
0814 - mathematical modeling
0815 - catalytic reactor engineering
0816 - physical chemistry of surfaces and interfaces
0817 - treatment plants of ...
0818 - wastewater treatment
0819 - water supply and sewerage
0820 - environmental microbiology
0821 - sewage system
0822 - molecular biology
0823 - bioprocesses
0824 - biotechnology II
0825 - fundamentals of cell culture
0826 - toxicology and risk assessment
0827 - biochemistry
0828 - advanced chemical analysis
0829 - environmental chemistry
0830 - legislation and environmental impact
0831 - handling of hazardous waste
0832 - environmental socioeconomic
0833 - metabolic engineering
0834 - bioseparations
0835 - biotechnology I
0836 - cell culture fundamentals
0837 - bioremediation
0838 - genetic engineering
0839 - microbiology
0840 - chemistry
0850 - laboratory or field practices I
0851 - seminar I
0852 - laboratory or field practices II
0853 - seminar II
0854 - clean production
0855 - sustainable development
0856 - reengineering in sustainable development
0857 - economy in sustainable development
0858 - cost system in sustainable development
0859 - administration in sustainable development
3383 - reduction in the use of toxics
3384 - design for the environment
3385 - environmental management system
3386 - environmental impact
3387 - intelligent sustainable systems
3388 - international perspectives of climate change
3389 - life cycle analysis
8383 - technology and human resources
Lines of generation and / or application of knowledge of the program.
Cleaner production. Its objective is to propose new directions in production patterns that result in prevention, elimination and / or reduction of occupational and environmental risks while increasing or maintaining the profitability of the organization. Although this line emphasizes the reformulation of processes and products; It is very feasible to apply its principles in service and commercial organizations.
Environmental management. The present line promotes the effective and efficient use of resources through environmental management systems; usually the projects in this line are focused on identifying environmental and / or occupational impacts, designing programs and implementing them.
Innovation and sustainability This line promotes projects that promote sustainable development through constant innovation, facilitated by technological tools.
Academic Core
| | |
| --- | --- |
| First name | Mail |
| Dr. Luis Eduardo Velázquez Contreras | luis_velazquez@industrial.uson.mx |
| Dr. Javier Esquer Peralta | jesquer@industrial.uson.mx |
| Dr. Nora Elba Munguía Vega | nmunguia@industrial.uson.mx |
| C. to Dr. Rafael Pérez Ríos | rperez@pitic.uson.mx |
| Dr. Clara Rosalía Álvarez Chávez | pissa_unison@hotmail.com |
How to enter this postgraduate course?
Entry requirements
General data format.
Bachelor's degree in science, engineering, administration or areas at the end. A hard copy of the title is required.
Certified Copy Birth certificate.
4 photos credential size.
IFE Copy or Mexican Passport Copy.
Certificate of grades indicating final average or proof of completion of studies indicating the final average.
Proficiency in the English language that must be demonstrated.
Letter of exposition of motives free format.
Interview with the Academic Committee of the Postgraduate Course.
Acredit module zero or introductory.
Admission profile
This option is aimed at all professionals, teachers and interested persons regardless of their degree of origin but who show and demonstrate to be interested in acquiring knowledge, skills, abilities and abilities that allow them to design, operate and maintain production systems of goods and services. services; as well as sustainable consumption from a holistic-integral perspective that affects the well-being and quality of life for present and future generations.
What do you need to get the degree?
Qualification requirements
To obtain the specialty diploma, you must:
Approve the total credits and meet the other requirements established in the corresponding graduate program.
Pass the specialty examination in the written phase and in the oral phase before a jury named ex profeso; Y
Comply with the provisions and requirements demanded by the School Services Department for the issuance of the corresponding specialty diploma.
Titration options
Submit and approve a written individual terminal work and perform oral defense before a jury, when the program so determines.
How much does it cost to study this postgraduate course?
Cost of the EXANI-III
The registration cost of applicants to enter the Universidad de Sonora is announced annually along with the first entry notice. Check this information for the last year: http://www.posgradosustentabilidad.uson.mx/
Registration and tuition fees
Students, when enrolling in any of the graduate programs, must cover the corresponding fees according to the current minimum wage in the city of Hermosillo, as established in the Quotas Regulation. Check this information for the last year: fees and discounts by subject http://www.serviciosescolares.uson.mx/
More reports
Dr. Luis Eduardo Velázquez Contreras
Program coordinator
Building 5O Blvd. Luis Encinas J and Rosales S / N, Col. Centro. Hermosillo, Sonora.
eds@industrial.uson.mx
Tel: 52 (662) 2592252
href = "http://www.posgradosustentabilidad.uson.mx/
Last updated Jun 2019
About the School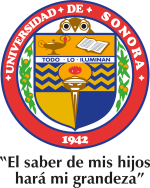 La Universidad de Sonora es una institución pública autónoma que tiene como misión formar, en programas educativos de calidad y pertinencia, profesionales integrales y competentes a nivel nacional e i ... Read More
La Universidad de Sonora es una institución pública autónoma que tiene como misión formar, en programas educativos de calidad y pertinencia, profesionales integrales y competentes a nivel nacional e internacional, articulando la docencia con la generación, aplicación y transferencia del conocimiento y la tecnología, así como con la vinculación con los sectores productivo y social, para contribuir al desarrollo sostenible de la sociedad.
Read less