Program Description
Social Welfare
Idea
Master's Program
We aim to social worker of training as a highly specialized professionals.
In addition, we aim to skills management business in social welfare facilities and institutions.
Doctoral Program
We aim to training of social welfare studies of researchers and educators.
In addition, we are training for the operational management of expert facilities and institutions through the practice theory and law policy of social welfare.
It features three of the study area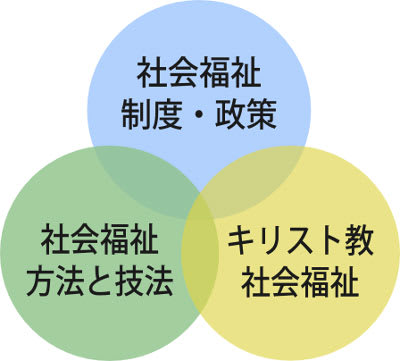 In the Master's Program, (1) social welfare institutions and policies, (2) social welfare methods and techniques, (3) to select the area to master the expertise from three research areas of Christian social welfare, highly specialized professionals wearing the required knowledge and skills as. In the doctoral program, it consists of (1) social welfare institutions and policies (2) subjects of the two study areas of social welfare assistance technology.
Message from the chief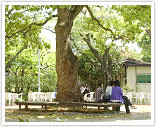 Kiyoko Fukushima
Everyone is struggling involved in support of the day-to-day various users in the field of social welfare Department chief, Professor welfare health care, the social welfare and social work standing pat again, why not delve into? Enrolled in graduate school, to hone technology and point of view as a social worker, or a question that was felt in daily practice, do not we re-summarized in the form of research? In Lutheran of the Master's Program (master's level), to the school at night and on Saturday Thursday, Friday and it has become a system that will wrote a master's thesis (Special Research). Certification training of certified social worker also has a large number available. In the Lutheran doctoral, other individual guidance of Chief advisor, participated in the doctoral program professional seminar to be held on Saturday afternoon, repeated submission and presentations along the course system, it has become a system that write up a doctoral dissertation you. Both doctoral-doctoral, while the social work or social welfare institutions and policies as the main theme, a wide range of areas (grief, care, Keamane, staff training system, etc.) dissertation was been wrote. While a series of discussions with classmates, which is also the working people working in the field, you can spend an exciting graduate student life. After course completion, the education and researchers, have just been working with confidence as high a social worker of the executive management or advanced and expertise of the organization. Do you also do not participate in the part.
Easy-to-learn environment in society
The University, laboratory and parking for graduate students, providing a personal locker, we have established an easy to learn even while working environment. Also all classes Thursday and until 6:30 9:00 40 pm Friday afternoon, is offered until 8 pm 50 minutes to 6 pm on Saturday, even people who want to learn while working full-time, the full study you can do. In addition, long-term if the use of the course system, course or master's thesis of slowly and carefully lessons at their own pace, you can to address a specific issue research. Graduates in fiscal 2015 of five members, completed while continuing the work of welfare, many of the graduates are working in and then also the site (such as welfare and medical field of social worker). In addition, then, we have many graduates to go on to doctoral.
For certified social worker
Many of the lessons of the Graduate School of Social Welfare Department of the Lutheran College, has been certified as an authentication training of "certified social worker." Has a social worker, people who meet the prescribed requirements, by which to take the lesson of the university's graduate school, you have to take the training required to obtain "certified social worker." Graduate program for the "terminal care, grief work training program (CTTP)" Clinical Death and Life Studies training program (CTTP) has been newly established as the Graduate School of Integrated Human Studies Master's Program established 10 anniversary program in fiscal 2012 . This is a new training program to comprehensively expand the exercises, training for the study of terminal care and grief work at the graduate level. The program, after graduate school completion, graduate students, which aims to engage in the practice of clinical Death and Life Studies, who has completed a university and other university master's degree (the required research students registered) in the subject, deputy regardless of the major and professional it is an object of the present invention to provide a exercises and training and training of majors to clinical Death and Life Studies. And program content, for such as the completion requirements, please see below.
Last updated Mar 2020
About the School
The mission of this school is to train persons who "serve God and the world in the spirit of Christ" through "instruction which values each and every individual."
The mission of this school is to train persons who "serve God and the world in the spirit of Christ" through "instruction which values each and every individual."
Read less