Program Description
Gain the knowledge needed to analyze complex political phenomena. Through its faculty, courses, and activities, AUC's political science department seeks to link political science to the thriving and complex political realities of Cairo, Egypt, and the region. Its graduate programs offer students a thorough grounding in the theoretical underpinnings of political phenomena, as well as a deep understanding of the political realities in Egypt, the Arab world and the international arena.
Who it's for:
The political science graduate program is for students who seek to pursue careers in academia. It is also for those who work, or wish to work, in international political bodies, government departments concerned with political issues and other public, private or international sectors where there is an increasing need for persons who have a scientific understanding of the political realities of the Middle East and the world.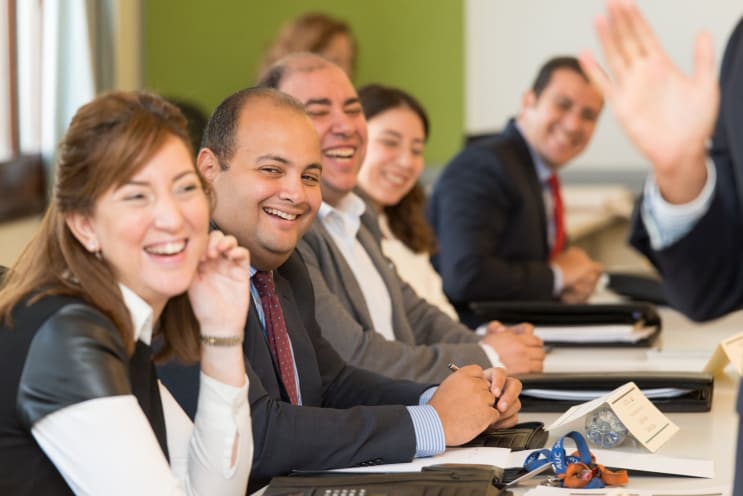 What you'll learn:
The program offers advanced study in the discipline of political science, with three specializations: comparative politics, international relations, and development studies.
Comparative politics increases students' knowledge about the political dynamics of disparate systems within the larger contexts of state and society, political economy, and interstate and regional relations.
The International relations option provides a greater understanding of the forces operating in the international arena, the constraints that foreign policymakers face, and the different institutions and power models that shape intrastate relations.
Development studies prepare students to assume positions of greater responsibility in development agencies and organizations by expanding their understanding of the development field, its aims, objectives, methods of operation, and the broad scope of development work in the world today.
Where it can take you:
AUC graduates of the political science program are presently found in business, journalism, research, analytic writing, and public contact work. They occupy positions in public, private and development agencies, the diplomatic service, governmental ministries and agencies, and university teaching. A significant number of past graduates have subsequently completed doctorate degrees and hold academic positions.
Comparative politics can lead to careers in academia, research, journalism, a political consultancy, or similar positions in which a solid political background and analytical abilities are required. International relations are valuable for a career in foreign relations. Development studies are designed for those who are seeking to enter a development career in NGOs, specialized United Nations agencies, or national development agencies.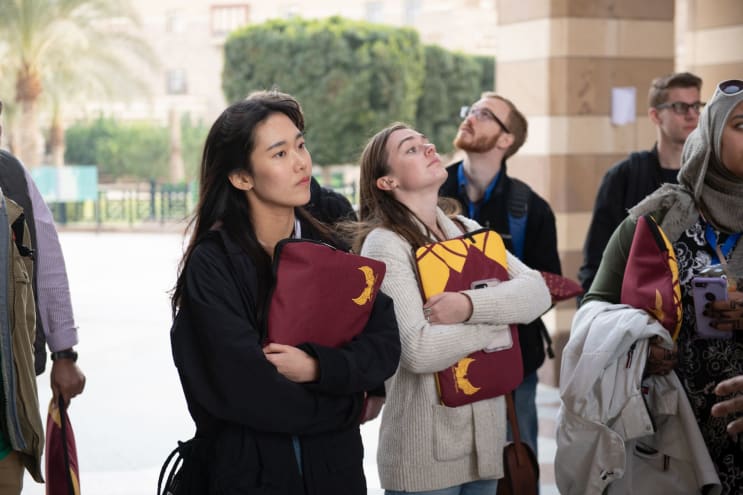 Admission requirements:
Applicants to the master's program should have an acceptable bachelor's degree in political science or in a closely related social science (preferably with a minor in political science) and a GPA of at least 3.0. Applicants with deficiencies in their preparation may be required to take appropriate courses at the undergraduate level.
Expert faculty:
Rabab El Mahdi: Rabab El Mahdi '96, '98 (Ph.D., McGill University) is an associate professor of political science at AUC. Her field of specialization is comparative political economy and development, with a focus on Latin America and the Middle East. Before joining AUC, she worked for several developmental organizations, including NGOs and UN agencies. Previously, she taught at Yale University and was a recipient of a number of fellowships at Columbia University, the University of Chicago and the Rockefeller Foundation Bellagio Center Residency Program. Currently, she leads AUC's research project, Alternative Policy Solutions (APS). She also serves on the boards of a number of civil society and professional organizations, including the Arab Political Science Network.
Walid Kazziha: Walid Kazziha (Ph.D., London University) is a professor of political science and former director of graduate studies in the Department of Political Science at AUC. Since 2012, he has been the faculty advisor of the Cairo International Model United Nations (CIMUN) and the Cairo International Model Arab League (CIMAL) at AUC. He has authored and co-authored several books including, Egypt's Tahrir Revolution (2013), Revolutionary Transformation in the Arab World (1975), Palestine in the Arab Dilemma (1979), and a monograph, The Social History of Southern Syria (1972). Kazziha has published numerous scholarly articles in specialized journals, focusing on subjects such as the Civil War in Lebanon and its aftermath, Syria's regional policy, Egypt's Arab role, the Saudi regime, and war and peace in the Middle East.
Last updated Jul 2020
About the School

The American University in Cairo (AUC) is a premier English-language institution of higher learning. The university is committed to teaching and research of the highest caliber.
The American University in Cairo (AUC) is a premier English-language institution of higher learning. The university is committed to teaching and research of the highest caliber.
Read less