Program Description
The course is a blended learning programme which is delivered through face-to-face course conferences + interactive online learning with a total of 200 hours of study per unit (approximately 20 hours per week).
RICS Accredited - This is a fast-track, RICS-accredited conversion course, taught from a critical approach.
Truly Global - Join peers from around the world at the 3-day course conference held each semester.
World-class - Taught by leading academics with a wealth of experience in the industry.
Part-time MSc Real Estate
We recognise that real estate is at the heart of many global businesses. From delivering investment returns to helping to attract and retain staff, real estate has to perform effectively at many levels. Our aim is to develop our learners so that they have the necessary skills, knowledge and professionalism to compete effectively in a challenging global market.
Recent research has highlighted the need for real estate professionals to add value by providing leadership in solving business problems, rather than simply offering traditional technical skills. This principle is at the heart of our MSc in Real Estate. The programme is designed as an intensive fast-track conversion course which is accredited by the Royal Institution of Chartered Surveyors (RICS). The programme combines academic excellence with the explicit development of transferable skills that are essential for a career in Real Estate.
Face-to-face International Course Conferences
You will have the opportunity to attend two major course conferences during the year. Each conference is held at The University of Manchester's Middle East Centre, located in the heart of Dubai's Knowledge Park.
During these three-day course conferences, you can take advantage of valuable networking opportunities and learn from industry peers, experts and academics. At these course conferences, you will undertake practical activities based on your units in small multinational groups. This blended learning approach offers a balance between strategic focus, theoretical foundations and practical applications that will apply directly to your workplace.
Blended Learning
Join our September intake:
Semester 1: September - February
Semester 2: February - August
Semester 3: September - February
Semester 4: February - August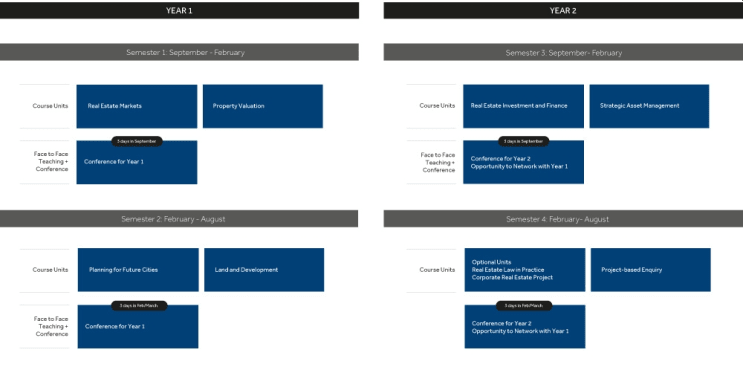 What will you study?
You can expect to study units covering topics such as:
Real estate markets
Understand the fundamentals of real estate
Explore geographical and sector markets
Study how macroeconomics shapes property cycles
Real estate investment and finance
Explore the principles of investment and the creation of value
Critically evaluate direct and indirect methods of investing in real estate
Demonstrate approaches used in the financing of funds and individual projects
Property valuation
Introduce principle methods of property valuation
Explore the mathematical application of different methods of valuation
Critically examine the physical, legal and economic factors
Strategic asset management
Introduce the principles of strategic asset management
Explore the tactics used to pro-actively manage real estate assets
Topics include performance metrics, risk management and sustainability and responsible property investment
Planning for future cities
Explore the principles, nature and practice of planning systems and processes around the world
Understand emerging future trends in urban development in global cities
Examine the notion of the future 'smart' city in a global context
Project-based enquiry
An opportunity to plan, manage and conduct practice-based research on a topic related to the course
Develop knowledge and competency in an appropriate range of research methods including the development of a focal question or hypothesis
Develop experience of developing and managing a specific research project through to final submission
Land and development
Develop an understanding of land use policies and making the best use of land resources
Practical experience and understanding of the development process through real-life development sites
Develop an understanding of the financial issues and risks involved in development schemes
How to apply
Begin your studies in September.
Take the first steps and apply today.
Entry Requirements
Minimum 2:1 Honours Degree (or international equivalent) in any subject.
Relevant work experience.
IELTS Test score of 6.5 (or equivalent) if English is not your first language.
English Language requirements:
IELTS score of 6.5 overall, with no less than 6.5 in the writing component and no other subsection below 6.0.
TOEFL internet-based score of 90 or more overall, with a minimum writing score of 22 and no other subsection below 20.
CAE or CPE overall score of 176 or above, with 176 in writing and no sub-section below 169.


Last updated Nov 2020
About the School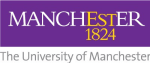 The University of Manchester Middle East Centre opened in Dubai Knowledge Park in 2006 and has supported over 2,000 part-time MBA students. It is the largest and fastest growing centre in the Universi ... Read More
The University of Manchester Middle East Centre opened in Dubai Knowledge Park in 2006 and has supported over 2,000 part-time MBA students. It is the largest and fastest growing centre in the University's international network. In the Middle East, The University of Manchester offers its world class part-time MBA for experienced working professionals, in addition to a range of MSc and executive education programmes, and research and consultancy projects led by the University's faculty.
Read less