Part-time MA Educational Leadership in Practice
Home ›
MA ›
Part-time MA Educational Leadership in Practice
Program Description
Study with international experts and global leaders in the delivery of Educational Leadership with over 22 years' of teaching and research experience.
Sector Inspired - Study using a Practice-Based Learning Approach that challenges you to think critically.
Truly Global - Join peers from around the world at the 3-day course conferences held each semester.
World-class - Taught by global leaders in the delivery of Educational Leadership.
Part-time MA Educational Leadership in Practice
At The University of Manchester, we believe educators are powerful influencers and have important voices in a rapidly globalising world. It is our intention to empower educational leaders to face tough challenges in globalising educational spaces with compassion and competency.
This part-time, blended programme has the advantage of being run by leadership specialists who mentor and foster leadership behaviours and skills, as well as developing a rich critical understanding of the field. In this way, this course is truly empowering for leaders who wish to engage at higher levels, whilst running a complex organisation based upon respect and dignity.
Face-to-face International Course Conferences
You will have the opportunity to attend two major course conferences during the year. Each conference is held at The University of Manchester's Middle East Centre, located in the heart of Dubai's Knowledge Park.
During these three-day course conferences, you can take advantage of valuable networking opportunities and learn from industry peers, experts and academics. At these course conferences, you will undertake practical activities based on your units in small multinational groups. This blended learning approach offers a balance between strategic focus, theoretical foundations and practical applications that will apply directly to your workplace.
Location
This part-time master's programme is delivered through a blended learning format, with workshops in Dubai.
Blended Learning
Study part-time
The course is a blended learning programme which is delivered through face-to-face course conferences + interactive online learning with a total of 200 hours of study per unit (approximately 20 hours per week).
Join our September 2021 intake:
Semester 1: September - February
Semester 2: February - August
Semester 3: September - February
Semester 4: February - August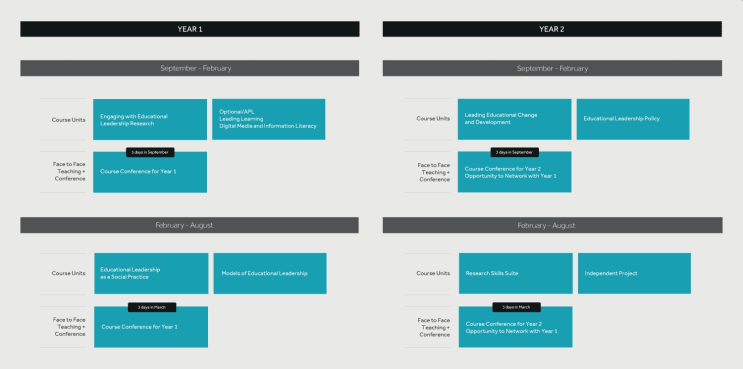 What will you study?
Our Educational Leadership in Practice (MA) is the only global blended programme that is taught from a critical approach and not a functionalist one. This practice-orientated learning will enable you to be the change your organisation needs.
You can expect to study units covering topics such as:
Models of educational leadership
Explore conceptualising educational leadership practice as adjectival models
Examine what this means in diverse international contexts
Examine and evaluate a range of key models
Engaging with research in educational leadership
What is educational leadership?
What topics can be researched in education?
Why should research in education be taken seriously?
Leading educational change
Examining what is meant by 'change'
Counter-productive and productive motivators for and mechanisms for change
A critical perspective on leading change
Education policy and leadership
What is the policy and how is it 'done'?
Policy architecture
Welfarism, social democracy and neoliberalism as policy architecture
Educational Leadership as a Social Practice
Educational leadership practice in a Globalising education system
Getting and doing the job
Using research evidence
Optional Unit/Accreditation of Previous Learning
Digital Media and Information Literacy
The leadership of International Schools
How to apply
Begin your studies in September.
Take the first steps and apply today.
Entry Requirements
A good honours degree (minimum 2:1) or the overseas equivalent, in a related area.
An initial qualification in teaching, or at least two year's professional experience in a public or private educational organisation, is desirable but not essential requirements. If neither is possessed then the applicant needs to have secured their degree from one of the top 400 institutions in the home country.
IELTS Test score of 6.5 (or equivalent) if English is not your first language.
English Language requirements:
IELTS score of 6.5 overall, with no less than 6.5 in the writing component and no other subsection below 6.0.
TOEFL internet-based score of 90 or more overall, with a minimum writing score of 22 and no other subsection below 20.
CAE or CPE overall score of 176 or above, with 176 in writing and no sub-section below 169.
Last updated Nov 2020
About the School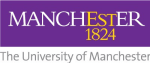 The University of Manchester Middle East Centre opened in Dubai Knowledge Park in 2006 and has supported over 2,000 part-time MBA students. It is the largest and fastest growing centre in the Universi ... Read More
The University of Manchester Middle East Centre opened in Dubai Knowledge Park in 2006 and has supported over 2,000 part-time MBA students. It is the largest and fastest growing centre in the University's international network. In the Middle East, The University of Manchester offers its world class part-time MBA for experienced working professionals, in addition to a range of MSc and executive education programmes, and research and consultancy projects led by the University's faculty.
Read less