Own Master in Contemporary Documentary
Home ›
Master ›
Own Master in Contemporary Documentary
Program Description
About the Master
ESCAC presents the new one-year Contemporary Documentary Master in order to offer students a comprehensive experience in this field.
The course consists of a theoretical basis in constant dialogue with a practical side that leads to a set of documentary feature films made by the students of the Master.
Who is it for?
University graduates, of any nationality and field of study, who wish to develop or improve their cinematographic knowledge in a demanding and highly qualified academic environment. Professionals from the audiovisual sector who want to deepen the theory and practice of documentary.
The new Contemporary Documentary Master of ESCAC is aimed, above all, at students of high creative abilities, regardless of their level of previous experience in the field of documentary creation.
Competencies
Know, assimilate and put into practice the main tools of the documentary language.
Find your own creative path and develop your own audiovisual works that may have visibility and viability beyond the academic field.
At the end of the course each student will have made a short film and will have participated as a team leader (direction, script, production, editing, photography, sound ...) in a documentary feature film.
Learn, first hand, the industrial landscape of documentary film at a national and international level.
Structure
The methodology of the master is based on four axes of work:
Theoretical classes through which a panoramic view of the history of documentary film will be given. These theoretical classes will be intimately linked to practical workshops in which exercises with a technical approach will be developed.
In parallel to the workshops, each student will carry out the process of making a short documentary, which will be accompanied by a personalized tutoring.
The third axis of work consists of developing a feature film project, which is specified in the writing of a dossier and the realization of a teaser. A court will select the projects to be produced, in which the author of the idea will assume the position of director and in which each student must assume a position as team leader. ESCAC Films will be the producer in charge of producing the documentaries endowing the different projects with the necessary technical equipment and budget for their realization.
The final axis of work is the dynamic master classes, in which different work processes will be explored through the encounter with prestigious directors and other relevant personalities of the documentary universe.
Teaching team
The teaching team is made up of active professionals in the film and documentary sector, together with ESCAC teachers who accompany the students daily in the execution of their practices.
Data of interest
Dates: From January 8 to December 20, 2019
schedule: Monday to Friday from 10am to 2pm.

* ESCAC reserves the possibility of programming a certain percentage of teaching hours outside of these general hours. This percentage will never exceed 15% of the total hours.

The school opens on Saturdays from 9 am to 2 pm with open classrooms and optional workshops.
language: All classes are taught in Spanish, although the school reserves the right to impart 10% of them in English in case the teaching staff so requests.
registration: (consult web)
Face-to-face modality
seats: 15
price: € 7,500
Last updated April 2018
About the School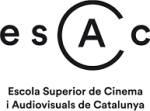 El cine no se estudia, se aprende. Centro Universitario con titulación oficial lider en la formación de cineastas. Por nuestras aulas han pasado profesionales de la talla de J.A.Bayona (Director de J ... Read More
El cine no se estudia, se aprende. Centro Universitario con titulación oficial lider en la formación de cineastas. Por nuestras aulas han pasado profesionales de la talla de J.A.Bayona (Director de Jurassic World II), Oscar Faura (DP de Imitation Game), Bernat Vilaplana ( Montador de Hellboy II), Oriol Tarrago (Diseñador de sonido de Jurassic World 2), Kike Maillo (Diretor de EVA), Marc Coll (Directora de 3 días con la Familia) y más de 40 premios Goya, Gaudi, Bafta y Ariel entre otros.
Read less